Donald "Red" Grant (Robert Shaw)
Datastream
Actor: Robert Shaw
Character: Donald "Red" Grant
Movie: From Russia With Love
Date of Birth: 9th August 1927
Height: 5' 10 1/2" (1.79 m)
Appearance: Medium height and strong, muscular build. Light skin but often tanned with light-blonde hair and a bland unsmiling face.
Status: Terminated
Organisations & Alliances: SPECTRE, Rosa Klebb, Morzeny

Profile
A hardened killer in the pay of SPECTRE, Red Grant is simply emotionless: without friends or family. His dedication to his job usually consists of tracking and dispatching unwanted SPECTRE targets. He is loyal to this terrorist organisation only because he knows, when off duty, they keep him in the lap of luxury. He is handy with any gun - an expert marksman with a riffle - but his weapon of choice is a garroting cable, concealed in his watch.
"My orders are to kill you and deliver the Lektor. How I do it is my business. It'll be slow and painful."
Personality
Before entering the service of SPECTRE, Grant was a psychopathic killer on the loose. He shows no remorse, taking slow, sick pleasure with each kill. He has since been tamed by the trainers at SPECTRE and his urges are rewarded dutifully if he obeys his superiors every command. Grant convinces himself he can live like a "normal" person this way.
Involvement
Grant is recommended by Morzeny, the SPECTRE trainer, that he would be the best man for Col. Klebb's carefully orchestrated plan. Grant is trained to speak English with a plummy accent and told to follow James Bond and protect him from harm until the 00-agent gets what SPECTRE wants, the Lektor Decoder. At the gypsy campsite, Grant is not fooled by Kerim's decoy car and follows the him and Bond to the camp. Here, when the Russians raid the site, Grant saves 007's life unseen.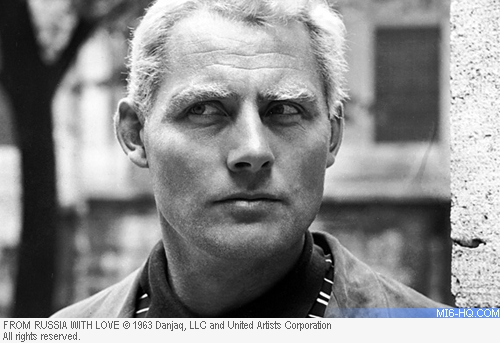 "You may know the right wines, but you're the one on your knees. How does it feel old man?"
Later, on the train and with the Lektor and its pretty operator in tow, Bond and Grant come face to face when 007 calls in backup. The killer easily dispatches with the real Captain Nash and takes his place, convincing Bond he has planned an escape route for the whole party. In reality that route will be for just one, after Red dispatches with 007 and the girl. Bond eventually comes to his senses but only seconds before Grant pulls a gun on him. Grant is tempted by the secret stash of money in the Q-Branch case, and Bond uses the concealed tear gas to disorientate Grant and attack. The pair struggle in the confines of the train compartment with Bond eventually garroting the SPECTRE man with his own weapon. Bond never discovered this assassin's real name.
Biography
Born in 1927, Robert Archibald Shaw, grew up in Lancashire, England. His father and mother were both in the medical profession but their son would choose something different. He schooled in Lancashire until he was 12 and upon the death of his father, the family moved to Cornwall. He was educated at Truro, excelling at physical activities. He was later accepted to the Royal Academy of Dramatic Arts in London. He moved to London on £1,000 inheritance.
He debuted on the stage in 1949 and received many roles through the Old Vic, notably Cassio in "Othello" and Lysander in "A Midsummer Night's Dream". By 1952 he had prestigious West End roles, his first production being "Caro William", shortly after which he would begin to earn television and film roles. He married Jennifer Bourke, an actress from his Old Vic days, in the same year.

Shaw had a cameo role in "The Lavender Hill Mob" before making an appearance as Pulford in "The Dam Busters" (1955). By the mid '50s, Shaw had earned a recurring role in "The Buccaneers" (1956) as a retired-pirate-cum-privateer. He would serve as the lead for its 37 episode run.

Shaw earned a small role in Dirk Bogarde's "Libel" (1959) and plenty of television bit-parts, including a role in the spy-fi "Danger Man" (known as "Secret Agent" in the USA).

"From Russia With Love" would spark his international acting career, with the cold-faced killer Red Grant. Sadly, 1963 would mark the end of his first marriage in divorce. With Bourke he had fathered four children.

Just as his film career was taking shape, Shaw also put aside time to write. His first novel, "The Hiding Place" was released to some success in 1960 and was followed up with "The Sun Doctor" which earned him the Hawthornden Prize in 1962. To test his skills further, Shaw also signed up to be a reporter and was deployed to Rome to cover the Olympics.




"The first one won't kill you; not the second, not even the third... not till you crawl over here and you KISS MY FOOT!"
Robert Shaw and Mary Ure were seen on the stage together in 1961. At the time Ure was married to John Osborne but that did not deter Shaw in the slightest. Suffice to say, in 1963 the pair married and lived happily until her passing in '75.
On screen, Shaw played memorable roles in "Hamlet" (1964) as the King of Denmark, Col. Hessler in "Battle of the Bulge" (1965). He would marry Virginia Jansen, one year after Ure's death and the pair remained together until Shaw's passing. The following decade was no less impressive for Shaw, playing the PM's father in "Young Winston" (1972) and in classic hustler film, "The Sting" (1973), Shaw was the stern Doyle Lonnegan.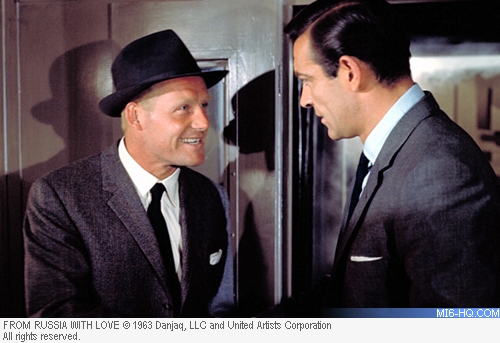 "Wish you could see the headlines: 'British agent murders beautiful Russian spy, then commits suicide.'"
Some argue his career climaxed with the Spielberg production "Jaws" (1975), in which he played the rather mad shark-hunter Sam Quint. By the end of the 1970s, Shaw worked with Connery once more, as the sheriff in the classic tale of "Robin and Marion" (1976), along with Richard Harris, Ian Holm and Audrey Hepburn.
Sadly, on the set of "Avalanche Express", Shaw was stricken with a heart attack and passed away on 28 August 1978, in Tourmakeady, County Mayo, Ireland. He left 10 children behind him.
Related Articles
Villains