In order to commemorate the 14th James Bond film and its contribution to the film industry of the City of Chantilly, the Musée Condé, the foundation of Chantilly and Club James Bond France have teamed up to organise a great birthday event, taking place on Saturday, September 18th during the "European Heritage Days".
A unique program has been designed for all lovers of the 7th Art and Art History. Attendees will go into the heart of the estate, as seen on screen in "A View To A Kill". A guided tour will occur, coupled with the discovery of the local locations, punctuated with anecdotes from the shooting of the film (highlights include: Castle, Great Stables, racecourse etc...). The Club James Bond France's quarterly magazine, "Le Bond Collector's Special 'A View To A Kill - Chantilly'" will be unveiled. The new magazine includes 36 pages of interviews, exclusive photos and articles on the film and panorama pictures of the famous castle.
At night the 14th James Bond film will be screened outdoors, on the racetrack, with a presentation by John Glen, five time 007 director and helmsman of "A View To A Kill".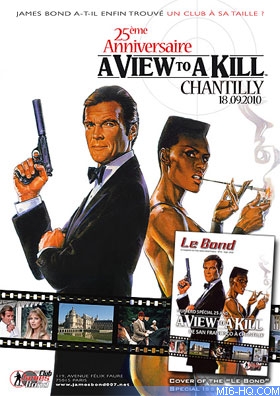 Above: Cover art for the celebratory edition of "Le Bond".