| | |
| --- | --- |
| | Sebastien Foucan, star of the free-running action scene in Casino Royale, made a special appearance in London to sign copies of the new DVD... |
Sebastien Foucan DVD Signing
20th March 2007
Free-running extraordinaire Sebastien Foucan made a special appearance at HMV on Oxford Street in London, UK yesterday to mark the DVD release of Casino Royale and sign copies for fans.
The astoundingly fleet and nimble bomb maker Mollaka, whom Bond pursues through the Nambutu Embassy, is played by Sébastien Foucan, the co-creator and one of the foremost practitioners in the art of Parkour - also known as "free running". Based on the French word parcours, or obstacle, Parkour emphasizes the use of obstacles in the environment as props to help the runner move swiftly across the terrain. "It's not just about running and jumping," says Foucan. "It's about adapting yourself within your environment to overcome barriers to your physical progress. It's all about free flowing movement. My character's skill is that he can move swiftly to escape from Bond, so we tried to find a way to move fast and efficiently, rather than do stunt tricks."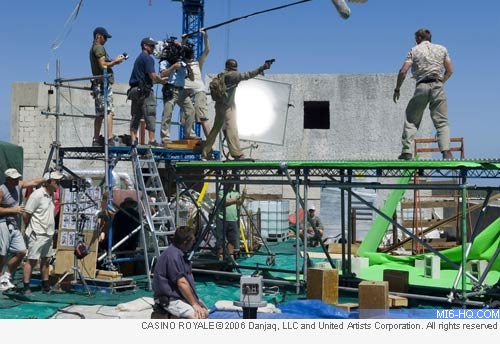 Foucan, who often spends six or seven hours practicing Parkour on a special circuit in his home town in France, adapted easily to the rigors of shooting Casino Royale. Still, he appreciated the dramatic tips he received from star Daniel Craig.

"Daniel was very helpful, giving me advice about acting with cameras. Although he doesn't practice Parkour, he is very strong and finds it easy to run and chase. We have spent three months working on this sequence which will be on screen for maybe five minutes – but I hope it will be an intense five minutes, which people will enjoy."

Parkour takes its inspiration from acrobatics, dance, martial arts and popular art forms including cinema and comic books, but it also owes a debt to ancient Asian schools of thought, says Foucan. "Without philosophy, action has no meaning. Life is made of obstacles and challenges. To overcome them is to progress."
Meanwhile down the road, Virgin Megastore was hit by a group of free runners who performed breath-taking displays for customers. Urban Freeflow are the outfit responsible for Daniel Craig's spectacular opening sequence in the latest and biggest 007 film.
The crew were responsible for helping Daniel Craig perfect his moves for the opening chase sequence, and the team put on a demonstration at the store showcasing some spectacular moves.
Related Articles

Casino Royale DVD Coverage

Casino Royale DVD Review

Casino Royale Movie Coverage