| | |
| --- | --- |
| | An exhibition entitled "For Your Eyes Only: Ian Fleming and James Bond" will open at the Imperial War Museum in London in April 2008... |
Ian Fleming Exhibition Announced
18th August 2007
An exhibition to celebrate the world's most famous spy will be opened at the Imperial War Museum in London next year. "For Your Eyes Only: Ian Fleming and James Bond" will open in April 2008 and is the first comprehensive exhibition to cover the life and works of 007's creator.
James Taylor, the curator of the exhibition, explained that although Bond was Fleming's fantasy version of himself, "they were two different people. Bond is, in some ways, who Fleming would have liked to have been. During the war he worked in Naval Intelligence but it was a desk job. He wasn't able to partake in any frontline operations. Bond also acts as a mouthpiece for Fleming's own world view, particularly as regards Britain's role in the world."
From his first appearance over the gaming tables in Casino Royale, Bond lit up dreary, ration-card Britain. His adventures fulfilled a yearning for travel, exotic food and luxury while embodying a dashing, independent idea of Britain in an increasingly frightening Cold War world, Mr Taylor told The Times.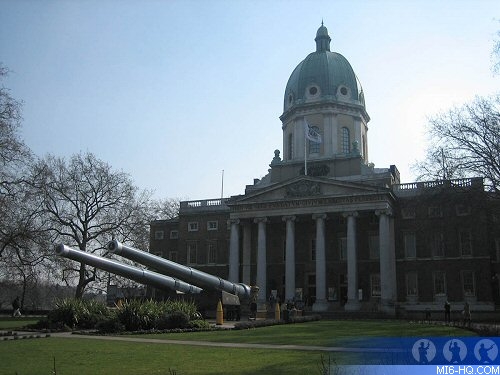 Above: The exhibition will be housed at the Imperial War Museum, London, UK
According to The Times, For Your Eyes Only will show how the Bond plots, locations and villains were rooted in Fleming's experiences during the Second World War and as a well-travelled reporter. It will examine to what extent the books and films reflect the reality of the Cold War and life in postwar Britain and how far they were a product of Fleming's prodigious imagination. Rare material on display will include a map of the Mercury News Network, established by Fleming in the 1950s to collect information and intelligence from Sunday Times foreign correspondents; notes for the scandalous Thrilling Cities series in which Fleming explored the casinos and brothels of the world's most glamorous metropolises; annotated Bond manuscripts; the Colt Python .357 Magnum revolver presented to Fleming by the Colt company; and the manuscript for Chitty Chitty Bang Bang, Fleming's other enduring classic.

Above: Ian Fleming poses with a copy of his short story collection "For Your Eyes Only"

The organisers also hope to track down the golden typewriter that Fleming used and to secure a letter to the author written by a Major Boothroyd, advising him on what handguns he thought would be most appropriate for Bond.

"We are looking at the phenomenon that the films became, because they offer another way of looking at Fleming's work. We want to put across the idea that the film Bond is a very different man from the literary Bond. He has a sense of humour, he sleeps with far more women and he has much less of a conscience than the character on the page. Cubby Broccoli took Fleming's ingredients and turned them into his own dish."

For Your Eyes Only: Ian Fleming and James Bond, supported by The Times will run from April 25, 2008, to March 1, 2009, at the Imperial War Museum.

A book to accompany the exhibition, "For Your Eyes Only: Ian Fleming and James Bond" by Ben Macintyre, is due to be published by Bloomsbury in April.
Related Articles

Ian Fleming - Literary Coverage