| | |
| --- | --- |
| | The Boscobel Aerodrome in Jamaica was officially re-opened as Ian Fleming International Airport this week... |
Ian Fleming International Airport Opened
14th January 2011
The parish of St. Mary has joined the elite capital cities of Kingston and the tourist Mecca, Montego Bay, St. James of having an international airport. The Boscobel Aerodrome, which now goes by the name, Ian Fleming International Airport (IFIA), was officially opened by Prime Minister, Hon. Bruce Golding on Wednesday 12th January 2011.
"This is a significant investment, not just in the buildings and the runway, but in Jamaica's future. This is also an investment of confidence," the Prime Minister said. He commended the various agencies on their collaborative efforts in completing the facility. Mr. Golding said it was a strategic decision to re-name the facility after Ian Fleming, creator of James Bond, and thanked the Fleming family for allowing the Jamaican Government to use the name, for which no royalties were charged.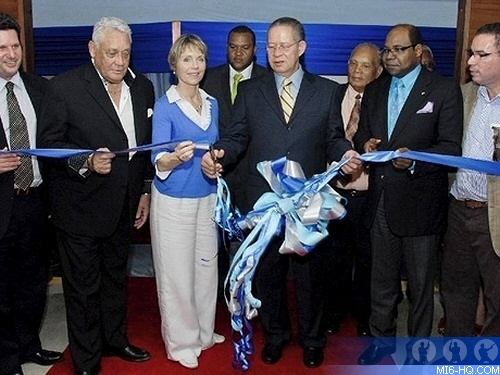 Above: Prime Minister Bruce Golding (third right) cuts the ribbon to declare open the Ian Fleming airport, previously called the Boscobel Aerodrome, in St Mary on Wednesday. Sharing the moment are, from left, Mark Hart, chairman Airports Authority of Jamaica, Minister of Transport and Works Mike Henry, niece of Ian Fleming, Lucy Fleming, Tourism Minister Ed Bartlett and minister with responsibility for Information, Telecommunications and Special Projects Daryl Vaz. In the background from left are mayor of Port Maria, Richard Creary and Custos of St Mary Alric Pottinger.
The small airport, formerly called the Boscobel Aerodrome, features a terminal with customs and immigration sections to accommodate global travelers. Officials said the facility just outside the coastal town of Orcabessa is the Caribbean island's third international airport.
| | | |
| --- | --- | --- |
| "Ian Fleming made a contribution to Jamaica and gave Jamaica an image much larger than it would otherwise have had, because this was where the adrenalin flowed; where the creativity emerged that enabled him to write the James Bond novels," he said. "We also considered that the market to which we are appealing is a market to which the name Ian Fleming would have some resonance. We genuinely wanted to honour the memory of Ian Fleming because of all that he has achieved and the extent to which he brought Jamaica into that achievement...and we wanted to take advantage of his celebrity status." he added. Ian Fleming International Airport, located just five miles from the resort town of Ocho Rios, will cater to the needs of high-end tourists and the general aviation market. | | Above: Lucy Fleming and Prime Minister Bruce Golding unveil the plaque at the Ian Fleming International Airport yesterday. At right is Transport and Works Minister Mike Henry. |
The 007 author's niece, Lucy Fleming, who traveled from her Oxfordshire home in southwestern England to attend the ribbon-cutting ceremony, said her uncle would have been thrilled to see an airport emblazoned with his name in the Jamaican parish of St. Mary.
"He adored Jamaica and found so much inspiration and relaxation here. So I tell you something, to have this accolade of having an airport named after him here I know would have been a great honor for him," Fleming said. "Honestly, I don't think he would have written those (Bond) books without Jamaica.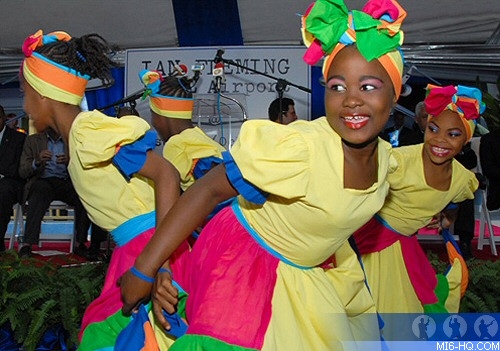 Above: Primary School students perform at the official opening of the Ian Fleming International Airport, located in Boscobel, St. Mary.
Fleming first visited Jamaica in 1942, when he was an intelligence agent in Bermuda. He returned and bought a property he dubbed GoldenEye four years later -- in the dying days of the British Empire, when the north shore of Jamaica teemed with scions of wealthy British families and American celebrities like Errol Flynn.
Music industry mogul Blackwell, who also attended the opening, said the airport will be a boon not only for his nearby GoldenEye resort, but also for the nearby tourist mecca of Ochio Rios and the northeastern town of Port Antonio. "It's very well set up," said Blackwell, whose GoldenEye retreat is the flagship resort of his Island Outpost company, which has a collection of hotels and villas in Jamaica and the Bahamas.