| | |
| --- | --- |
| | The first images and video of a future James Bond game under development by Activision-owned studio Raven Software have hit the internet... |
First Look At Next 007 Game
7th December 2010
As first reported on MI6 just 24 hours ago, it is understood that a new James Bond game that had development suspended by Activision is now underway again due to MGM's financial situation being resolved and the franchise moving forward with green-lights on the game and the 23rd movie, which was also on hiatus. Activision-owned studio Raven Software were reportedly working on the game earlier this year before resources were redirected to produce downloadable map packs for the immensely profitable "Call of Duty" franchise.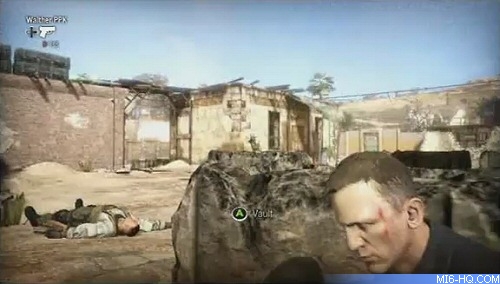 While yesterday brought news that work on the game was thought to be resuming, today the first look at the work-in-progress title has been splashed all over the internet. A demo reel from one of the game's animators, Hanjin Song, shows development work as well as quite polished clips from the future game. According to Song's LinkedIn profile, he is now working at EA Chicago, so it is unclear how up to date this video is. It was also an animator who first leaked that Activision were working on an updated version of "GoldenEye 007" for the Nintendo Wii. Song's demo reel includes several different games, so do not expect to see mutants or samurai's in a Bond title (watch online Viddler, YouTube)
Although early intel on the game was indicating a "stealth centric" format, and there are similarities to the popular "Splinter Cell" titles, the early footage also suggests a cover-based system in a similar mould as the recently release "Blood Stone". With the financial failure of that game (compared to recent Bond titles and it's release competitor "GoldenEye" - both under the Activision umbrella), fans are already speculating whether the final product will see some significant changes.
Raven Software have just completed work on the well-received "Singularity". Previous titles from the Wisconsin-based studio include "Wolfenstein", "X-Men Origins: Wolverine", "Marvel: Ultimate Alliance" and "Quake 4". A sequel to "Singularity" is expected in 2013.
There is no indication that Eurocom, who developed the successful "GoldenEye 007" update, are working on another Bond title. Bizarre Creations, the studio behind "Blood Stone", were shuttered by Activision a week after the game's release.
It is not clear yet if or when Activision plan to release the 'stealthy' 007 title by Raven Software, but as development was put on ice for six months, fans shouldn't really expect to see anything until this time next year at the earliest.