| | |
| --- | --- |
| | Fans of the best-selling James Bond videogame "GoldenEye: 007" will be able to relive some classic multiplayer action with the Xbox LIVE release of "Perfect Dark"... |
Perfect Dark To Include GoldenEye Elements
19th February 2010
Classic multiplayer maps and weapons from the all-time best selling James Bond videogame "GoldenEye: 007" will be available to play again next month. Now owned by Microsoft, original developer Rare will be releasing a remastered version of their Bond follow-up title "Perfect Dark" on Xbox Live Arcade on March 17th 2010. The new updated version of "Perfect Dark", which runs at 1080p HD at 60fps, will give players the ability to use some of the classic weapons and multiplayer deathmatch maps from "GoldenEye 007".
As with the original game, maps from "GoldenEye: 007" will appear (Facility - AKA Felicity, Complex, and Temple) and weapons from the Bond shooter will also be present as unlocks. Ken Lobb from Microsoft Game Studios told Kotaku at DICE 2010 that the port will allow players to select the Bond weapons and will feature more "GoldenEye" levels in multiplayer. Bond maps that were not included in the original "Perfect Dark" release, and could be added now, are: Archive, Bunker, Caverns, Caves and Library/Stack.

Right: 'Complex' multiplayer action on the original Nintendo 64 release of "GoldenEye: 007" .
Although a port of "GoldenEye: 007" to Xbox LIVE by Microsoft was scuppered by politics at Nintendo, this move by Rare will allow 007 gamers to get back to some classic split-screen action after all. During hands-on tests for the press, Lobb admitted that they had an Xbox LIVE port of "GoldenEye" running to the same level as the new version of Perfect Dark, and it was only the labyrinth of licence holders that kept it from coming out.
As well as supporting the fondly-remembeedr four player split-screen multiplayer mode, the new Xbox LIVE port of "Perfect Dark" also supports online play - up to 8 players can compete.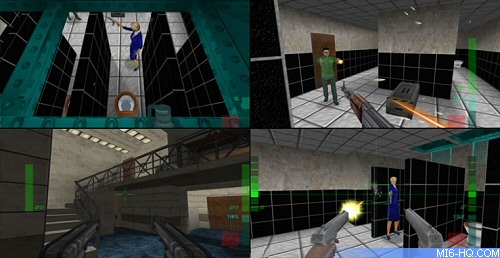 Above: The new "Perfect Dark" Xbox LIVE version of Facility (AKA 'Felicity')
When Nintendo relinquished the James Bond videogame licence to Electronic Arts in 1999, developer Rare created an original franchise - "Perfect Dark" - to effectively deliver a spiritual successor based on the mega-selling "GoldenEye: 007" for the Nintendo 64. Perfect Dark is a first person game similar to "Goldeneye: 007" though with more of an emphasis on stealth. Joanna Dark can pick up and use a variety of firearms. In addition she carries quite a few spy gadgets such as IR scanners, night vision, probes, and a deadly laptop.
"Perfect Dark" Xbox LIVE is only available to Xbox 360 owners with an Xbox LIVE Silver or Gold membership, through download from the Xbox LIVE Marketplace. The game will be available from March 17th 2010 and will retail for 800 Microsoft points ($10 USD).
Related Articles
"GoldenEye: 007" Articles
007 Gaming Central