| | |
| --- | --- |
| | MI6 investigates the controversial circumstances behind the cancellation of EA's "The World Is Not Enough" videogame for PC and PS2 back in 2001... |
The World Was Not Enough
6th January 2007
The world was not enough for Electronic Arts back in 2001. In February of that year many a fear had been confirmed - the first FPS James Bond game for the PC had been dropped, despite "The World Is Not Enough" showing significant progress and potential. The circumstances surrounding the eventual canning are controversial and widely debated. Was the game simply a victim of the gaming industry downturn? MI6 gets to the bottom of this nuclear issue...

Think "Bond" and "PC" and you are likely to recall 2002's lacklustre "NightFire" by Gearbox Studios. Ironically, TWINE PC was based on the Quake III engine - arguably somewhat more advanced than the terribly aging and heavily modified Half Life engine that "NightFire" was running on a year later. Moreover, the denied promise of a public NightFire SDK to allow the creation of custom content had left a sour taste in fans mouths. From the few screenshots released, fans can only imagine how colossal TWINE could have been for the Bond game movement on PC.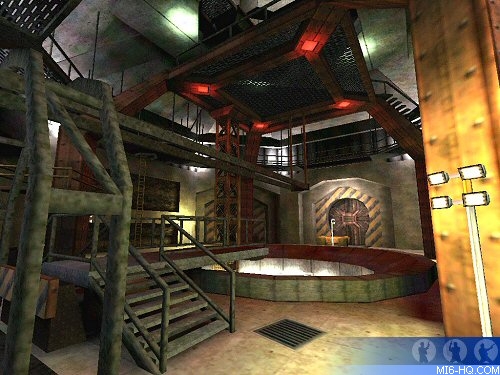 Several sources at the time cited the eventual canning of the game as a result of a large number of development staff being laid off from the EA Bond team. An official statement made by Jeff Brown (EA's Vice President, Corporate Communications) to the Eurogamer website in February of 2001 stated, "The reorganisation at EA's studio is a routine adjustment that reflects movement of projects and game franchises between studios … staffing reductions are balanced by increases at Tiburon and other EA studios ... no particular division or department was targeted and this will have no impact on development of the Bond franchise".



Above:

Mysterious Cut Backs
One would not expect EA to reduce staff on its largest franchise and studio to enrol new staff on other, smaller projects. In addition, official press releases for the game were mysteriously missing from the EA archive on inspection by MI6 a couple of years ago, and the touted release date of Friday 6th April 2001 was stripped from the year's schedule when news of the layoffs broke.

Was the game axed as a result of a gaming industry downturn? No, if some of those who worked on the project are to be believed.

After several lines of investigation, a likelier theory has been alleged. On further inspection, staff at the studio were undoubtedly sacked - but the official word was never fully justified according to sources.

Information made exclusive to MI6 suggests that certain sacked developers "stole code and other assets from the team" in an attempt to use the engine to produce an independent product of their own. In the rigmarole that followed, it is alleged that EA caught the individuals out and pursued legal action against them, explaining their low-key dismissal, and avoiding embarrassment for both EA and those involved.
Pheonix Rising
What became of "The World Is Not Enough" for PC and PS2 - which reverted to "TBC" in the schedules during the chaos? It seems amongst the confusion EA had lost track of development according to those who were involved with the licence. Too much time had passed since the movie release in 1999 and talk of the next Bond movie ("Die Another Day") had already begun, invoking worry that fans had lost interest and the game would not sell. The PC game was scrapped and TWINE for PS2 ultimately became "Agent Under Fire" - EA" s first next-gen Bond game featuring a generic 007 character and original story.
It was arguably time for change anyway. The movie-game genre had become saturated with poorly executed titles and EA could not escape constant comparison and scrutiny with "GoldenEye 64" as a benchmark. Doing so also meant EA was untied from the movie release schedule, allowing them to maximise revenue by offering new stories and features in their games, more attractive to a younger and wider gaming audience.

Despite many years passing, gaming fans still wait in anticipation of a great James Bond game for PC. There is certainly the want - but is there the need? A PC version of 2004's "Everything or Nothing" was planned but never made it past the drawing board. With the emergence of next generation consoles offering superior graphics and online play, will the role of the PC in the multi-platform line up be one that developers are no longer interested in?

What Was Promised (Originally)

Players will encounter villains and other characters featured in the movie
Cut-scenes will use real-time 3-D cinematics and exciting clips from the movie
The game's plot will unfold over ten missions in several different locales
Q's trademark gadgets will feature as well as a full arsenal of more than twenty weapons
Playing styles will involve stealth and espionage action as well as all-out gunplay
New "precision zones" aiming system
Full Internet and LAN multiplayer support
One thing is for sure... In the dark corner of an EA archive lie fragments of the best PC Bond game to date, and like everything else in a good action movie, blown to bits.
Looking Forwards
Electronic Arts have since given up the 007 licence after their last movie tie-in "From Russia With Love" suffered from lacklustre sales. Activision now hold the licence, which will become exclusive in September 2007, and are about to start developing a new James Bond game to be released in Q4 2008.
Related Articles

Gaming Articles