| | |
| --- | --- |
| | MI6 looks back at the road to production of the first James Bond film and 007's onscreen parallels to modern culture and politics… |
James Bond In History (2)
20th June 2008
James Bond, the infamous secret agent, has had immense popularity and sustainability as both a character and a pop-icon. Over the past 50 years the persona of James Bond has influenced fashion and style, movies and television, art and even the way people behave. Previously MI6 investigated the legacy of the literary character and his Cold War ties. Continuing from Part 1, we delve into the history of 007's onscreen legacy...
James Bond In History (1)

Screen Bonding
In the UK in the mid '50s, several production companies were after 007. Foresight from companies such as United Artists (an MGM division) meant that Bond was soon to be under the microscope and later in front of the camera.

In 1954, the American TV organisation CBS commissioned a small television production of "Casino Royale". They hoped to piggyback on the success of Bond novels and comic strips. It starred American Barry Nelson as Bond, and premiered in October 1954 as part of the "Climax!" series of mini-features. The TV rights to "Casino Royale" were brought from Fleming for a mere $1000 and this 1-hour special aired to minimal success.

..

Producing A Phenomenon
Ultimately it would take a big budget and far more traditional sense of British class to turn the cinematic James Bond into a household name. The two men that would transform 007 into a onscreen icon were Harry Saltzman and Albert R. Broccoli. Originally in separate partnerships, both expressed an interest in the complete film rights to Bond. In 1958, Broccoli set up a meeting between his partner, Irving Owen and Fleming, hoping to cut a deal for the Bond rights. Owen left the meeting empty handed shortly after arriving after telling Fleming that he didn't think his novels were good enough - even for television. In 1960, Saltzman approached Fleming and successfully brought the rights to James Bond for $50,000. That same year United Artists expressed an interest with Fleming's agent, who had to turn them down.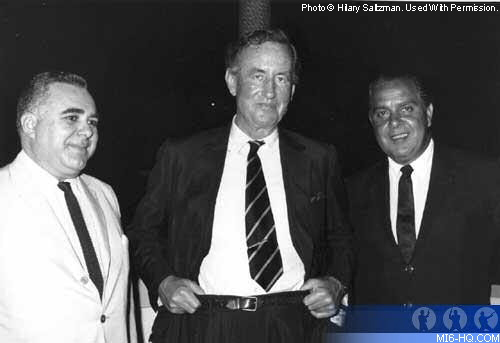 Above: Producers Harry Saltzman and Albert Broccoli with Bond author Ian Fleming
The same happened to Broccoli and his enquiries, after separating from Owen. However, another producer holding the Bond rights would not deter Albert R. Broccoli. After tracking down Saltzman he tried to purchase the rights but Saltzman wouldn't have it - he wanted to form a partnership with Broccoli and produce James Bond together.
With the successful acquisition of Bond, two companies were formed: Danjaq, a Swiss corporation taking Dana Broccoli and Jacqui Saltzman's collective first names that would hold the rights to the rights to James Bond and all the novel content, save Casino Royale, and second company, EON Productions, would be the front company and physically produce the Bond films.

In the '60s the movie business was in the cinema company's pockets. They would finance, manage and take a large chunk of a profit, just on a handshake. So, when the newly formed Danjaq approached United Artists they agreed in under an hour to produce the first Bond picture - provided it was "Dr. No".

Left: Legendary Bond director Terence Young is called in to direct 007...
Pleased with their deal, the Bond Producers hired scriptwriters and set about finding a director. Popular filmmakers of the time: Guy Green, Ken Hughes and even Guy Hamilton all turned the job down. It would take the bold and modern Terence Young to direct Bond to success.
Jamaican Roots
Assembling the principal cast for "Dr. No" meant finding a 30-ish, suave yet brutal actor Terence Young could transform into a super-spy. Popular actors of their time Richard Johnson, Carry Grant and even Roger Moore - who was reluctantly tied to his infamous TV programme "The Saint" - were approached but Dana Broccoli found unknown Sean Connery in "Darby O'Gill and the Little People". After a short meeting with the production team Connery agreed to play Bond.

Terence Young was tasked with crafting Sean Connery in the image of Fleming's Bond. He immediately took Sean to tailors "Turnbull & Asser" - who today, with a little help from Bond, are a top "Savile-Row-esque" tailor.

Other roles are filled more easily but just two weeks out from shooting the lead "Bond girl", Honey Ryder was yet to be cast. Scripts were urgently sent to several actresses but it was Ursula Andress who agreed to play the role without even meeting the producers.

Right: "Dr. No" introduced two relative unknowns: Sean Connery and Ursula Andress. Today, both are household names.
With Terence Young behind the camera the crew headed for Jamaica, where Fleming wrote and set the novel. At the time of shooting Jamaica was in the process of transition from a British colony back to a native Government. While it chose to remain a member of the British Commonwealth, Jamaica was one of the countries ruled by the English the longest. It must have been ironic for some that one of the biggest British film icons began in Jamaica.



Nevertheless, it would be unfair to state that the Bond production didn't give back to the nation that supported it. Monty Norman wrote a Jamaican number-one hit performed popular group "Byron Lee and the Dragonaires" for "Dr. No". To this day Byron Lee and his group remain one of the most successful Jamaican bands and still perform Barry's number.

007 did not just support Jamaica with music; the economy flourishes with tourism - its biggest national industry. Bond fans flock to Kingston, Port Royale and of course Goldeneye - Ian Fleming's Jamaican home, now a major resort and tourist attraction.
Pushing The Limits
"Dr. No" famously pushed the boundaries of filmmaking standards. In the editing room Peter Hunt cut a modern and unconventional film. Breaking all the rules, Hunt cut over movement and action (something avoided as an unspoken rule by past editors) with the concept of keeping a fast-paced and interesting thriller.

Ken Adam, now a film legend, became famous designing the world around 007 with modern and extravagant sets. The interior of Dr. No's lair may seem over the top in modern times, but at the time Adam's design was the height of imagination and creativity. Thanks to Adam, it is easy for fans to watch the history of the world's fashion develop around 007...

The same went for the iconic "gun-barrel" that rolls across the beginning of every James Bond picture. Maurice Binder used a pinhole camera, a real gun barrel and stunt man Bob Simmons to devise the iconic Bond opening - a technical filmmaking concept never considered until Binder's vivid imagination was set to work.



In every respect James Bond films pushed the boundary of filmmaking technique, creative concepts and nothing topped Bond for sheer entertainment.
Related Articles

Dr. No - Movie Index

Sean Connery Biography