| | |
| --- | --- |
| | Seven-times James Bond actor Sir Roger Moore took a trip down memory lane recently to commemorate the rebuilding of the famous Pinewood 007 Stage... |
Roger Moore Reflects On Pinewood
21st May 2007
Just after work on Casino Royale had wrapped last July, the world famous 007 Stage was wrecked by fire - again. Like a phoenix from the flames, the stage was rebuilt again and opened for business last month. A few weeks ago, BBC Radio 5 made a special visit to Pinewood Studios to commemorate the rebuilding of the 007 Stage. Amongst the many trips down memory lane during the show, Seven-times James Bond actor Sir Roger Moore reflected on his years at the studio...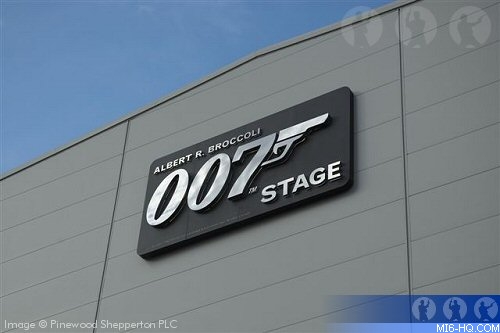 Tell us about some of your memories of making the Bond films at Pinewood...
As I was just listening to the music of Live And Let Die, and thinking about Pinewood, I actually started shooting on location in America (for the bayou boat chase), and then Jamaica, and then we came to Pinewood. The first shot I remember I did in the role in Pinewood was in bed with the beautiful Madeline Smith, who was so funny in the Two Ronnies shows.

She was playing an Italian spy (Miss Caruso), and we introduced the watch which was laying across her breast - on my wrist of course! And then I unzipped her dress with the magnetic thing Q had put in the watch. I remember that so well.

But my first time at Pinewood was 1947, when I was given a weeks leave from the Army to do a test for a film called Blue Lagoon, which Donald Houston did with Jean Simmons. I tested with Claire Bloom and it was the first time she'd been on film.
The bedroom scenes you had to do over the years as Bond must have been very tiresome...
Only for the doubles who had to do it! I never did the love scenes, I never went to bed with anybody. I just did the action [laughs]. But of course they weren't doubles, that's why I got paid so little!
You also made The Persuaders here?
Yes, we had the two stages L and M which we used for 13 and a half months making The Persuaders. It was a great time, and I have wonderful memories of Pinewood. And of course the woods at the back. I think I recognise every tree whenever I see a location shot from a film produced at Pinewood.
You must have met so many other stars over the years working at Pinewood?
Well none quite as big as Johnny Depp (currently filming Sweeney Todd at Pinewood), who is probably the best leading man around today. So put in a good with for me with him [laughs]. I'm a tremendous admirer of his. But looking back, my friends like David Niven and Trevor Howard... Curt Jurgens who was in The Spy Who Loved Me. Great, great memories, and of course my office is still at Pinewood, so I've been associated with the studio for 60 years now. Even before I had a buss pass.
When was the last time you were on a bus?
[Laughs] At the airport... and those that have been converted by location caterers to dining rooms for cast and crew.
Sir Sean Connery is very involved with politics with the Scottish National Party at the moment, but you're very involved with UNICEF. Does that take up most of your time now?
This year I've had it a little easier, but every day there is something to do - there is mail or stuff to read - and travel is sometimes hairy. It's quite easy and I go to nice places to raise money, but then sometimes I go in the field which is important although I feel rather useless when I'm in the field because I'm not a doctor or a nurse. But it's important that one goes so that one can talk confidently about what you've seen.

And have you seen - going back to the Bond films which is inevitable - Casino Royale?
Yes! I actually had to buy a DVD. I didn't want to go to the cinema because everyone would be poking me saying "what do you think?". I thought it was terrific. My god! The action that [Daniel Craig] did! He's wonderful in the role. I was one of the first people who said "why don't they leave him alone?" when [the media] were attacking him before he had started.
After you of course, who do you think was the next greatest Bond?
Do you mean after Sean? Sean created it and was an ideal Bond. I came in not really believing in spies because I always felt how is it the entire world knows he's a spy, they know he drinks martinis, every time he walks in to a bar it's "shaken, not stirred"? He can't be much of a spy - spies are supposed to be faceless people. They shouldn't be recognised. So I played it tongue in cheek. Sean played it more down the line but with the humour more throw-away. But I think all the Bond's have been great.
Related Articles

Bond 22 - Producer On Pinewood

Pinewood's 007 Stage Reopens

007 Stage Destroyed By Fire

Opinion - How the 007 Stage Helped Save the British Film Industry