| | |
| --- | --- |
| | LIFE magazine have unveiled previously unpublished photos from the James Bond screentests back in 1968... |
The Men Who Would Be Bond
16th December 2009
In the early '60s, movie producers adapting Ian Fleming's novels about a suave British spy named James Bond plucked a relative unknown, Sean Connery, out of obscurity and offered him the role of a lifetime. And when Connery left the franchise after five movies, the hunt for Bond was on again. LIFE magazine sent photographer Loomis Dean to the final casting sessions for On Her Majesty's Secret Service (released 40 years ago this week), and the magazine published a handful of those photos.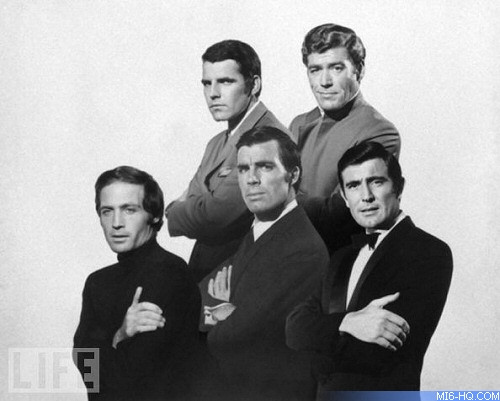 Above: The final five candidates
But some of the choicest frames — Bond wannabes suiting up, holding guns, drinking martinis, wooing women — have never been seen…until now. Meet each of the five top candidates (including ultimate choice George Lazenby), and check out their best moves. Click here to see all 30 pictures on LIFE.com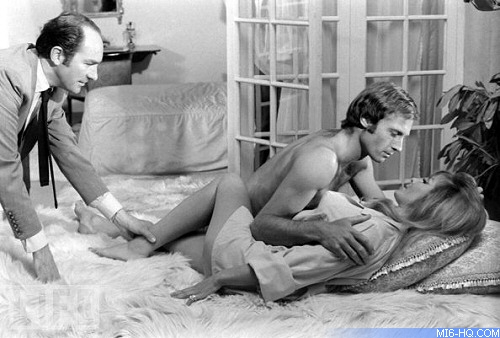 Above: Peter R. Hunt oversees a test love scene between John Richardson and an actress, moving her leg just so.
John Richardson
Before his brush with the Bond role, the 34 year-old English actor had played opposite Dr. No starlet Ursula Andress in She (1965) and Raquel Welch (who had been lined up to play Domino in Thunderall) in One Million Years B.C. (1966). He was once married to Thunderball Bond girl Martine Beswick.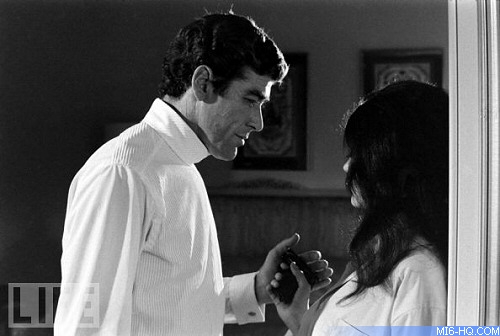 Above: In his screen test, Anthony Rogers persuades an actress to lower her defenses.
Anthony Rogers
In the few years leading to his Bond screentest, Rogers worked up from television bit parts in The Avengers and Doctor Who to big screen adventures El Dorado (1966) with John Wayne and musical Camelot (1967) with Richard Harris.
Robert Campbell
Born in New Jersey, USA, Robert was the less famous brother of the prolific television actor William Campbell and his writer sibling Robert Wright Campbell. Coincidentally, Connery would play a character named Robert Campbell in Medicine Man (1992).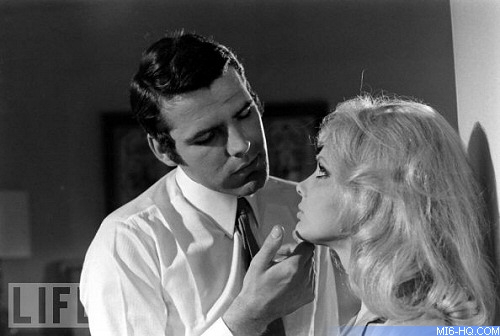 Above: Hans de Vries and France Anglade are put through the kissing paces.
Hans de Vries
A small time actor who had played a control room technician in You Only Live Twice, he had appeared in bit parts in TV's Doctor Who, the Saltzman produced Billion Dollar Brain (1967), and the Connery vehicle Shalako (1968) before testing for Bond.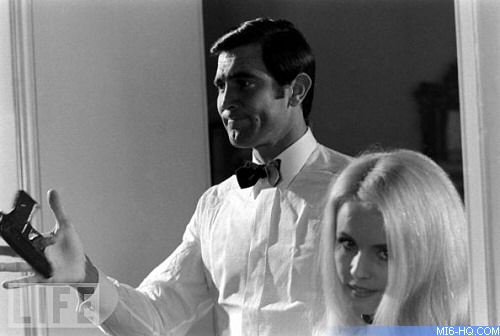 Above: Lazenby twirls a gun beside potential Bond girl Marie-France Boyer. "I'm really looking forward to being Bond, for the bread and the birds," he told LIFE after his casting.
George Lazenby
A plucky Australian who moved to London and worked as a car salesman with a part-time job as a male model, Lazenby was best known in Britain as the 'Big Fry' man, after the chocolate bar commercials he starred in, carrying an outsize bar on his hunky shoulder.
Related Articles
On Her Majesty's Secret Service - Movie Coverage