| | |
| --- | --- |
| | Dancer, singer and actress Trina Parks reveals how she landed her part in "Diamonds Are Forever" in this interview from the archives... |
Kicking Bond Where It Hurts
20th December 2011
"Slim young dancer bane of James Bond adventuring" - December 11th, 1971 (The Windsor Star)
Movieland is truly a place of lavish make-believe. For who would associate the slim, friendly girl curled up before a poorly-functioning television set in a downtown Detroi hotel, with a wild, man-hammering wild amazon. It was almost preposterous to associate the rather shy person who abashedly took off giant, octagonal-sded heavy lensed glasses, before greeting me, with the woman called Thumper, arch-enemy of lady-killing James Bond.
Yet, 'tis true! The ebony beauty, dancer, singer and model, featured in the new James Bond movie, "Diamonds Are Forever", starring Sean Connery as the everlasting Agent 007, plays a bikini-clad bodyguard of a recluse millionaire, who gets to rough-handle Connery. One of her principal accomplishments is aiming a well-directed kick to the groin, prelude to flipping him into a handy nearby swimming pool.

Of course this is all part of an easily identifiable James Bond plot, whose stories always abound with action and swarm with easily-makeable women. But Trina, or Thumper is not among Bond's conquests. She doesn't appear in a major portion of the film but she does figure in the action, sound and fury which dominates most movies starring Agent 007.

The groin kick has become a classic of the publicists and is high on the agenda of interview topics even before the picture has been released. "No," Tina says she didn't identify with Women's Lib in womanhandling Connery but "no punches were pulled," she added.
"I was a bit shocked when they told me I had to kick him (Connery). I certainly had never kicked a man before... but they told me to go ahead and be realistic. He was well protected and so I kicked him hard like the script said."
As in all movie scenes there were a number of retakes but Connery stood up to all the battering without recourse to a double. In this particular scene Trina is the young distaff athlete bodyguarding a bashful Midas, who doesn't wish to play host to James Bond. When Connery as Bond breaks in, Trina, or Thumper leaps off her rock and takes after him.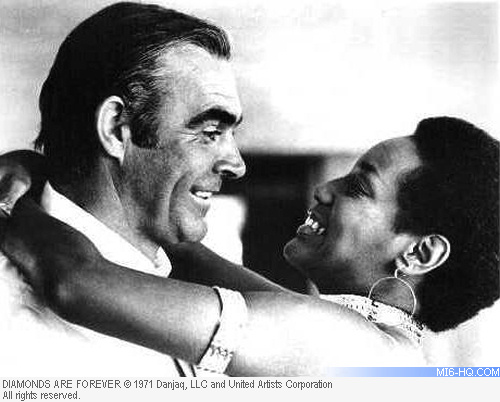 Trina says she has never had instructions in ju-jitsu, karate or any of those other social niceties. She has gained all her well-concealed muscularity chiefly through dancing. She was a member of the famed Katherine Dunham Dance Company, and though still in her early 20's has played in such off-Broadway productions as The Prodigal Son and did the role of Jezebel. She is also a nightclub singer of some renown having entertained in Las Vegas' Flaming Club among other leading niteries. As a singer she is strictly the jazz type who does some pop and rock but "I jazz up the rock." Trina has also been starred in television's popular and occult Night Gallery.
Brooklyn-born, a native of the tawdry Bedford-Styvesant section. Trina is not afraid of New York despite its increasing unwholesome reputation, but prefers to live in Los Angeles, where she is one of the few performers who actually reside in Hollywood and not some posh adjoining area.
Although in Diamonds Are Forever Trina appears in bikini trappings she is not particularly impressed by nudity shows.

"I was asked to do Hair when it was first produced but I'm not particularly interested in that sort of thing. I'd really like to become a well-known actress rather than a well-known nude... and anyway my guy wouldn't let me do it."

"Who is you guy?" Trina answered that he's Charles Elder "one of the top black models", who is now negotiating to go into films. Trina and he would like to act in a movie or play together.

Opportunities seem to come Trina's way when she needs them. For instance it was while she was singing at the Flamingo in Las Vegas that she was approached "to do a wild scene with Sean Connery". Her scenes with Connery, including the kicking bit ("I really kneed that man") took place in the grounds and interior of a luxurious Palm Springs home. Off camera, Trina says, Connery is "a groovy man".
She said rehearsals and actual filming of her fight with Connery as Bond, in which she was teamed with a Hollywood stunt girl Donna Garratt, was not unlike performing a dance number with all of her moves carefully choreographed by the films stunt director, Paul Baxley.
A tall (5 ft., 8.5 inches) lithe lady who keeps herself trim by daily dance exercise, Trina is ready for any worthy part in the entertainment world. She has already demonstrated her versatility from the type of roles she has assayed, singer, dancer, classic (she once played Europa of Africa) parts to talk shows and mystery films. And of course James Bond's scantily clad adversary.
But, as Trina says, flexing her willowy limbs, "I'll settle for any important exposure that advances my career."