| | |
| --- | --- |
| | MI6 uncovers a rare interview from 1987 where producer Albert R. 'Cubby' Broccoli reflects on 25 years of 007 as he introduces James Bond #4... |
Broccoli Reflects On 25 Years
9th April 2012
"How do you do? My name is Bond. James Bond." - April 17th, 1987
The film world's most durable star, survivor of uncounted attempts on his life and safety, is celebrating his 25th anniversary as a box-office attraction this summer. His name? Bond. James Bond.
This time the British Secret Service's premier agent is combating not only the Soviet KGB and ruthless arms dealers, but also the deadly supplier of the world's heroin and a flock of free-lance terrorists. The feats may be familiar in "The Living Daylights." but James Bond will be new: Welsh actor Timothy Dalton.
The worldwide popularity of the previous Bond movies - United Artists claims 1.5 billion tickets sold - has continued despite changing faces. Dalton's predecessors as the licensed-the-kill hero have been Sean Connery, George Lazenby and Roger Moore. No one knows more about James Bond than Albert R. (Cubby) Broccoli, who has produced or co-produced 15 Bond movies. To others, "Casino Royale" and "Never Say Never Again" were made by other filmmakers who acquired rights to Ian Fleming stories. Recently at his Beverly Hills mansion the portly, 77-year-old film veteran discussed his life with Bond.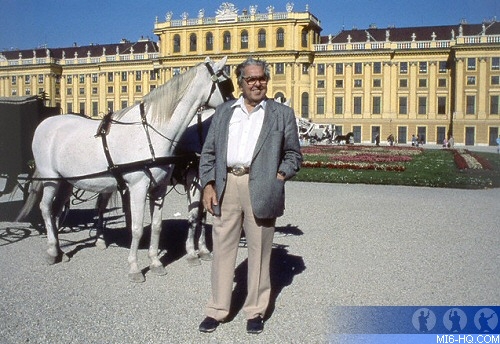 Above: Broccoli on location with "The Living Daylights" (1987) in Vienna, Austria.
In the early 1950s, Broccoli, one a Long Island farmer and later a Hollywood assistant director, was in England co-producing movies with Alan Ladd and other American stars. Broccoli became interested in filming the Fleming spy novels but found they were owned by a Canadian-born producer, Harry Saltzman. They joined forces in a partnership that lasted nine films.
Saltzman had tried without success to sell American film companies on making a Bond movie. Even though United Artists had been queried, Broccoli decided to try the company's top man Arthur Krim. "Saltzman and I flew to New York and made a deal in about 40 minutes," the producer recalled. "That's about as quick as you can do it."
Broccoli found his James BOnd while sitting in Howard Hughes' projection room in Hollywood. He watched a Disney movie, "Darby O'Gill and the Little People," and was impressed by a young Scottish actor named Sean Connery. "He didn't look like James Bond; it was kind of a rough, uncouth character," said Broccoli. "But there was something about him I was looking for. At that time he was living in a trailer and was quite badly dressed. We made a deal, but United Artists was not in agreement with us. They wanted us to find someone else. But we had looked at a lot of actors, and Sean was the best."
United Artists agreed to go ahead with "Dr. No," imposing a $1 million budget. Later the company wanted the film made for $850,000. The producers balked, and the final tab came to around $1.1 million. UA was "shaky" about the film and first released it in drive-ins [in the USA], said Broccoli. But "Dr. No" caught on, especially with collegians.
"We were lucky in many respects, in picking Connery and then in having President Kennedy say that the Bond books were his favourite," said Broccoli.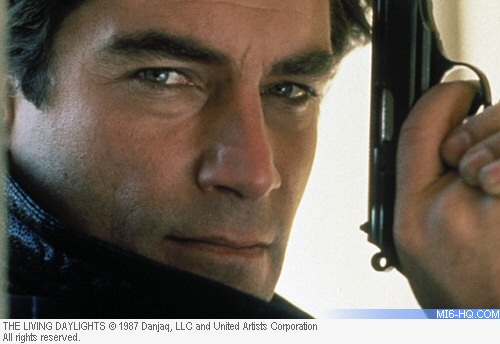 Above: Timothy Dalton as the fourth James Bond in the EON Productions series.
Expectably, Connery wanted a piece of the action, and he was cut into the profits with the second film, "From Russia With Love." But after "Goldfinger", "Thunderball" and "You Only Live Twice," he decided he wanted to pursue other roles. "The I found this guy George Lazenby; he was my fault," Broccoli admitted. "I saw him one day when I was in a hairdresser's in London, and he looked good. He told me he was an actor. Well, he had done a commercial." Lazenby's only Bond movie was "On Her Majesty's Secret Service." His temperament and lack of charisma prompted United artists to pay Connery a handsome sun to return in "Diamonds Are Forever."
After his experience with Lazenby, Broccoli decided he should try a more established actor for the next Bond role. He chose Roger Moore, who went on to play 007 seven times, from "Live And Let Die" to "A View To A Kill".
"The Roger decided he wanted to quit, and I felt we needed someone new," the producer said. "It was an amicable parting. In fact, Roger is narrating an ABC special this June about memorable moments from the Bond pictures."
Pierce Brosnan, TV's "Remington Steele," was to be the fourth James Bond, but he lost out "because of the shenanigans of a certain network which wanted to hold on to him," Broccoli said. NBC refused to release Brosnan even though the series' return was iffy, and it was later canceled. Broccoli's choice for "The Living Daylights" was the classic-trained Timothy Dalton.
"I had tried to get him before Roger," said the producer. "But then he didn't want to do Bond. I don't know whether he felt he couldn't do Bond or shouldn't do Bond. When I went back to him last year, I was surprised when he said he would be interested. He even agreed to make a test, which he wouldn't do before. We didn't want to test his acting, because he's a fine actor. We wanted to see how he looked photographically. He came out with full marks as far as all of us were concerned..."
"For the first time, an actor called me up and said, 'Cubby, I had a delightful time on this picture. It was one of the most enjoyable films I ever worked on. Everyone was sensational, and I want to thank you.' That never happened to me before."