Fontainebleau Miami Beach
26th August 2014
James Bond is checked into the Fontainebleau Hotel when 'M' tasks his top 00-agent to keep tabs on the villainous Goldfinger
By MI6 Staff
---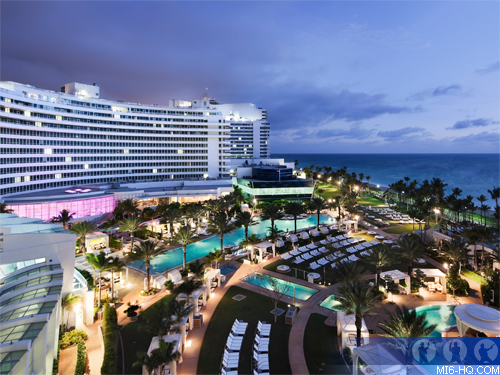 On Screen: James Bond checks into the Fontainebleau prior to the "Goldfinger" mission under the pretext of a little R&R, but Bond soon learns his head of department has other plans. Here it is revealed that 007 has been charged to keep an eye on the megalomaniacal villain who lends his name to the movie. Goldfinger passes the time in Miami cheating at cards, employing the beautiful but doomed Jill Masterson to serve as his personal companion and to assist in his elaborate ploy to win at Gin Rummy against his unwitting opponent Mr. Simmons. Whilst indulging in some R&R on the poolside and in the hands of the very able Dink, Bond meets Felix Leiter who briefs the British spy. Bond discovers Goldfinger's secret spy and coaxes her into betraying the villain and spending the night with him.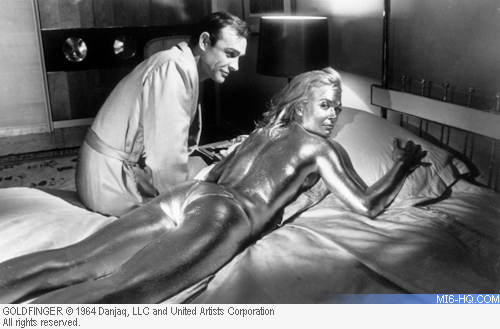 "Now hear this Goldfinger, your luck has just changed. I doubt very much the Miami Beach police would take kindly to what you're doing. Nod your head if you agree. Now start losing Goldfinger. Should we say $10,000. No let's be generous, let's make it $15,000."
Sean Connery never shot on the location, instead the vast majority of the hotel was recreated at Pinewood and plate and backing shots were used to create movie magic. On 15 January 1964 director Guy Hamilton took a small crew to Miami to shoot aerial footage of the Fountainbleu Hotel seen briefly at the beginning of the film. On the 20th of the month, the tiny crew shot scenes of Cec Linder and Austin Wills as Felix Leiter and Simmons respectively. It would later prove tricky to match the location work with the studio work and much of the original location shoot was never seen in the final cut.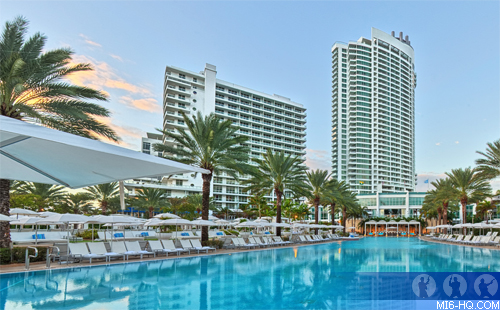 In Person: Opened in 1954, the Fontainebleau is an icon - both culturally and architecturally - of Miami Beach. Designed by Morris Lapidus, it is often said to be the most significant building of Lapidus' career. Today packed with spas, shops and restaurants and houses its guests in over 1500 rooms on the bright Miami waterfront. It quickly became used as a backdrop for film and TV, when Frank Sinatra's Tony Manetta visits the hotel for a party in 1959's "A Hole in the Head". It was later seen in "Scarface" (1983) and "Police Academy 5" (1988). As a destination today, the Fontainebleau boasts 12 restaurants; guests enjoy anything from Michelin-star Chinese cuisine "Hakkasan" to Italian fare at "Scarpetta". The hotel is affiliated with the nearby Turnberry Golf Course, which hosts the regular Stanford International Pro Am and is just a 20 minute drive from the accommodation. The hotel itself also boasts direct beach access, spa and gym options and a lively nightlife on the weekends. In 2008 $1 billion was spent to transform and upgrade the facilities, but with special care to preserve its unique architectural features, including the famed Staircase to Nowhere.
Share The Story