| | |
| --- | --- |
| | Exclusive: MI6 recently caught up with James Bond composer David Arnold to talk about his work on Casino Royale and the future for 007... |
In Conversation With David Arnold (5)
29th July 2007
Exclusive: MI6 recently caught up with James Bond composer David Arnold to talk about his work on Casino Royale. In the fiftth part of this serialized interview, he talks about comparisons in the series, how Bond 22 may progress the style adopted for Casino Royale, and an unused song...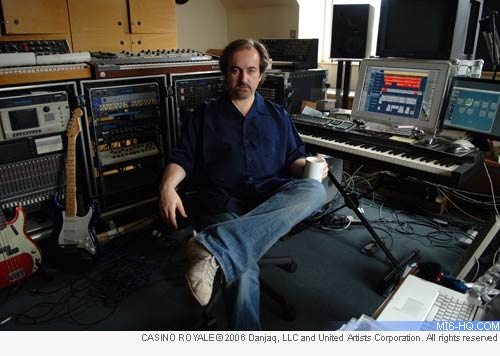 It felt like a creative reboot for me, I didn't feel as constrained
by the action beats as I did with the massiveness of
"The World Is Not Enough" and "Die Another Day".
One of your great quotes about working on Bond is that the two criticisms you've always had are, `it sounds too much like John Barry` and `it doesn't sound enough like John Barry`. Has that feedback lessened in recent years as you've worked on more Bond's and have had time to assert your own style on the series?
There is another one you can add to that, which is "why do we never get the whole score on a CD? "... then, "this soundtracks a bit long isn't?" We are in the "you can't win land". Yes maybe, for some people Sean Connery will always be James Bond and for others he won't. For some people John Barry will always be the definitive and undeniable sound of James Bond, and wrote the greatest Bond scores. I'm firmly in that camp, some people who have written to tell me that "Casino Royale" is their greatest James Bond film ever and has the best music ever as far as they are concerned.
For some people that will be true of "Die Another Day" and Pierce Brosnan, others O.H.M.S.S. and George Lazenby and for some it will be Duran Duran and others it will be Shirley Bassey. It's a really intriguing – we are looking at the 21 film, 45 year franchise and we are still arguing about it.

At one point during "Die Another Day" I was writing a piece of music for James Bond in a powered ice ski car being chased by a space laser beam escaping from a melting ice hotel, with a villain with a remote controlled thing on his arm and somebody else's face. Somebody once wrote that the music was a little over the top, maybe they should watch the film!

I think you are always going to get comparisons - the people that love John Barry are never going to fully accept what somebody else does as being better, possibly in their opinion because its not! I think that is completely understandable. I think John Barry is very different to me. I think he is a remarkable and elegant writer.


Above: US cover art for the soundtrack CD
Order CD (Amazon USA)
Order CD (Amazon UK)
It is a fantastic privilege to be walking in John's shadow, he casts a very long shadow over the entire franchise. It's something that I'm very aware of and I think his sound is the sound of James Bond. If anything, Daniel has given us the chance to perhaps try something more like me. I think we started to get there with "Casino Royale". We may not have got there all the way. There is an enormous amount of music in these films, there is a lot of redoing, editing changes, just like every film.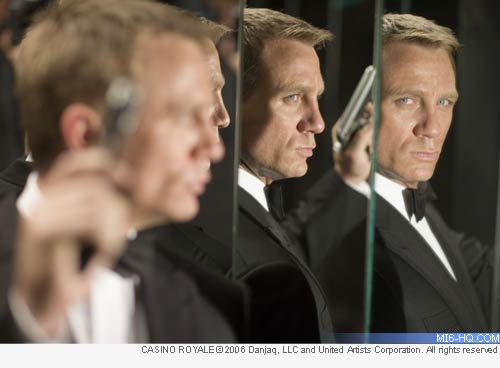 "I'm writing the music to the films that are in front of me,
not ones that were made 30 or 40 years ago"
You have to get through two to three minutes of music per day and that is to conceive what has it got to be, time it to make it fit, write it, roughly arrange, get it into a shape where you can play it for the director; this is what the scene is going to be. Two or three minutes a day with a movie with huge expectations, when you are doing that everyday for weeks and weeks, it's not like you've got a week to consider three minutes of music. Like everybody does on these films, you have to get through so much per day, otherwise you don't get it done. It's always very exciting. I'm very happy with "Casino Royale" as a film and my heart is in it and I'm intrigued to see where we go next.
Assuming that you're asked back for Bond 22 do you have any ideas where the music will take us or will you wait to see the script and formulate ideas based on that?
Well I've kind of got an idea of where I want to go and it's strengthened by the way that this film has been received. But I've said before on some interview; someone asked me "have you any idea where the music's going to take Bond 22?" and I said, "I think Bond tends to take me, I tend not to take him." Wherever he goes, I'll be going so musically I'll be following him.

Any chance of 'I Will Return' being used soon?

At the moment it exists as a first verse and chorus, so there is nothing else to it, Don Black came up with the most fantastic first line, it was linked to the Fountains of Desire cue from "Die Another Day" . It was the first two lines of the song. We never got to finish the rest of it because we knew that it wasn't going to be used in the film as a song. Don had a fantastic opening couple of lines, we may use it at some point. "Before you make your move, think of the consequences…" was the first line. but it just seemed like a great line to open a film. Nevertheless it wasn't to be, it might be one of the things we can revisit. I think the idea is a good, even though we've used the melody in "Die Another Day".
If we ever get to the end of a movie and there is going to be a different song from the opening titles… I like the idea of a lyric being about the last thing you see in the cinema, 'James Bond will return.'
Do you have any plans for a second "Shaken & Stirred" album in the future at all?
No, it took long enough and I'm deeply associated with James Bond enough. I don't want to do more on my days off. But it was great fun to make.
---
Biography
David Arnold composed, arranged and produced the score for Casino Royale, his fourth James Bond film, following Tomorrow Never Dies, The World is Not Enough and Die Another Day. As composer for Casino Royale, Arnold collaborated with Chris Cornell to write the title song "You Know My Name."
Hailed as one of the most successful young British composers, Arnold began his film career making short films with fellow enthusiast Danny Cannon, teaching himself to write, orchestrate and compose the scores for their films. In 1993, he scored Cannon's feature film debut The Young Americans, combining lush orchestration with Bjork's vocals for the title song "Play Dead," which earned critical and commercial success. This led to the offer to score Stargate, Roland Emmerich's sci-fi film, which enjoyed box-office success and earned Arnold his first BMI Award.
Winner of seven BMI Awards for his music for Tomorrow Never Dies, The World is Not Enough, Die Another Day, Stargate, Independence Day, Godzilla and 2 Fast 2 Furious, he also won a Grammy for Independence Day and recently won the Royal Television Society Award for the title music of the UK comedy series "Little Britain." In addition, he won the Ivor Novello Award for the music for The World Is Not Enough. He has been recognized by the film industry as a talented and diverse composer, arranger and producer, whose scores include Shaft, Changing Lanes, 2 Fast 2 Furious, The Stepford Wives and, most recently, Michael Apted's Amazing Grace, Venus directed by Roger Michell, and Hot Fuzz directed by Edgar Wright.
Related Articles

Casino Royale Coverage

Casino Royale Official Soundtrack - Preview

You Know My Name - Single Preview

Chris Cornell On Casino Royale

Bond Music