| | |
| --- | --- |
| | Barry Eldridge, Creative VP at Factory Entertainment, explains to MI6 how they designed and manufactured the new SPECTRE Ring replica... |
Factory Entertainment Interview
3rd April 2012
How did the idea for the ring come about?
We are always looking for iconic Bond movie objects to replicate, the SPECTRE ring is perhaps one of the most well known and imitated props from Bond's enemy's. The cat and the ring combo with the unseen head of the villainous evil organization is known worldwide and has been imitated many times.
How did you select which ring to create?
Many people probably know that there were several version of the prop rings used in various films, all different. We thought it sensible to work chronologically and start at the beginning with the first version that movie audiences ever saw, the version seen in "From Russia With Love". Then if its popular enough we can potentially produce the other versions that appeared in later films as future products.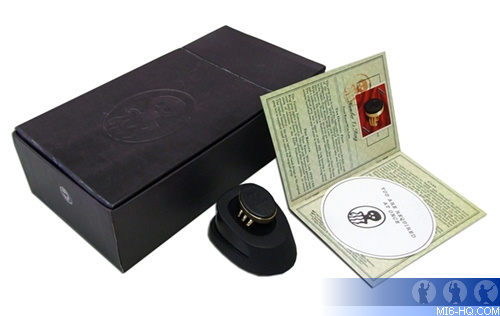 Were you able to find the original ring or did you work off reference materials?
We could not locate the original ring prop. It was 'lost' after filming many years ago and its whereabouts remain unknown. Also due to the age of the film very few written records remain, and sadly many of the crew involved directly have passed away. So obtaining factual evidence is tricky. However we were able to locate good reference in the Eon archives, and had enough input from various sources to create a highly accurate replica. Having studied the various prop rings used in different productions it is our hypothesis that the original FRWL prop was actually recycled and its body and band were used as a donor or starting point for the next version of the ring, that seen in Thunderball which has an almost identical body but different face and setting. Again this is only our opinion but it is common practice in film productions to re-use and adapt existing props and seems logical based on their similarities and would explain why such a key prop seem sto have vanished. We are still trying to track down somebody who may be able to confirm this.
Can you tell us a little about the production process?
Sure, the initial stage is approval. We present our ideas and usually a rough prototype to EON who approve the concept. Stage 2 is investigation. We look at reference and attempt to interview any relevant people. In this case because no original prop was available for study we produced drawings to illustrate the dimensions. The vendor we select then produced an initial '1st shot' usually in resin or 'looks like' materials. This is then sent to EON again for approval. We then proceed to materials testing where we locate and produce sample 'blanks' from different types of Onyx to judge the finish and appearance. Then we proceed to a final sample in gold, with packaging etc for final approval. At this point we make any final adjustments, then we proceed to production. On this piece we thickened the ring band because we felt it was important the piece had a heavy quality feel . This was not required on the original prop, it was merely required to look good on screen. But as this is a jewelry piece we knew there would be a consumer expectation. The thickening does not affect the external appearance of the piece or its accuracy. The enlargement was internal, making the 'arms' of the octopus that make up the band about twice as thick as they were on the original prop. Their width and length remains screen accurate. We also used real Onyx as this is common for signature rings and gives a very hard durable surface. The original prop apparently had a soapstone setting, a much softer material. Although it's a stone you can mark it very easily and it's hard to get consistent colors so it's not really suitable for a replica product like this.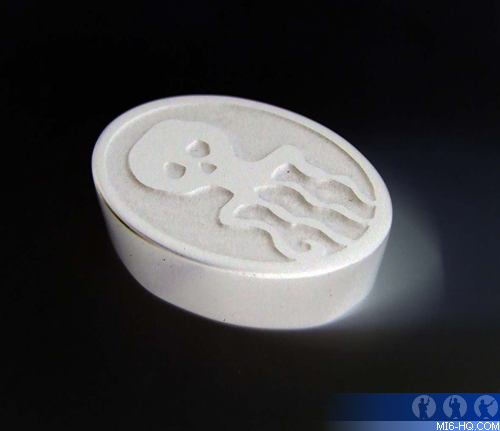 Above: The white resin stone used for impriting the stone in each ring.

Related Articles
SPECTRE Ring Preview