| | |
| --- | --- |
| | MI6 recently caught up with Danish actor Jesper Christensen to talk about his role of Mr White in Casino Royale, and his experiences of the production... |
Jesper Christensen Interview
29th September 2007
MI6 recently caught up with Danish actor Jesper Christensen, who played the shadowy villain Mr White in the 2006 James Bond film Casino Royale. His fate at the end of the movie looked grim, and even though many hints have been made that Bond 22 would pick up moments later, Christensen still "had no idea" about the possibility of reprising his role when he spoke to MI6 in August.
What was it like working with fellow Danish actor Mads Mikkelsen?
Well, it was fun. We're Danes both of us, and of course we knew each other but we'd never done anything together before. So, it was the first time we were together and it was fantastic. We thought, "this'll be fun". So I just walk on set and I get to shoot him straight in the head – kind of silly and fun. I think he's a very good actor and I had a lot of fun with him, we had a great time in Prague.

How were you cast in the role of Mr. White in "Casino Royale"?
We didn't do any screentests whatsoever, they just hired me based on my show reel and said "we want this guy". I think that's what happened.



How many days did you spend filming?
Very few actually, there were three locations – and a couple of days for each location. I was in France and I was in Pinewood and I was at Lake Como. I think I had three weeks on it, all in all.
What was it like playing a Bond villain, and how does it compare with a regular role?
As long as it's not the same story all the time, I think any role is fine. I like playing the bad guys and I like playing psychopaths but I also enjoy playing nice people. It's not a question of the role. It's a question of if you get stuck with one role – that's bad. Typecast is a really ugly thing.
You had a brief scene on location with Daniel Craig – how was it working with the new James Bond?
Actually, I can't say I had a very strong impression of Daniel – simply because he was working so incredibly hard. He was busy doing other things. I might have caught him at a moment when he wasn't so busy, so one could have talked more, but that's how it is. He was in his trailer; he was going to meetings and being rushed on set. I didn't really get an impression of him, but I think it's amazing what he's done with the part. I like the film very, very much, and that has a lot to with Daniel being very good, but I didn't spend a lot of time with him. He shoots me in the knee and introduces himself and that is it.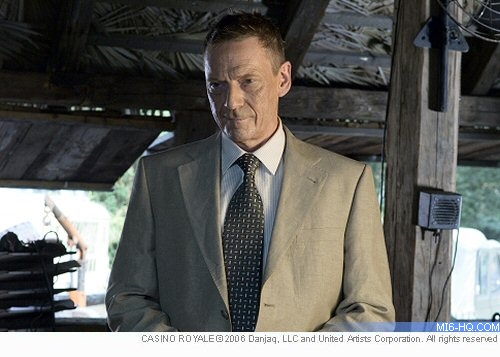 Above: Jesper Christensen as Mr White in an early scene of Casino Royale
How about working with the director, Martin Campbell?
I thought he was a very, very charming man and very competent, collected and calm – he didn't make things more complicated – it was very nice working with him. I liked it very much.
How do you feel the film went in Denmark?
I think it would not have helped a lot if it were not as good a film as it is. It went down very well and outsold every other film that year. That's because it was it was a very good film, not so much because Mads or I were in it.
What are the major differences between your work on a Hollywood production and your work on local productions – other than the language?
Size! Above all size. A Danish production would be one tenth of this size. It's a different kind of life all together. The people doing it would be the same, I mean, cinematographers are the same the world over, soundmen are the same kind of guys. All the functions of the crew are handled by people who tend to work alike, talk alike and be alike – that's the funny part of it. There was just 10 times as many of them on "Casino Royale".
How has your life been affected after adding James Bond to your career?
I think the only thing that I have really experienced is the amount of fan mail coming in has multiplied. There is an incredible interest in the Bond films all over the world. That surprised me quite a bit – but other than that, it hasn't done anything for me yet.

As an actor, what is your process of evolving a character from script to screen?
It's a mood; you can't really express what your character is going to be like when you end up doing a film like this. In this instance, we really knew what we were doing all along. When we shot it, it's exactly like we're doing it in the film.

Very often you find you do a lot that doesn't make it to the film – its all been juxtaposed or sometimes comes out the wrong way, but this was a very cool production in the sense that what you thought and what you did turned out to be exactly what appears in the film.
Over your career to date, what roles have you been most proud of?
I was nominated for European Actor of the Year in 2000 for something called "The Bench", which I think is – if I had to pick one thing – is among the most important things that I've done.
In 2005, you starred in the Hollywood production of "The Interpreter" – would you tell us a little of your experiences on this film?
I did most of my work in the UN building. That was the first production to be let in there and probably because that was a backdrop for it. The film was really about trying to give a helping hand to UN – trying to show that you can talk your way out of conflict. So, I could well understand why they let us in. It was an amazing place and stunning to be there, in the forum. That was a lot of fun, but a strange place to be. You get to be in strange places as an actor – by that I mean where the public can't get.
It was changing a lot while we did it. It was something completely different, but not as good as a Bond film. The pacing of "Casino Royale" was incredible I think – I liked it very much. It surprised me, being so good. They have to keep pushing the limits of what people think is a real Bond film. That's what they need to do, otherwise it'll just be put in a museum and die off.
What projects are you currently working on and what films will fans see you in next?
In a short while I'm coming back be in something called "Young Victoria", which is a British/American production about the young Queen Victoria. I have a very good part as a Baron. It's conjuring up a love affair between Victoria and Prince Albert. There are also some other things that I cannot talk about because they're not completely fixed.
Related Articles

Mr White - Villain Profile

Casino Royale Coverage