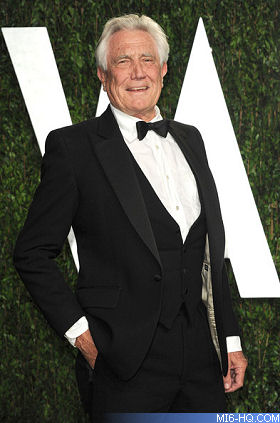 Above: George Lazenby at the Vanity Fair post-Oscars party earlier in 2012.
Asked why it was that audiences are reconnecting with his Bond outing, over 40 years later, Lazenby said: "Because of me! No, it's not me. It's the only film that treats him like a human being. He's not a robot killer like the latest Bond."
"They offered me millions under the table to do another one, but I thought James Bond was over. Easy Rider was the No. 1 movie. Everyone was smoking marijuana, and that was the furthest thing from a James Bond movie. So I didn't sign the contract. I was badly treated after that. They told the press that I was difficult to handle, so it was hard to find work."
He was very honest about his regrets about turning that offer down and walking away, especially as his finances were tight in years shortly after.
"Yeah, I regretted it many times. Especially when I had a baby and another one in the pouch, and I was broke. I was living with my mother in Australia."
"I've done everything I ever wanted to do. There's no challenges besides writing my memoir, which I'm avoiding like the plague."