Trigger Mortis Tour
10th August 2015
A UK book tour has been announced for the upcoming James Bond novel Trigger Mortis, plus a new limited edition
By MI6 Staff
---
A UK book tour has been scheduled for author Anthony Horowitz and his upcoming James Bond continuation novel 'Trigger Mortis.' The tour kicks off on Monday 7th September 2015 with a book signing at Waterstones in Piccadilly.
Waterstones have an special limited edition version of the book (pictured opposite) with alternate cover artwork and exclusive extra content of the original outline by Bond creator, Ian Fleming, for a television episode called 'Murder on Wheels.'
Monday 7th September @ 6:30pm - Waterstones Piccadilly, London.
Wednesday 9th September @ 7pm - Central Library, Manchester.
Thursday 10th September @ 7pm - The Roxy, Edinburgh
Friday 11th September @ 8pm - DLR Lexicon, Dun Laoghaire
Sunday 27th September @ 12pm - Radio Times Festival, Hampton Court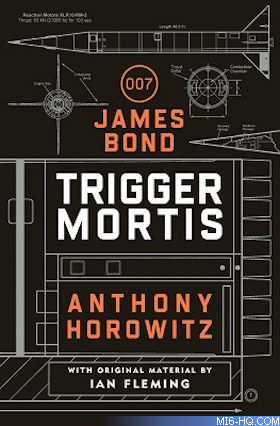 'Trigger Mortis' will be on general release in the UK on Tuesday 8th September, 2105.
Share The Story