While many people dream about Bond's sartorial, gambling, and sexual skills, they also dream about his gadgets: the Walther PPK gun, golden guns, ray guns, and rocket-firing cigarettes; spy shaving kit, poisonous shoes, homing device buttons; Geiger counter wrist watch, television wrist watch, buzz saw wrist watch; decoders, voice synthesizers, cameras, decapitating tea trays, killer hookahs, moonbuggies, underwater propulsion devices, mini-jets, and cars cars cars. And that's just a small glimpse at the vast array of super-science gadgets issued by Q Division to Agent 007.
This book is about the gadgets, the science, the cars, and the technology. How realistic are James Bond's adventures and all the equipment that goes with them? How believable is Jaws, who chews through metal? Just how easy is it to crack into all those top-secret facilities to save the world? Is James Bond rooted in science, or are his adventures and the technology that fills them science fiction?
This book answers the question that moviegoers find themselves asking after watching the newest Bond movies – possible or impossible? Most chapters are wrapped around a Bond gadget – whether it's his cars, his explosives, or his super secret messages.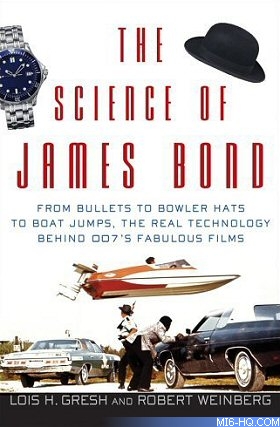 Above: Book cover art