| | |
| --- | --- |
| | Blood Fever is about to spread in the USA as the release of the second Young Bond novel nears. MI6 has a closer look at the new artwork... |
US Blood Fever Preview
6th April 2006
Blood Fever is about to spread across the US as the release of author Charlie Higson's second Young James Bond novel nears release. Published on June 1st 2006, the hardback edition of "Blood Fever" will feature a new departure from the regular cover art with a new picture by Young Bond artist Kev Walker. Seen here for the first time in high resolution on MI6, the cover art features the pirate boat that is central to some of Blood Fever's key action.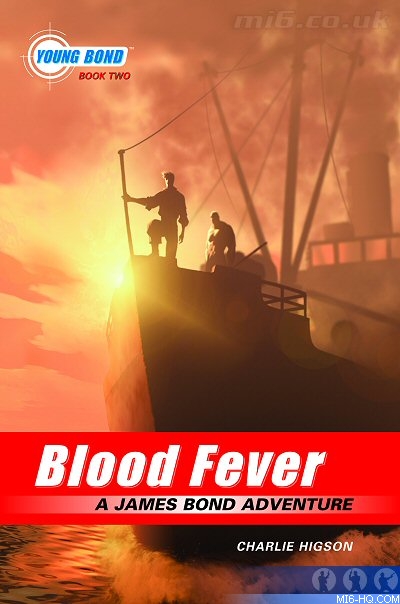 © Ian Fleming Publications 2006
As revealed in the MI6 interview with Charlie Higson, "Blood Fever" will be released in the USA unedited, unlike "SilverFin" which saw variations from the original UK edition.
Later this month, YoungBond.com will be launching exclusive coverage of USA-based news to coincide with the paperback edition of "SilverFin" hitting shelves.
Official Blurb (Puffin UK Edition)
An Eton boy's family disappears at sea. James uncovers a shadowy society operating in a hidden corner of the school. And far from England, in the bandit-infested interior of Sardinia, a sinister Italian Count has built himself a mountain fortress. Is there a connection? Young Bond is about to find out - and face a lethal group of villains beneath the burning Mediterranean sun.

USA


Publisher: Miramax Books
Format: Hardback
Pages: 368
Released: June 2006
Buy Now

UK


Publisher: Puffin
Format: Paperback
Pages: 384
Released: 5th January 2006
Buy Now

Right: UK Puffin 1st edition paperback artwork
Young Bond Novels
SilverFin
Blood Fever
Double Or Die
Hurricane Gold
By Royal Command
Shoot To Kill

Essentials
Young Bond Central
Young Bond Articles
Young Bond News
Play Young Bond Games



Interviews
SilverFin : 01 - 02 - 03 - 04 - 05 - 06
Blood Fever : 01 - 02 - 03 - 04
Double Or Die : 01 - 02 - 03
Hurricane Gold : 01 - 02 - 03 - 04 - 05
By Royal Command : 01 - 02 - 03