| | |
| --- | --- |
| | In part four of an MI6 exclusive interview, author Charlie Higson talks about how the Young Bond series is shaping up so far... |
Hurricane Gold: In Conversation With Charlie Higson (4)
29th December 2007
Exclusive: MI6 caught up with Young James Bond author Charlie Higson to talk about his new "Hurricane Gold". Speaking for the fourth time to MI6 about the series, Charlie Higson talks about how the Young Bond series is shaping up so far in this serialized MI6 interview.
Do you feel Young Bond has matured to the point now where it stands alone, and is not seen as hanging off the coat tails of the James Bond canons?

Well certainly in England, kids think about them as books in their own right, very different to the adult James Bond, but they still make connections. Yes, I think it's established enough in its own right [in England]. Obviously in other countries where we're still getting established, the whole James Bond thing is what it's hung on as it's such a fantastic foot in the door. When I do publicity shots they're always asking me to put on a tuxedo...

And a roulette wheel and an Aston Martin?

Yes! And they'll do competitions for the books that involve gadgets and 'hey, do you want to be a spy like Young Bond?' even though he clearly isn't a spy in my books. It happens because PR and marketing people don't read the books and they're thinking what can they give as prizes to entice kids and stuff.

You know, this was a worry with us from the start. Were kids going to look at this and read the book and say 'well this isn't James Bond... this is set too long ago... how can this be this person?' But we never got that from kids, they just accepted it right from the start which was really nice. So, I feel kids do think of it as something separate but related.


Above: Cover art for Hurricane Gold

Order (Amazon UK)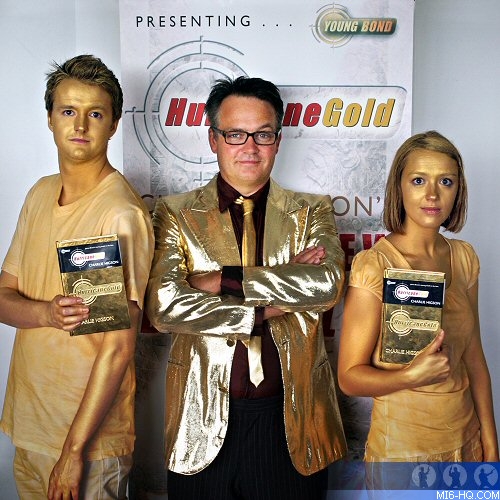 How do you feel about the hiatus in the USA after Blood Fever was published over there? Are there any plans to reinvigorate that market? Will it almost be a re-launch?
Yeah, that's sort of idea - to start again from scratch. We did get off to a slow start in the States. It's tricky because it's such a vast market. The original publishers were going through a bit of an upheaval at the time the first book SilverFin came out, and it wasn't a great time for them. I think they really didn't do as much with the book as they could have done and had promised. So we've slightly repositioned ourselves there, and it's taken a bit of time. It's frustrating, but at the same time, it wasn't like we had a huge number of kids in the States queuing up for the next one as they are in the UK and other countries.
I think in the long-run, the hiatus in the USA was the right thing to do. Fleming changed his publishers in the US several times before he got it right. It's just so different bringing a book out in America than it is in the UK. We're all back on track now though, and everyone is very positive about stuff and we're hoping we can really start hitting the American market.
Editors note: The US hardback release for Double Or Die has since been confirmed for 22nd April 2008 by Hyperion.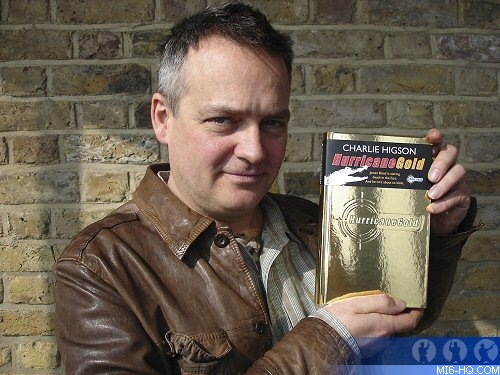 Was Hurricane Gold brought forward so that book 5 could be released as part of the Fleming centenary?
No, it wasn't actually. It was brought forward because I delivered it early! I had various other stuff on in 2007 - non-Bond related - so I wanted to get the book in early and out of the way to clear space for me to do other work. But as soon as Puffin saw Hurricane Gold they thought 'ooh look, we've got a book, bring it out early'... So they completely screwed me on that [laughs]!



Now I've got to bring out two books in the space I would have done one, so it hasn't freed me up at all it's just given me twice the amount of work. But that being said, obviously it will be great to have the last book out in the centenary year -- it would have been book four otherwise.

Did you feel the compressed timescale for this book has impacted anything, positively or negatively?

Well it's great for the kids as they read a book and instantly want to read the next one. But it might impact negatively on my mental health [laughs], but I don't think it will affect the quality of the books at all.

How do you feel about having a cut-down PR schedule for this book?

I think they're going easy on me because I did a lot earlier in the year, but we did hit a few key things to do with it.

Left: Author Charlie Higson at the launch event at Waterstones in Piccadilly, London.
I scaled down a lot of the PR for this year all round, and I'm only doing a couple of the literary festivals, whereas in the previous couple of years I've done everything. 2008 is going to be pretty busy though! I think that Puffin thought that sending me on a fairly heavy publicity schedule twice in one year was not going to be good for me
Did you enjoy writing the 'adult Bond' postscript in Double Or Die? Did it leave you hungry for more?

Yes I did! Yes to both. In a way I was really finding out what it would be like to write a bit of adult Bond. It was nice to actually be able to call him Bond rather than James. I did find myself thinking that it would be fun to write an adult Bond book, and that may be something that happens at some point in the future. Who knows? We have to see.

Next year is going to be really interesting with all the centenary stuff. I'm really looking forward to reading Sebastian Faulks' [Devil May Care]. I'm interested in seeing how that sells and is received. By the end of 2008 I think there is going to be a lot of taking stock from all the various camps involved.

At the same time, I do need a bit of a break from James Bond, as there is a danger my entire life may be taken over! There are worse things to have you life taken over with, but I think I'd like to do something different for a little bit. To come back and write some Bond stuff in the future would be fantastic though.
Have you spoken to Sebastian Faulks about his work -- and what to expect once the Bond community get hold of him?
I think he's in denial at the moment! He was quite taken aback about how much interest there was just around the announcement. It hit all the papers and I'm sure it did take him a bit by surprise. But at the same time, it's a lot of fun and he'll get a big kick out of it. I'm sure we'll be together in 2008 at some of the centenary events and it'd be nice to do something together and talk it all through. I haven't got my sneak-peak copy of Devil May Care yet, but I'm eagerly awaiting it.
Hurricane Gold was released on Thursday 6th September 2007 in the UK. Stay tuned to MI6 for more of this exclusive interview.
Many thanks to Charlie Higson.
Young Bond Novels
SilverFin
Blood Fever
Double Or Die
Hurricane Gold
By Royal Command
Shoot To Kill

Essentials
Young Bond Central
Young Bond Articles
Young Bond News
Play Young Bond Games



Interviews
SilverFin : 01 - 02 - 03 - 04 - 05 - 06
Blood Fever : 01 - 02 - 03 - 04
Double Or Die : 01 - 02 - 03
Hurricane Gold : 01 - 02 - 03 - 04 - 05
By Royal Command : 01 - 02 - 03