| | |
| --- | --- |
| | A new survey reveals fan favourite stunt sequences from the James Bond series so far, with some surprising results... |
Bond Stunts Poll
25th September 2008
The stunning crane jump from "Casino Royale" (2006) - Daniel Craig's first outing as 007 - has been voted the best ever James Bond stunt in a survey of over 1,400 RadioTimes.com users.
It was closely followed by the daring scene from 1977's "The Spy Who Loved Me", in which Bond (played by Roger Moore) skis off a cliff edge to almost certain doom, only to open a Union Jack parachute in mid air.
The crane stunt previously scooped 'Best High Work' at the World Stunt Awards in 2007 for stuntmen Ben Cooke, Kai Martin, Marvin Stewart-Campbell and Adam Kirley. Other record holding stunts in the survey included: the barrel roll"car jump from "The Man with the Golden Gun" (1974) performed by stuntman 'Bumps' Willard; the speedboat leap from "Live And Let Die" (1973);and the Verzasca Dam dive in "GoldenEye" (1995) which registered a world record off-ground bungee jump height of 220m.

Radio Times film editor Andrew Collins said "My personal favourite Bond stunt is the ski jump off the mountain because it was actually done. There would be no need to do that today, thanks to digital effects and, even if they did do it, we'd assume it was tampered with afterwards by a man at a computer." The 'free running' scenes in Casino Royale marked a return to more realistic stunts. Collins said: "They were actually done by very agile men bouncing off walls but, for me, it can never match the good old days of stuntmen, parachutes and no re-takes."


Above: Connery prepares for the jetpack scene in 1965's "Thunderball"
Survey Results
1. Jumping from crane to crane - Casino Royale (12%)
2. Ski chase and parachute jump - The Spy Who Loved Me (11%)
3. The car barrel roll - The Man With The Golden Gun (10%)
4. Speedboat leap - Live And Let Die (8%)
5. Thames Speedboat chase - The World is Not Enough (7%)
6. Aston Martin ejector seat - Goldfinger (5%)
7. Dive off the Verzasca Dam - GoldenEye (5%)
8. Ski chase - On Her Majesty's Secret Service (5%)
9. Jumping over crocodiles - Live And Let Die (5%)
10. Motorbike jump over a helicopter - Tomorrow Never Dies (4%)
11. Aston Martin crash and roll - Casino Royale (4%)
12. Jumping from a plane without a parachute - Moonraker (4%)
13. Parachute jump from the Eiffel Tower - A View To A Kill (4%)
14. Remote-control driving the BMW - Tomorrow Never Dies (4%)
15. The jet-pack escape - Thunderball (3%)
16. Little Nellie gyrocopter sequence - You Only Live Twice (2%)
17. Micro jet flown through the aircraft hanger - Octopussy (2%)
18. Car on two wheels - Diamonds Are Forever (2%)
19. Lorry chase - Licence To Kill (1%)
20. Barefoot water-skiing - Licence To Kill (1%)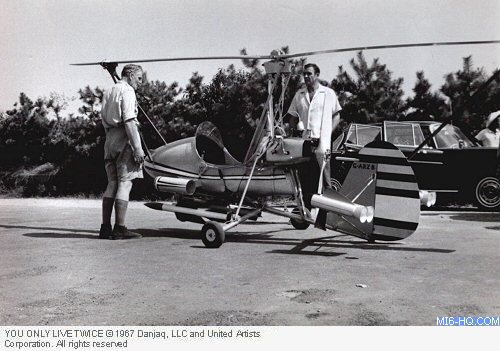 Above: Q briefs Bond on Little Nellie in 1967's "You Only Live Twice"
The survey was run to coincide with the release of the Radio Times Guide to Films 2009 - look out for Daniel Craig as James Bond on the cover! The new edition of the guide is the most comprehensive ever, with more than 22,000 expert movie reviews, including over 500 new entries. Each review features a star rating, plus cast, character, writer and director credits, and details of DVD, Blu-ray and HD availability. The 1,600-page guide also features 230 pages of actor and director filmographies, as well as an in-depth guide to Bafta and Oscar nominees and winners.
Related Articles

James Bond Movies