U.N.C.L.E Review
15th August 2015
Ben Williams reports from a preview screening of Guy Ritchie's 'The Man From U.N.C.L.E' starring Henry Cavill and Armie Hammer
---
2015 is certainly the "year of the spy" in terms of cinematic offerings. We've had Matthew Vaughn's irreverent and action-packed "Kingsman: The Secret Service", Tom Cruise's stunt-filled "Mission Impossible: Rogue Nation", and, of course, SPECTRE to round out the year.
Filling the gap between courses is Guy Ritchie's re-imagining of "The Man From U.N.C.L.E". Set against the backdrop of the Cold War and the race for nuclear supremacy, "The Man From U.N.C.L.E" pits Henry Cavill's Napoleon Solo, the CIA's confidence-man-turned-super-spy, against Armie Hammer's Illya Kuryakin, the KGB's formidable top agent.
Forced to work together by their respective bosses (Jared Harris and Misha Kuznetzov) the two men reluctantly join forces to locate a missing Nazi nuclear scientist, whose research could decisively tip the balance of power between the two opposing nations.
Solo is smooth and suave, breaking the rules but not his tailor's heart as he glides effortlessly through seemingly impossible missions, whilst, by contrast, Kuryakin is a barely-stable Russian powerhouse, using brute force and unwavering determination to get the job done. Their mission sees them team up with the missing scientist's daughter, Gaby Teller, who is their only lead to finding her father.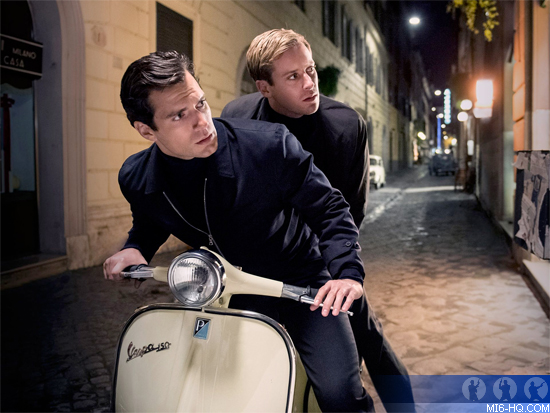 Their journey takes them from the grim streets behind East Berlin's wall to the lavish lifestyle in Rome, where Gaby's uncle and ex-Nazi interrogator, Rudi, holds the key to her father's location. Here we also meet the diabolical husband and wife duo of Victoria and Alexander Vinciguerra, whose shipping company could well be the front for a more sinister organisation.
Cavill's Solo is a likeable enough rogue, charming his way through life with a Cary Grant-esque air of confidence, whilst Hammer manages to deliver more depth than expected from his relatively one-dimensional deadpan Kurylakin. However, despite both being credible leading men in their own right, they somehow fail to ignite any fire here. Unfortunately, it is their interplay on which "The Man From U.N.C.L.E" really hangs its hat, and whilst there are some genuinely funny moments wrought from the juxtaposition of these two diametrically opposed characters, not all of the banter quite comes off. Compared to the other Ritchie duo of Holmes and Watson, these two sparring partners never really deliver the witty barbs quite as sharply as the physical blows they trade.
Gaby, played by Alicia Vikander (who was luminous in the excellent "Ex Machina") is something of a tomboy and it's made clear that she can hold her own with the boys. Gaby is arguably the most complex character in the film, but despite this and Ritchie's efforts to put her front and centre with the boys, she is still afforded less opportunity to shine here than she might.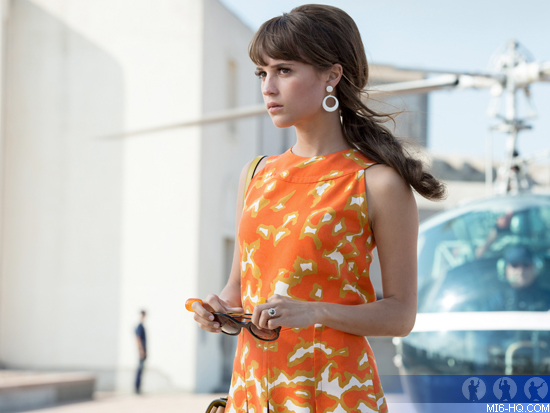 Elizabeth Debicki ("The Great Gatsby") plays the icy Victoria Vinciguerra with a poisonous cocktail of Catherine Deneuve, Paris Hilton, and a Disney villainess, whilst her husband Alexander (Luca Calvani) is the epitome of the Italian playboy.
Hugh Grant's Waverley is coolly charismatic and although Cavill does a very decent job of playing the debonair gentleman, Grant simply exudes it effortlessly.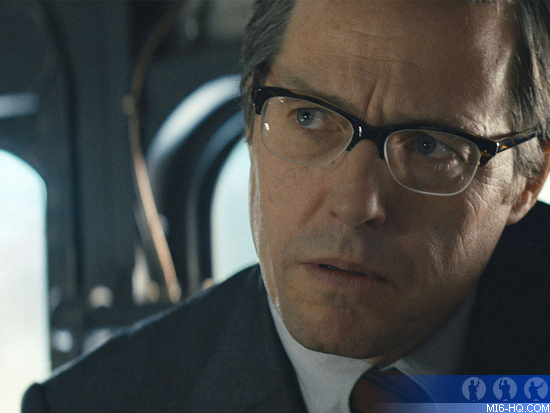 The supporting cast, especially Sylvester Groth as uncle Rudi, seem to be enjoying themselves in their roles, yet there is a lot of talent on display here that might have been better utilised. However, this very capable cast create a strong enough skeleton on which to overlay the lightly throwaway narrative.
The plot of the missing scientist and nuclear peril might seem a little hackneyed today, but it is at least rooted the spy genre from which it is drawing. The Cold War is obviously a major part of the drama, but its cloak-and-dagger paranoia is replaced here by a sense that this is a time of adventure rather than time of suspicion and fear, which, of course, was the ethic of the television show on which this film is based. It can nevertheless be a difficult balancing act to maintain the lightness of touch with the seriousness of the subject matter and in "The Man From U.N.C.L.E" Ritchie almost pulls it off, until we are given a rather harrowing and oddly sympathetic retrospective of a Nazi torturer's past achievements, which shatters the otherwise jovial tone of the film and brings you back down with a bump.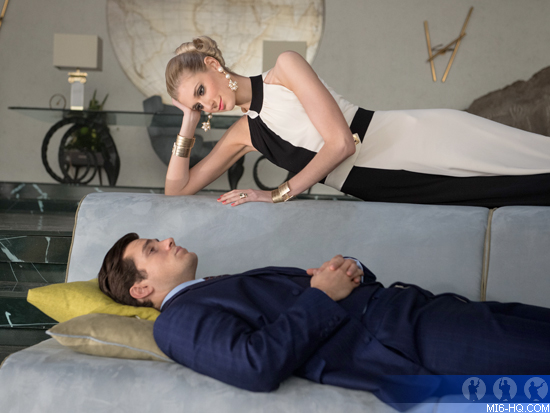 The resolution, not to give too much away, takes more than a leaf out of Ian Fleming's "Moonraker", which is perhaps unsurprising considering his involvement in the early development of the television series and his appellation of Napoleon Solo. In fact, there are plenty of references from Bond (and other spy films) littered throughout the film for fans of the genre to pick up on. For instance, there is a character who shares his name with a villain from "Thunderball" and amongst the dazzling array of period automobiles (including the much advertised, yet sadly idle, Ferrari 250 GTO) is a historically anachronistic dubonnet red Aston Martin DB5 (the original colour of Bond's Aston DB5 before it was re-sprayed for "Goldfinger"). Kuryakin also wields a familiar weapon towards the end of the film, which will no doubt delight fans of the television show.
There is no denying that this film is stylish and, like "Kingsman: The Secret Service" the costume design is almost a character in its own right. Johanna Johnston's costuming is exceptional, with Cavill getting some beautiful suits cut by Timothy Everest of Savile Row, whilst Hammer's wardrobe takes on a more casual cool, with some subtle nods to Steve McQueen.
Daniel Pemberton's score is cool and sassy, and manages to sound both suitably retro and utterly contemporary and will no doubt see him in much demand.
Overall, the film looks beautiful and this is in no small part to the perfect production design of Oliver Scholl, who captures the exaggerated style of the 60s spy genre perfectly, and the rich colour palette of the Director of Photography John Mathieson, who frames the locations and scenery at their best.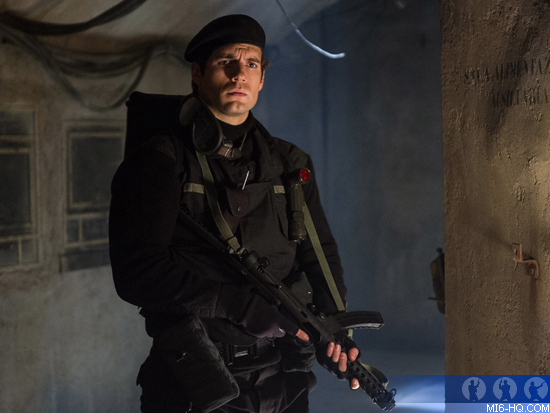 Ritche's characteristically frenetic style of direction is stamped all over the movie, with some lovely 60s inspired split screens, but it has to be said that "The Man From U.N.C.L.E." sometimes lacks the sizzle of his other directorial outings. There are lots of interesting cinematic tricks employed as well as some nice reveals to the audience, where we are given more insight into the events we just witnessed, but these verge on becoming over-used and by the finale are almost expected and thus lose their impact. James Herbert's editing is, at times, a little too fast-paced, with vertiginous ramp shots used in a chase sequence that will leave you feeling a little bit unsure of who's chasing who and could have your lunch rolling over. Perhaps this is done to give the younger audience a taste of the cinematic style of action they're used to seeing with films like "Transformers", but here it feels out of place and at odds with the style of the rest of the film.
However, these are just small niggles in an otherwise very polished, highly-stylised film. It looks beautiful, moves along at a clip, and has enough laughs to please an audience looking for simple fun and a little escapism. It doesn't quite have the air-punching exuberance of "Sherlock Holmes", but it is an enjoyable ride that will leave many keenly awaiting a sequel. Oh, and don't miss the credits for some amusing details of the agents personnel files.
Share The Story
The opinions expressed in this review are those of the author and do not necessarily reflect those of MI6-HQ.com or its owners.