Per Fine Ounce Review
26th July 2015
Benjamin Welton inspects the new novel by Peter Vollmer with a Bond connection
---
South Africa. It all goes back to South Africa. Geoffrey Jenkins, who wrote the original "Per Fine Ounce" back in 1966, was born and raised in South Africa before moving to England as a student on a journalism scholarship. Peter Vollmer, the author of the most recent "Per Fine Ounce", is also a South African and he remains there today as a retiree enjoying a second life as an author of thriller novels.
South Africa also prefigures prominently in Mr. Vollmer's "Per Fine Ounce", a novel rereleased this year featuring Commander Geoffrey Peace, a Jenkins creation who made his first appearance in the author's 1959 novel A Twist of Sand. Like the "Per Fine Ounce" story itself (more on that later), Peace went through quite the transformation between A Twist of Sand and 1966's Hunter Killer. In seven years, Peace managed to go from being a smuggler on the outs with the British Royal Navy to a 007 clone tasked with preventing the collapse of Transatlantic power. In Vollmer's "Per Fine Ounce", Peace is an ultraviolent yet dashing MI6 operative who knows how to handle a gun and caress a woman (sometimes at the same moment, no less). Peace has quite the identity crisis, it seems.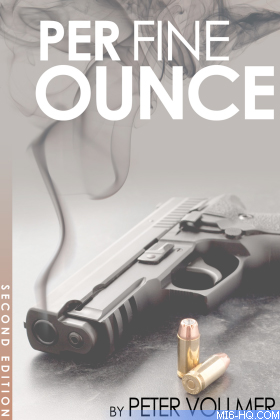 Like Vollmer's Peace, the most recent "Per Fine Ounce" is not exactly like Jenkins's "missing" manuscript. Indeed, just like Jenkins's "Per Fine Ounce" was supposed to be the first continuation novel in the James Bond canon after Ian Fleming's untimely death in 1964, Vollmer's "Per Fine Ounce" is a continuation novel of the Geoffrey Peace canon, which is seeing quite the resurgence thanks to the work of David Jenkins, Geoffrey's heir.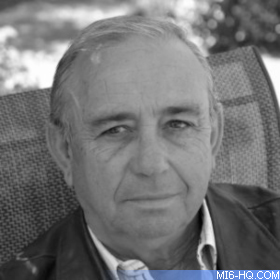 But Vollmer's "Per Fine Ounce" is more than just an addition or an ode to a forgotten literary hero. One part Fleming and one part Jenkins, Vollmer's "Per Fine Ounce" is a ripping good yarn told at a breakneck pace: its got sex, violence, and some snobbery. Its got a Bond-worthy plot featuring gold, international espionage, and the threat of nuclear warfare, plus it has not one, but two beautiful females who each vie for Peace's hardboiled affections. And like any thriller worth its salt, it has a great villain.
In "Per Fine Ounce" (from here on out, "Per Fine Ounce" means only Vollmer's novel), the chief antagonist is Anton VanRhyn. A wealthy industrialist involved in South Africa's gold mining industry, one of the principal stockholders in the Goudeiendomme, or Gold Properties, company, and one of the major players in Apartheid-era politics - VanRhyn is truly a man-about-town, or rather a man-about-veldt. VanRhyn is also an ardent ultranationalist, a white supremacist, and a man so dedicated to maintaing white rule in South Africa that he is willing to unleash Israeli- and Soviet-made nukes on his country's black population and the Cuban Army waiting next door in what was then called South-West Africa. Oh, and he keeps hyenas as pets, too. All things considered, VanRhyn is not a nice fellow.
Luckily for Britain, Peace is assigned the case. Using Lord Digby, a noted British Fascist and a vocal supporter of far-right causes near and far, as his cover, Peace infiltrates VanRhyn's small circle of influential Apartheid diehards. Early on, Peace acquires a partner - a vivacious MI6 operative named Sergeant Cherry Boxx. A former member of Scotland Yard who can speak Afrikaans fluently, Boxx, like must Bond girls, is at first unfazed by Peace's charms. She's downright cold, even. Then, somewhere along the line, she jumps into bed and asks for Peace's assistance. The two play footsie and then some for the remainder of the book.
Much to Cherry's chagrin, Peace's work often demands that he sleep around. One such conquest is Janet VanRhyn, the Oxford-educated daughter of Peace's chief rival and the man poised to throw all of South Africa into a civil war. Throughout the novel, Cherry, Janet, and Commander Peace play tit-for-tat in a love triangle with massive stakes.
Then again, most readers will care less about this romantic hang-up and more about the action of "Per Fine Ounce". There's a lot of flying lead in Vollmer's novel, and in fact this book contains more dead bodies than three Bond novels put together. As such, "Per Fine Ounce" is macho pulp literature for meat eaters, and in 236 pages, it lays the bloodshed on thick without any wasted motion or unnecessary sentences. Vollmer may not be a master stylist in the Fleming or Jenkins mold, but he's certainly an entertaining storyteller, and "Per Fine Ounce" ultimately succeeds because Vollmer privileges story over style.
The novel is far from perfect, however. Vollmer's dialogue feels wooden at times, while sentences like: "Actually, there are but they know naught about WMD's and missiles and we're not about to tell them" help to create a garbled Afrikaner English that at times slows the story down. Still, such rawness helps "Per Fine Ounce" to feel even more rugged, even more tough. Like sun-baked Afrikaner boers, "Per Fine Ounce" is proper hard.
Share The Story
The opinions expressed in this review are those of the author and do not necessarily reflect those of MI6-HQ.com or its owners.