November Man Review
29th August 2014
MI6 guest writer Briggon Snow reviews 'The November Man', starring Pierce Brosnan as Peter Devereaux, the ruthless but ageing spy
---
This isn't James Bond, and it's not quite Jason Bourne. This incarnation of Bill Granger's spy, Peter Devereaux, lives somewhere in the cinematic space between...
One time James Bond, Pierce Brosnan, goes for the grit in this modern-day spy tale of a former CIA spook who is forced back into the game where secrets, shifts of allegiance and bullets are fired and reloaded at as frantic a rate as the film's one-hundred-and-eight-minute runtime.
Devereaux is a man known for having no personal attachments; He is brutal and calculated. But when the only woman he ever loved is compromised and killed during a mission in Moscow, he finds himself pitted against his old student (Luke Bracy) in a game of cat and mouse. While evading the CIA, along with his former mentor (Bill Smitrovich), he tracks down and must protect a mysterious woman (stunningly portrayed by Bond Girl veteran Olga Kurylenko); A woman with a tragic past tied to corrupt general and soon-to-be Russian president (Lazar Ristovski).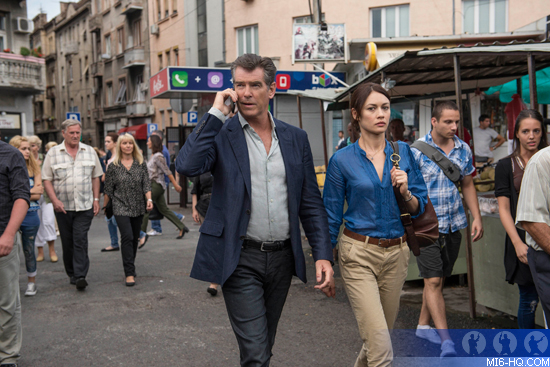 Using Bill Granger's novel "There Are No Spies" as an outline, director Roger Donaldson ("Thirteen Days", "The Recruit") and his screenwriters, Michael Finch and Karl Gajdusek have crafted a stylish spy caper that at times suspiciously favours stylishness more than story. While the twists and turns are fun, all of the gimmicks, action pieces and even lines feel like deja vu for today's savvy audiences. It's as if "The November Man" is cognisant of the cinematic landscape it finds itself in, and in wanting to be everything, it ultimately fails at carving out a distinct identity in the process. But damn-it if the thing isn't fun.
The character of Peter Devereaux is viciously realised, perhaps disjointedly so. While I was giddy to watch Pierce Brosnan revel in the brutality of his character's choices, those moments often seemed jarring and out of place with the rest of the film...leaving those moments brilliant while isolated, but ultimately forced when looked at as part of the full narrative and tone of the film. It's this uneven cocktail of Bourne and Bond that dilutes the finished product rather than strengthens it.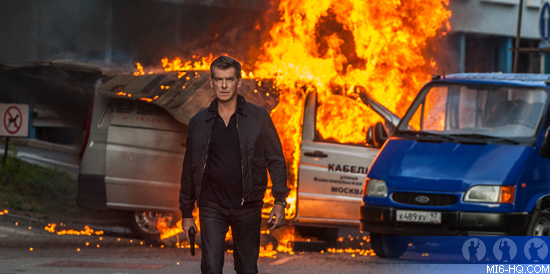 Despite this disjointed feel, Pierce Brosnan plays the tired veteran more believably than that of Daniel Craig's recent outing as James Bond in "Skyfall"; Perhaps because the narrative of the veteran spy so closely imitates the real life narrative of Pierce Brosnan's return to the world of espionage.
It's this ageing spy angle that is so perfectly translated in a scene staggeringly reminiscent to that of one in the James Bond film "Quantum of Solace". In this scene in particular, Pierce Brosnan's Devereaux brutally knocks an assailant off of a motorbike. While after the same stunt, Daniel Craig's James Bond jumped on the motorbike and continued with the action... Brosnan's Devereaux leaped over the fallen bike and continued in his escape. It's here where the strengths of the film coalesce. It was in that moment that I went "ah-ha". Devereaux will knock a guy off a speeding motorbike if he has to... but you're not going to get him on that thing after.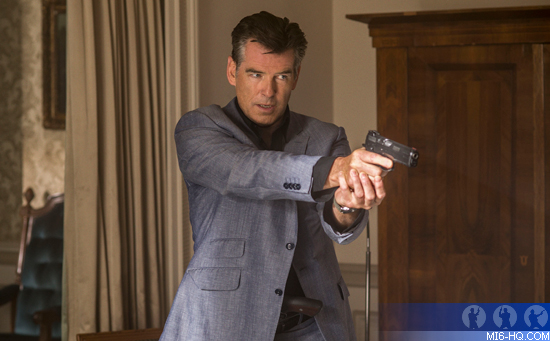 Pierce Brosnan is at his best when he's an intellectual bad-ass carrying out acts of precision. That is the realm in which he superbly plays in; And we believe it when he's doing it. He doesn't have the authentic brutal physicality of Daniel Craig's James Bond. So it's when "The November Man" has him dodge physical confrontation and revel in psychological and intellectual manipulation that things ring true and feel right.
I had a blast viewing "The November Man"; It's the kind of spy movie that got me into spy movies in the first place as a kid. It isn't a perfect film, but I think despite it's missteps it succeeds in bringing a relevant character and piece of storytelling to a genre rich in variety and tone. Pierce Brosnan is excellent and clearly loves the character of Peter Devereaux...so if he's given a more cohesive movie for the next go-around that knows unequivocally what it wants to be...I could see many worthwhile and hopefully game-changing chapters in the world of Peter Devereaux.
Share The Story
The opinions expressed in this review are those of the author and do not necessarily reflect those of MI6-HQ.com or its owners.