John Glen (Director)
Datastream
Name: John Glen
Date of Birth: 15th May 1932
Place of Birth: Sunbury-on-Thames, UK
Years active: 1949-2001
Profession: Director, Second Unit Director, Film Editor, Assembly Editor, Sound Editor, Dubbing Editor
Bond films: 8
Also famous for: "Christopher Columbus: The Discovery" (1992)

Biography
Born on May 15th, 1932, John Glen was brought up in Sunbury-on-Thames. He earned a job as a messenger at Nettlefold studio in his early 20s and showed a keen interest in the film industry.

He was eventually invited to observe and participate in tasks in the editing room and here he learned his trade - assembling footage for the editors' perusal and splicing and sorting reels of film.

Maryam d'Abo, Timothy Dalton and John Glen on location in Vienna for "The Living Daylights" (top right), directing Walter Gotell as General Gogol on Octopussy (opposite).



His first work on a film set was onboard Orson Wells' "The Third Man" (1949), where he was an assistant to the sound department on location. Almost 40 years later Glen would relive the memories on this production as his crew for "The Living Daylights" would shoot at the Prater Ferris wheel in Vienna - a location synonymous with "The Third Man".
Glen would go on to work on features such as "Three Men in a Boat" (1956) and "The Scamp" (1957) before moving out of the sound department to work with the second unit on the memorable '60s adventure "Man In A Suitcase" which starred Richard Bradford. For 9 episodes he served as second unit director before earning a job as a film editor on a score of "Danger Man" episodes in the late 1960s.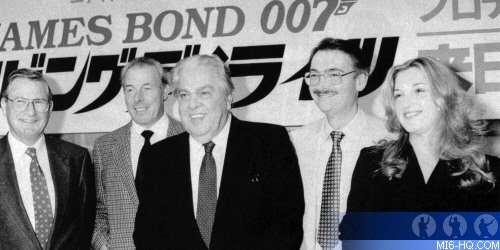 His talent was first introduced to the Bond crew when he received a call from Peter Hunt, who was shooting O.H.M.S.S. Hunt offered John Glen the position of 2nd unit director and Glen took it up. Four days later, Hunt was flown to Switzerland to shoot the O.H.M.S.S. bobsled chase. Glen worked under Lewis Gilbert as a 2nd Unit Director on "The Spy Who Loved Me" (1977) and "Moonraker" (1979) before being asked to helm a 007 adventure when the series was brought back to earth in "For Your Eyes Only". He directed the most consecutive number of Bond movies in the series (5) by the time he ended his run with "Licence To Kill" in 1989.
It was the Bond movies that have been, without a doubt, the highlight of this director's career. To date; many of his post-007 pictures under-performed or just didn't make it to the cinema. His latest production was "The Point Men" (2001), which starred Christopher Lambert and Kerry Fox.
Bondography
Extended Filmography
Related Articles

James Bond Directors: 1962-1989

"For Your Eyes Only" Production Notes