While investigating mysterious activities in the world diamond market, 007 (Sean Connery) discovers that his evil nemesis Blofeld (Charles Gray) is stockpiling the gems to use in his deadly laser satellite. With the help of beautiful smuggler Tiffany Case, (Jill St.John), Bond sets out to stop the madman - as the fate of the world hangs in the balance!
Release Data
Releases: 3 (2000 SE, 2002 SE, 2003 SE)
Catalogue Number: 16349DVD (R2)
Disc Format: D1 - double layer, single-sided
Audio
English Mono
Subtitles: English
Hard of Hearing: English
Film
1.77:1 / Widescreen Version 16:9
Certificate: PG
Duration : 120 minutes
Chapters
1. Opening Sequence
2. Main Titles
3. Plain Solid Work
4. Almost Like A Curse
5. Bait And Switch
6. Proper Identification
7. Killing Bond
8. One's Brother's Body
9. Final Journey
10. Dead Tree
11. Plenty Of Help
12. Breakfast With Tiffany
13. What A Circus
14. The Next Link
15. Follow Those Rocks
16. The Little People
17. Four-Wheel Drive?
18. A Tight Squeeze
19. A Trip Upstairs
20. "Double Jeopardy"
21. "Try And Try Again"
22. Walking His Rat
23. Funny Voices
24. Wild Kingdom
25. Unconvincing Disguise
26. Where's The Satellite?
27. Nothing In Baja
28. Cleaning Up The World
29. Any Sensible Animal
30. "Stupid Fools"
31. Bombe Surprise
32. End Credits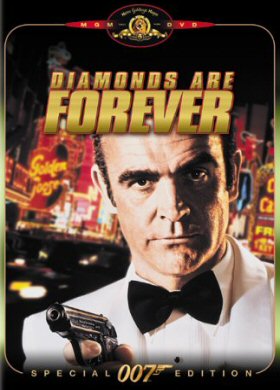 Special Features
Audio Commentary featuring Director Guy Hamilton, the cast and crew.
"Inside Diamonds are Forever" Documentary
"Cubby Broccoli - The Man Behind Bond" Documentary
Never-Before-Seen deleted scenes.
Collectible "making-of booklet"
Original theatrical trailers, radio and television spots.