When a British ship is sunk in foreign waters, the world's superpowers begin a feverish race to find its cargo: a nuclear submarine control system. 007 (Roger Moore) is thrust into one of his most riveting adventures as he rushes to join the search... and prevent global devastation.
Release Data
Releases: 3 (2000 SE, 2002 SE, 2003 SE)
Catalogue Number: 16172DVD (R2)
Disc Format: D1 - double layer, single-sided
Audio
English Dolby Digital 5.1
Subtitles: English
Hard of Hearing: English
Film
2.35:1 / Widescreen Version 16:9
Certificate: PG
Duration : 121 minutes
Chapters
1. Opening Sequence
2. Main Titles
3. Unidentified Object
4. Happy Reunion Lost
5. Operation Undertow
6. Umbrella Escape
7. Spin in the Country
8. The Identigraph
9. Gold Medal Hopeful
10. Motorcycle Murders
11. Youthful Proposition
12. Jump Or Die
13. Cycling The Slopes
14. Teaming Up
15. Greek Culture
16. Drug Lord
17. Opportunity Or Trap?
18. Gutsy Smuggler
19. Warehouse War
20. Spy Vs. Car
21. Max The Mimic
22. Probing A Wreck
23. Submarine Battle
24. "Appetizing Bait"
25. Bird Talk
26. Hanging In There
27. Basket Entry
28. Caught Sleeping
29. "Out Of My Way!"
30. So Long, Comrade!
31. "Give Us A Kiss!"
32. End Credits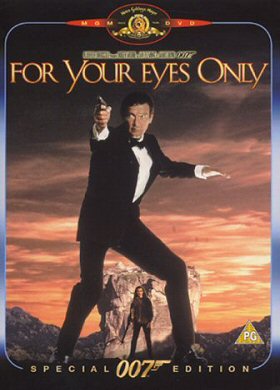 Special Features
Audio Commentary Featuring Director John Glenn Plus Cast Members
Second Audio Commentary by Michael Wilson & Crew
"Inside For Your Eyes Only" Documentary
Sheena Easton Music Video "For Your Eyes Only"
Stills Gallery
Collectable "Making of" Booklet
Radio Spots
Original Theatrical Trailer
Animated Story Board Sequences:
- The Snow Mobile Chase
- Retrieving The ATAC