James Bond (Roger Moore) may have met his match in Francisco Scaramanga (Christopher Lee), a world-renowned assassin whose weapon of choice is a distinctive gold pistol. When Scaramanga seizes the priceless Solex Agitator energy converter, Agent 007 must recover the device and confront the trained killer in a heart-stopping duel of the death!
Release Data
Releases: 3 (2000 SE, 2002 SE, 2003 SE)
Catalogue Number: 16193DVD (R2)
Disc Format: D1 - double layer, single-sided
Audio
English Dolby Digital 5.1
Subtitles: English
Hard of Hearing: English
Film
1.77:1 / Widescreen Version 16:9
Certificate: PG
Duration : 120 Minutes
Chapters
1. Logo/Deadly Game
2. Credits/Main Title
3. Marked Man
4. Lucky Charm
5. Magic Bullet
6. Gun Master
7. Lady Killer
8. "A Water Pistol?"
9. Misfire
10. Captive
11. Welcome Aboard
12. Titillating Meeting
13. Hungry to Bed
14. Heaven and Hell
15. Girl Power
16. Motorboat Mayhem
17. New Boss
18. This Moment
19. Man In The Middle
20. "An Eye For An Eye"
21. Chasing Goodnight
22. Metamorphosis
23. Goodnight's Signal
24. Expected Guess
25. Solar Power Monopoly
26. A Killer Lunch
27. Showdown
28. Fun Palace
29. Island Escape
30. Little Rascal
31. "Goodnight, Sir!"
32. End Credits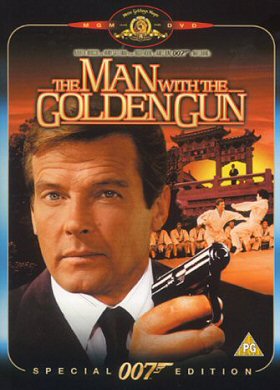 Special Features
Audio Commentary Featuring Director, Guy Hamilton, The Cast And Crew
"Inside The Man With The Golden Gun" Documentary
"Double-O-Stuntmen" Documentary. A look at the greatest stunts & stunt performers in the Bond films
Still Gallery
Original TV Ads
Radio Spots
Collectable "Making Of " Booklet.
Trailers