Caroline Munro (Naomi)



Datastream
Actress: Caroline Munro
Character: Naomi
Movie: The Spy Who Loved Me
Date of Birth: 16th January 1949
Place of Birth: Windsor, Berkshire, UK
Trivia: Was the face of Lambs Navy Rum for 10 years.

Pleased to meet you
James Bond - undercover as a oceanographer - makes himself a rare appointment with the mysterious marine biologist, Karl Stromberg in his high-security sub-aquatic home. To escort him to the watery abode, the villain sends the feisty Naomi, a speedboat-driving minder for the potentially hostile 007.

Caught In the Act
Although Bond and the villainess never go 'under covers', 007 is very much caught in the act of admiring from afar by his colleague, the beautiful Russian agent, Anya Amasova. James Bond remarks at vessel's lovely lines, but the double entendre is patent.
"What a handsome craft. Such lovely lines." - James Bond
Profile
Not only is Naomi an excellent hostess, but also a helicopter pilot with a deadly aim. In charge of a Stromberg attack helicopter, this villainess is deployed (alongside Jaws and other of the goons) to pursue "Robert Sterling" - otherwise known as British agent James Bond 007 - and assassinate the intruder. Bond and the girl engage in a gadget-laden, high-octane battle, climaxing in the immortal line "can you swim?" Bond drives his Lotus into the waves and the craft transforms into a sleek submarine. Naomi is outwitted. As the villainess hovers over the submurged Lotus, Bond deploys a missile, dispatching with Naomi and her chopper.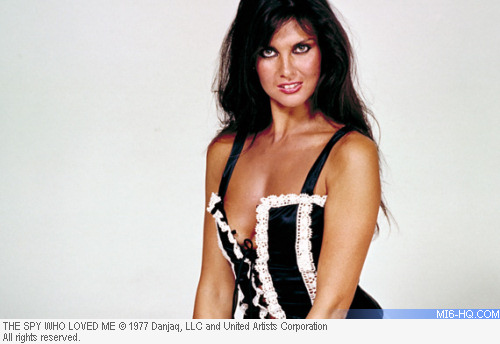 Biography
Born in January 1949, Caroline Munro grew up in Rottingdean near Brighton, and lead a comparatively sheltered life, attending a Catholic Convent School. However, by age 16 Munro had her mother submitting snaps of her daughter to the Evening Standard's "Face of the Year" competition. The high profile competition was to be judged by photographer David Bailey. Caroline was startled to have won this competition and the newfound fame lead her to a number of modeling offers.
Age 17 the young Munro was posing for pictures in the prestigious Vogue magazine, and the up-and-coming model took advantage of this and other opportunities to make a career out of modeling. Moving to London to further her ambitions as a glamour girl, Caroline successfully earned work in TV advertisements - transitioning from stills to moving pictures.
Munro was head-hunted for a bit-part in the 1960s James Bond spoof "Casino Royale", wherein she appeared as a voluptuous Guard Girl. The same year, '66, Caroline was an extra on the set of the short film "G.G. Passion" and the little-remembered feature "Smoke Over London".
It wasn't these film bit-parts that allowed Munro to make it as an actress but a modeling job that came to the attention of casting directors at Paramount Pictures. Caroline was called into an audition and as a result, offered a one year contract with the famous film studio. Her first picture under contract was "A Talent For Loving", a comic western adventure, in which Munro played Richard Widmark's daughter, Ms Patten.

Fans will most readily recall her Hammer era, commencing when she appeared in "The Abominable Dr. Phibes" (1971) as a bit-part to Vincent Price's Dr. Anton Phibes. She appeared in the sequel the following year and is remembered for playing Laura Bellows in "Dracula A.D." (1972).

Above: Munro with co-stars Roger Moore and Barbara Bach.
The same year as Caroline re-bonded with 007 in "The Spy Who Loved Me" she had a run-in with famed small-screen spies Steed and Purdy in "The New Avengers". Ironically, she appears in the episode entitled "Angels of Death", the nickname for Blofeld's beauties in an earlier 007 flick.
She continued her run of horror films into the 1980s, but the 1990s were a quiet decade. Caroline has recently wrapped filming on "Eldorado" (2011), with Daryl Hannah, David Carradine, and Michael Madsen.
Related Articles
Girls