Author:
Sebastian Faulks
(Writing as Ian Fleming)
Published:
28th May 2008
MI6 Rating:

Data Stream

| | |
| --- | --- |
| Villains: | Julius Gorner, Chagrin |
| Plot: | Bond must prevent Gorner from savaging England with a flood of heroin, and rescue Scarlett's twine sister Poppy from his clutches |
| Bond Girls: | Poppy, Scarlett Papava (Larissa Rossi) |
| Allies: | M, Felix Leiter, Moneypenny |
| Locations: | London, UK; Paris, France; Rome, Italy; Middle East |
| Highlights: | Tennis match, airborne shootout, pliers torture sequence |
Capsule Synopsis
Devil May Care is written by best selling author Sebastian Faulks and is set in the Cold War. It will be published by Penguin on 28th May 2008 to mark the centenary of Ian Fleming's birth.
Devil May Care by Sebastian Faulks will be published in hardback by Penguin Books in the UK and its territories (Ireland, Australia, New Zealand, South Africa, India and Europe), and in the US it will be published by Doubleday. Many of the publishers will be using this jacket.
Official Book Description (Penguin)
Bond is back with a license to thrill. Forty-three years ago, Ian Fleming wrote his last great 007 adventure. Now, in Devil May Care, the world's most iconic spy returns in a Cold War story spanning the world's exotic locations. By invitation of the Fleming estate to mark the centenary of his birth, acclaimed novelist Sebastian Faulks picks up where Fleming left off, writing a tour de force that will electrify every James Bond fan. A fitting tribute to the Bond tradition, Devil May Care stands on its own as a triumph of witty prose and plenty of double-0 action.
Release
"Devil May Care" was released simultaneously in the UK and USA on 28th May 2008. Click here for complete coverage of the launch event.
Paperback editions will be released on May 28th 2009. Penguin will publish in the UK (cover art opposite) for £7.99. The US will have two paperback editions by Vintage (a subsidiary of Random House): a trade paperback on 12th May for $14.95, and a mass market paperback on 19th May for $7.99. The trade paperback will also be released in Canada on the same day as the US. The art for both editions was unveiled in late November.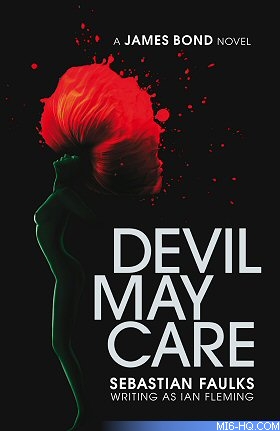 Above: 1st edition Penguin hardback (UK)

Order Hardback - Amazon UK

Order Hardback - Amazon USA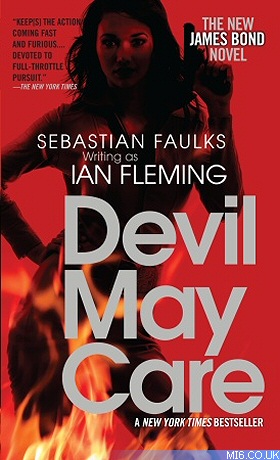 Above: Random House paperback (US)

Pre-Order Mass Market Paperback - USA