Location Guide - A View To A Kill
Siberia, Russia
James Bond is on a mission amid the frozen wasteland of Siberia, retrieving a microchip from the regrettably deceased 003. It is not so simple, for the moment Bond snatches the silicon integrated circuit from around the neck of his old colleague he is set upon by Russian goons determined to foil the British plan and keep secrets safe. 007 speeds away, using the detached sky from a skidoo as a snowboard and then a surfboard before rendezvousing with an unnamed beauty piloting an iceberg sub.
London & Ascot, UK
Back in London, Bond meets with Q, M and the MoD to discuss the source of the microchip. They trace its origins to Zorin Industries, the shady businessman who has a finger in every pie. To snoop on his operation, M, Q, Moneypenny and 007 get dressed in their Sunday best and attend a race at Ascot, wherein one of Max Zorin's horses is running. When Zorin's steed Pegasus romps to victory, 007 speculates that the horse may be on steroids.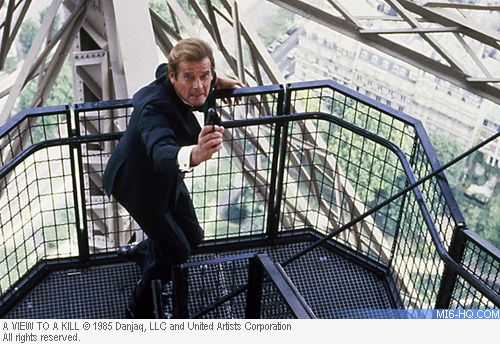 Paris & Rural France
007's is dispatched to Paris to snoop on Zorin's horse-breeding operation. He meets with a detective, Achille Aubergine. The pair swap secrets at Restaurant Jules Verne, atop the Eiffel Tower. Aubergine meets an untimely demise at the hands of Zorin's femme fatal, May Day. Bond gives chase via the Parisian landmarks, climaxing at Pont Alexandre III, before losing sight of the assassin. 007 receives an invite to Zorin's stud auction at the rural Chateau Chantilly, where he formally meets the villain and his suspect entourage. With cover blown, Bond and Godfrey Tibbett is killed, Bond has to stage his own death to escape Zorin.
San Francisco, USA
In the Bay Area Bond collects information of Zorin's oil empire. Assisted by the CIA's Chuck Lee at Fisherman's Wharf, Bond discovers Zorin is bribing City Hall officials to turn a blind eye. The recently laid-off Stacey Sutton assists 007 (AKA James Stock) but is no help when Bond is arrested by the police after Zorin sets fire to City Hall. After a midnight chase Bond and Stacey make their way to Zorin's mining site where he plans to stage an artificial earthquake and flood Silicon Valley for an immense spike in his microchip shares.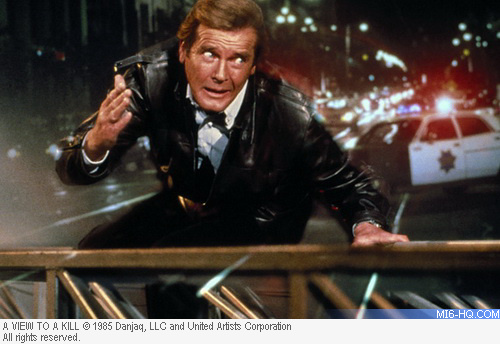 Shooting A View To A Kill
"A View To A Kill" shot on location in France, Iceland and California, USA, with a number of locations in Britain standing in for the real thing. Cameras first rolled on Roger Moore's final 007 flick on 23 June 1984 in Iceland, where a large amount of second unit work would be staged for the skiing and snowboarding pre-titles sequence. Vatnajökull Glacier in Southeast Iceland would be doubling for James Bond's excursion into Russian territory.
Sadly, before production began on "A View To A Kill" at Pinewood, canisters of gasoline left in Pinewood's famed 007 studio caught fire and swiftly destroyed Albert Broccoli's 007 stage, first built to house three submarines during the filming of 1977's "The Spy Who Loved Me". Schedules for James Bond's 14th outing were hastily rewritten to accommodate the need to rebuild this Buckinghamshire landmark. The flooding of Zorin's mine was to be staged on the gigantic soundstage, and, at the time, there was simply nowhere else to construct the mammoth sets required by the crew of "A View To A Kill".
The soundstage was reopened in July and John Glen rolled cameras inside the renamed "Albert R. Broccoli 007 Stage" on 1 August 1984. After the action was captured at Pinewood, the cast and crew polished their best shoes and donned silk ties for a sequence filmed at the quintessentially British Ascot raceway.
Then, at Amberley Chalk Pits Museum in West Sussex, the crew of Bond 14 staged the exterior of Zorin's Silicon Valley mine, including the memorable sequence wherein May Day sacrifices herself for the safety of thousands of Bay Area citizens.
By October '84, James Bond and his extensive crew were across the Atlantic shooting on location once more in San Francisco. The tourist hotspot of Fisherman's Wharf was carefully controlled by the production crew and the compliant city officials whilst Moore and David Yip (playing Chuck Lee) filmed their scenes. It was on this location that two-time Bond girl - and good friend to both the Broccolis and Moore himself - Maud Adams arrived on set to meet and greet. Bond lore assures fans that Adams is actually discretely in the background of a couple of San Francisco takes.
The authorities at San Fran City Hall were only too pleased to have the 007 pyrotechnical crew set to work on their building to stage a controlled burning of the landmark. Whilst in the USA, Glen and his team shot at Dunsmuir House in Peralta Oaks Court - a plantation-style house in Oakland, CA, just across the bay from the San Fran CBD.
The final location required for "A View To A Kill" and its globetrotting plot was Paris, France. Here B.J. Worth and Don Caldvedt were provisionally granted the right to base jump from the top of Paris' most famed landmark. Worth performed the jump for the cameras, doubling for May Day making good her escape. Caldvedt was lined up for the second jump but his efforts were shunned after the team got the necessary angles via the single take.
Famed French stunt driver Rémy Julienne took to the streets of Paris to stage a high-octane chase wherein Bond's Renault is slowly destructed: first it is turned into a coupé by a low-slung barrier and then an accident which causes the back half of the car to split away, leaving 007 to drive on two wheels. The Bond team used their claut to close a slew of Parisian landmarks, including the Champ de Mars and Pont Alexandre III.