Fan Verdict - Diamonds Are Forever
Each month, a different James Bond film is selected for review, rating and discussion by the largest online community of 007 fans - the MI6 Community forums.

Fans rated the following elements of the movie on a 1-10 scale (10 being best): Bond, Babes, Villains, Humour, Sadism, Snobbery, Action, Locations, Gadgets, Music and 'Tilt' - a rating to account for any qualities not captured in the main categories.

Also up for discussion were the 'best bits' of the movie, including: most 'Bondian' moment, funniest scene, best line, best location, best action sequence, best Bond girl and best overall performance.

Diamonds Are Forever overall score:6.8


Above: Cover art for the "Diamonds Are Forever" score, composed by John Barry...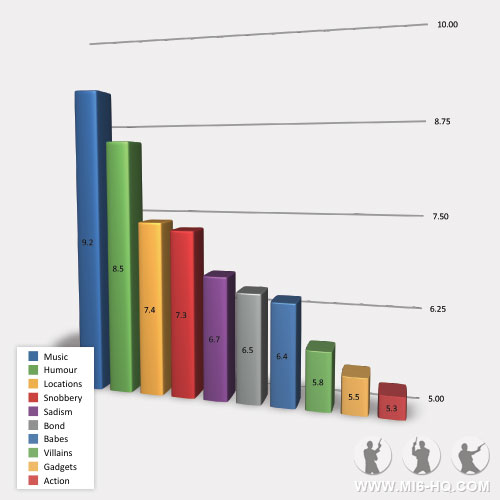 Most 'Bondian' Moment
Winner: James Bond calls the bluff of Mortimer Slumber and winds up in a coffin, ready to be cremated.

Funniest Scene
Winner: Trapped in a pipeline, 007 declares to his only companion (a rat), "one of us smells like a tart's handkerchief."
Honourable mention: James Bond meets Klaus Hergesheimer.

Best Line
Winner: "Well, that's a nice little nothing you're almost wearing."

Rating Results

| | |
| --- | --- |
| Category | Average Score |
| Music | 9.2 |
| Humour | 8.5 |
| Locations | 7.4 |
| Snobbery | 7.3 |
| Sadism | 6.7 |
| Bond | 6.5 |
| Babes | 6.4 |
| Villains | 5.8 |
| Gadgets | 5.5 |
| Action | 5.3 |
| Overall | 6.8 |
Best Location
Winner: Las Vegas, NV, USA.
Honourable mention: Hamburg, Germany.
Best Action Sequence
Winner: James Bond and Tiffany Case race through the glittering streets of Vegas in a shiny red Ford Mustang.
Honourable mention: Fighting the real Peter Franks.
Best Bond Girl
Winner: Jill St. John as Tiffany Case.
Honourable mention: Lana Wood as Plenty O'Toole.
Best Overall Performance
Winner: Sean Connery as James Bond.
---
What The Fans Said
Below are selected quotes from reviews by MI6 Community members.
"One of the problems I have with the movie, is how it seems to almost completely disregard On Her Majesty's Secret Service.. at the end of that movie, Bond's wife was shot and killed in front of him, he's overcome with emotion - so it naturally makes sense that he would want revenge on Blofeld and all involved - which we sort of get in the beginning of Diamonds Are Forever - but it happens so quick, and then it's done" -- hASEROT
"This movie has dated more than most Bond films. It's a bizarre mix of humour, action, weird characters and a complex plot that evolves from diamond smuggling to the destruction of the Super Powers' missiles." -- NicNac
"I can't continue without mentioning Mr.Kidd and Mr.Wint as well. Probably my third favorite henchmen in the entire series. They're just so wonderfully creepy,compelling and witty that each of they're scenes become a joy to watch. The creepy, haunting theme by Barry adds a lot too. " -- SirCLMDBCraig
"Another main strength is the hilarious and uncanny dialogue throughout - some of the most memorable of the series. Every scene is packed with clever one-liners and puns - "I'm afraid you caught me with more than my hands up. Tom Mankiewicz seamlessly marries the British-ness of James Bond with the American vernacular." -- JBFan626
"In watching DAF as a comedy, one can't be disappointed, but it's in watching it as a Bond film alone that becomes a bother. After many classy, sexy, and charming Bond girls, we have Tiffany Case - a bimbo with questionable business dealings (wasn't much of an acting stretch for Jill St. John)." -- lalala2004
"Apart from the fact that we get a reasonably buttoned-down affair about diamond smuggling that gives way to a very unconvincing space laser, we get this set-up about Blofeld's doubles that serves no other purpose than to set up the "wrong pussy" joke. The potential's there for it to add to the tension of the third act (which Blofeld is which, where's the real one, et cetera et cetera), but no. Instead we get a series of the most uninspired set pieces in the entire series (a lackluster car chase that is followed by another car chase that comes up even shorter in the luster department; an "Oh crap, Bond's going to be crushed by the elevator" moment followed by... another one later in the film), and a climax that is put to shame for sheer balls-to-the-wall thrills by Steel Magnolias." -- FourDot