Fan Verdict - For Your Eyes Only
Each month, a different James Bond film is selected for review, rating and discussion by the largest online community of 007 fans - the Keeping The British End Up forums.

Fans rated the following elements of the movie on a 1-10 scale (10 being best): Bond, Babes, Villains, Humour, Sadism, Snobbery, Action, Locations, Gadgets, Music and 'Tilt' - a rating to account for any qualities not captured in the main categories.

Also up for discussion were the 'best bits' of the movie, including: most 'Bondian' moment, funniest scene, best line, best location, best action sequence, best Bond girl and best overall performance.

For Yor Eyes Only overall score: 6.9


Above: Cover art for the "For Your Eyes Only" score, composed by Bill Conti...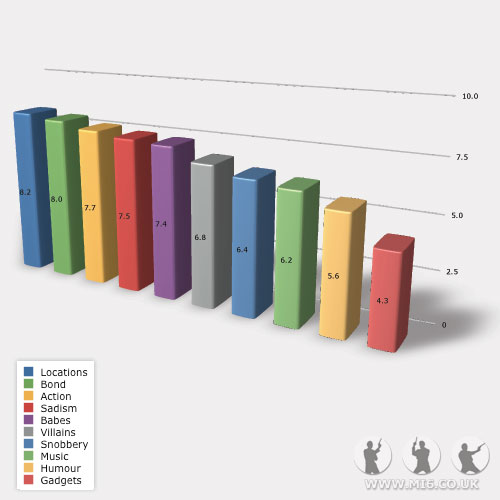 Most 'Bondian' Moment
Winner: After a breathtaking up-hill chase, Bond confronts Locque and in revenge for his ally Ferrara, 007 kicks the goons car from its teetering position.
Honourable mentions: Conquering the sheer cliff-face at St. Cyrils, Bond mountaineers his way to the villains lair .

Funniest Scene
Winner: James Bond's regular transport is destroyed for its own security and 007 makes an escape in the dinky Citroen 2CV with Melina co-driving.

Rating Results

| | |
| --- | --- |
| Category | Average Score |
| Locations | 8.2 |
| Bond | 8 |
| Action | 7.7 |
| Sadism | 7.5 |
| Babes | 7.4 |
| Villains | 6.8 |
| Snobbery | 6.4 |
| Music | 6.2 |
| Humour | 5.6 |
| Gadgets | 4.3 |
| Overall | 6.9 |
Best Line
Winner: "Put your clothes on and I'll buy you an ice cream."
Honourable mentions: "Love a drive in the country, don't you?"
Best Location
Winner: Cortina d'Ampezzo.
Honourable mentions: Corfu, St. Cyrils.
Best Action Sequence
Winner: James Bond is suddenly a target at the Biathlon and a extended ski-pursuit unfolds.
Honourable mentions: Columbo takes 007 to visit the warehouse of the villainous Kristatos.
Best Bond Girl
Winner: Melina Havelock
Best Overall Performance
Winner: Chaim Topol as Milos Columbo
---
What The Fans Said
Below are selected quotes from reviews by Keeping The British End Up members. Click here to read all the reviews in their entirety.
"The script is nicely paced, well written and features some very smart dialogue. The humour is largely used for slight seasoning only, and the corny wisecracks of Moonraker are replaced by witty dialogue. There was an overall theme of détente running through the plot that culminates in very Hitchock-esque climax when Bond sums it up by destroying the the ATAC decoder, the film's McGuffin, and says: 'That's détente, Comrade.'" -- sisillius
"There have been several "re-boots" in the Bond series, most notably when new actors took over the Bond part. But one of those re-boots was in the middle of one actor's tenure, the actor who served longest on Her Majesty's secret service, Roger Moore. After the extravaganza of Moonraker ended the Seventies (and thus the first two, and still best, decades of Bond movies), there was no way to go up. And so, Bond went down to Earth, with 'For Your Eyes Only'" -- w7
"Visuals also help add to the film with a ski chase in the Italian Alps and several scenes in the Greek Islands, including an eventful finale. Sequences are also not short or hard to find with a welcomed unused scene from Fleming's 'Live And Let Die'. Good dialogue and a nicely paced final product are also on 'Only's' side as well..." -- 007calbrit
"Chanel spokesmodel Carole Bouquet gives a mostly believable performance as revenge minded Melina Havelock, whose parents get a bloody sendoff early on for trying to help track down the missing ATAC. Melina shoots one helluva deadly crossbow and kills a few baddies herself, proving to be a worthy sidekick and love interest." -- Sir Henry Lee Cha-Ching
"The film is pretty thin, with most of the dialogue up until the halfway point being exposition. A lot of the action is unexplained and some of it is ridiculous. I don't know what the point of the keel-hauling sequence is (the villains don't discuss their reason for not just killing Bond), and Bond and Havelock's underwater sabotage scene is made a farce by some 'Jaws' music and a clunky, clawed robot-thing attacking them." -- Louis Armstrong
"Roger Moore is fantastic in his down to earth portrayal of 007, Carole Bouquet is an exquisite, sexy and intelligent Bond girl, the music is fantastic (and for me makes the movie) along with Sheena Easton's theme song, but they all come together to create something fantastic." -- thegiantcookie
"That For Your Eyes Only was the highest grossing Bond movie of the 1980s is no surprise – this is a tight story with beautiful touches to Bond's past adventures (see the pre-credits graveyard visit to Diana Rigg's Tracy Bond – We Have All The Time in the World) and the somewhat less successful dispatching of a bald villain stroking a cat who fans can only assume is Blofeld, though this is never explicitly stated. This scene aside, the humour is less obvious which is a great thing considering the implausibility and double-entendre-heavy previous Moore Bond outings and there are no gigantic set pieces – everything is simple yet startlingly effective." -- James Clark
"The action was best when the sequences were shorter and tighter – Bond and Melina tied to the boat, and the raid on the warehouse stood out and were classics of their type." -- NicNac
"I'll mention Bond winning the argument with Melina in the sleigh. Very Fleming's Bond; he was quite the gentleman when he wanted - and needed - to be." -- St. George
"Call me crazy, but [I love] the London docklands! Yes, I know how this sounds. The thing is, I love how at the start of the '80s and a series rethink we first see Bond in such a real location. The "derelictness" of the area fits in well with Thatcher's Britain, as well" -- Count Chocula!