Fan Verdict - The Man With The Golden Gun
Each month, a different James Bond film is selected for review, rating and discussion by the largest online community of 007 fans - the Keeping The British End Up forums.

Fans rated the following elements of the movie on a 1-10 scale (10 being best): Bond, Babes, Villains, Humour, Sadism, Snobbery, Action, Locations, Gadgets, Music and 'Tilt' - a rating to account for any qualities not captured in the main categories.

Also up for discussion were the 'best bits' of the movie, including: most 'Bondian' moment, funniest scene, best line, best location, best action sequence, best Bond girl and best overall performance.

The Man With The Golden Gun overall score:6.8


Above: Cover art for the "The Man With The Golden Gun" score, composed by John Barry...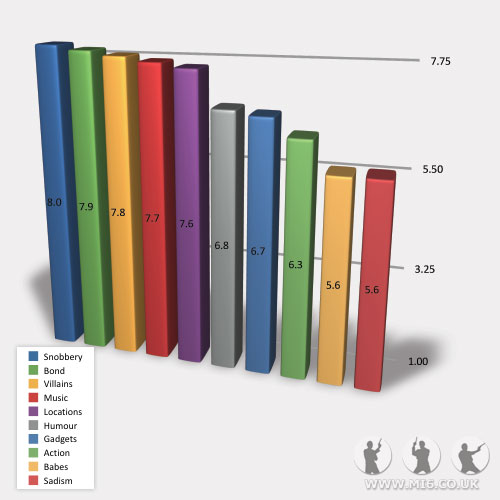 Most 'Bondian' Moment
Winner: Bond follows Scaramanga's beautiful mistress, Andrea Anders, breaking into her hotel room to interrogate her. Bond taunts the frightened Anders, suggesting that Scaramanga will spend one of his expensive golden bullets on the damsel.
Honourable mentions: Bond and Sacarmanga engage in a 'duel á la mort' at Scaramanga's island.

Funniest Scene
Winner: Goodnight is bundled into Bond's wardrobe as 007 hopes to press Anders for a little information.

Rating Results

| | |
| --- | --- |
| Category | Average Score |
| Snobbery | 8 |
| Bond | 7.9 |
| Villains | 7.8 |
| Music | 7.7 |
| Locations | 7.6 |
| Humour | 6.8 |
| Gadgets | 6.7 |
| Action | 6.3 |
| Babes | 5.6 |
| Sadism | 5.6 |
| Overall | 6.8 |
| | |
Honourable mentions: Bond is defended by two enthusiastic kung fu black belt teenagers or Sherif Pepper helps 007 to get his man.
Best Line
Winner: "Jealous husbands, outraged chefs, humiliated tailors. The list is endless."
Honourable mentions: "To us, Mr Bond we are the best" or "Speak or forever hold your piece."
Best Location
Winner: Scarmanga's island, South China Sea.
Honourable mentions: Hong Kong.
Best Action Sequence
Winner: Bond is in the midst of retrieving the lost golden bullet from the dressing room of a lovely belly dancer, but whilst he does, some of her 'admirers' burst in and 007 is forced to dispatch with the goons.
Honourable mentions: Bond and Scaramanga dual to the death in the 'funhouse'.
Best Bond Girl
Winner: Andrea Anders.
Best Overall Performance
Winner: Christopher Lee as Francisco Scaramanga.
Honourable mentions: Roger More as James Bond.
---
What The Fans Said
Below are selected quotes from reviews by Keeping The British End Up members. Click here to read all the reviews in their entirety.
"It is Christopher Lee, Fleming's cousin, who provides the best entertainment in the film as the mysterious Fransisco Scaramanga. Though his fun house and his henchman are both completely over the top, Lee's interpretation of the contract killer is sophisticated and to the point and never over done. The moment at the dining table between 007 and Scaramanga is one of few fine moments in the film." -- JamesC
"Some parts seem downright lazy, such as when Bond spouts tons of info on Scaramanga for the audience right when prompted, or when Scaramanga's hefty monologue about his disturbing past is immediately forgotten when Bond dismisses the story with a comedic insult. I do enjoy some of the groaner moments, like Nick Nack and Bond's fight. It's hilarious when the midget, locked in a suitcase, yells 'Let me out of here, or I'll kill you!' Bond's one-liners are more bearable, as well, because he projects a degree of danger throughout. The role is just more fun to watch this way." -- Louis Armstrong
"I feel sorry for Goodnight and she bloody fills a bikini nicely. Andrea is a great character. Adams played her well." -- FieldsMan
"Really only one girl matters, and that is supporting lady Maud Adams as Scaramanga's girlfriend, Andrea Anders. She is smart enough to get Bond involved in her man's business, because she knows Bond is the only man alive who can kill Scaramanga and give her freedom from certain death should she leave or displease him. All points listed below go to Ms. Adams. The lead female role of MI6 operative Mary Goodnight is played by fellow Swede Britt Ekland (and the ensuing mess isn't her fault), and the part is a complete disaster. Much to my regret, the film version bears little resemblance to the literary character." -- Sir Henry Lee Cha-Ching
"Scaramanga's ever-present butler, in a kind of homage to the enigmatic character from "The Prisoner" TV series, gave Hamilton the opportunity to create a visual 'joke', by hiring 3'11" Hervé Villechaize (of future "Fantasy Island" fame) to stand beside 6'6" Lee. Villechaize, a French-accented, cuddly teddy bear of an actor, would have the final fight of the film against 007, in one of the most ridiculous confrontations in Bond history." -- Bondfan06