Production Notes - The Man With The Golden Gun
Harry Saltzman had been keen to film Ian Fleming's less than memorable final Bond novel for some time, telling new boy Roger Moore that it would be the next in the series almost as soon as Moore started shooting Live And Let Die. So it came as no surprise in 1974 to find Tom Mankiewicz back at his typewriter trying to piece something together from the novel.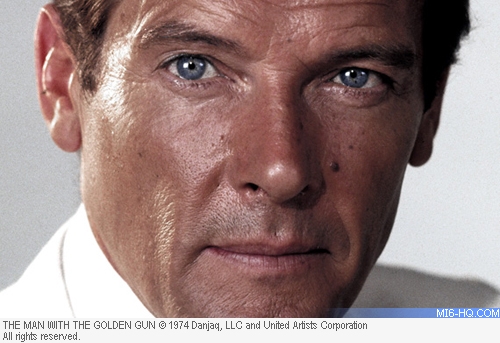 Above: Roger Moore as James Bond.
The only way that Mankiewicz was going to get a workable script was to abandon much of Fleming's original and concoct his own tale based around the title. Mankiewicz set to work but hadn't got all that far before a falling out with Guy Hamilton [directing his third consecutive Bond film] led to him unexpectedly leaving the project.
This left the way open for the return of Richard Maibaum who had left the series after Mankiewicz had been brought in to rework his script for Diamonds Are Forever [1971].

Maibaum was not the most immediate candidate to fill Mankiewicz's shoes - his relationship with Harry Saltzman had never been that great and he made no secret of his dislike of Moore's version of Bond. But, for whatever reason, he relented and turned in his first draft on 7 January 1974.

Having dealt with changes to their leading man on each of the last three films, it must have come as some relief to Saltzman and Broccoli to have no such concerns this time out. Roger Moore was back in the saddle and was to be supported by Christopher Lee as Scaramanga.

Lee was Fleming's step-cousin and frequently played golf with the author. His willingness to take on the role of Scaramanga stemmed not only from his family ties but also from his desire to shake off the Hammer horror typecasting that had been plaguing his career throughout the 60s and early 70s. But Lee wasn't the producers' first choice for the role - that had been veteran American actor Jack Palance.


Above: Britt Ekland as Mary Goodnight (top) and Maud Adams as Andrea Anders.
Other members of the cast included Britt Ekland, who had originally auditioned for the role of Scaramanga's mistress. Hamilton had been so impressed by photographs taken of her in a bikini that he offered her the larger role of Mary Goodnight instead. Making his second, and last, appearance in the series was Clifton James, returning to the fold as redneck Louisiana sheriff J W Pepper who locked horns with Bond in Live and Let Die [1973]. Here, Pepper is astounded to be reunited with Bond while on holiday in Thailand, temporarily roped in to help in the pursuit of Scaramanga.
The crew assembled on 6 November 1974 in Hong Kong to shoot the scene where Bond explores the partly submerged remains of the Queen Elizabeth and finds M waiting for him. Moore himself was doubled for most of the scene [interiors were filmed later at Pinewood] as the actor wasn't due to start work until the following spring.
The Man With the Golden Gun had its world premiere at the Odeon Leicester Square on 18 December 1974 and, like previous films in the series, it started off well at the box office but the returns were to tail off dramatically after the first few days.

The film opened in the States the night after its British premiere and this time managed to draw in only 11.1 million admissions, a new all-time low for the series. The film was to make back $97.6 million on its budget of just $7 million, so it was hardly a disaster. But something seemed to be very wrong in the Bond camp and audiences were starting to vote with their feet.

And they weren't the only ones. The long simmering dispute between Saltzman and Broccoli finally boiled over during the making of The Man With the Golden Gun. Broccoli had done most of the work on the film while Saltzman was left telling the press that he had no desire to stay with the series much longer.

On 11 November 1974, a month before the film's premiere, the London Evening Standard had reported that Saltzman was preparing to sell his half share in Danjaq, EON's parent company, to Columbia Pictures.


Above: Christopher Lee as Scaramanga (top) and Herve Villechaize as Nick Nack.
This clearly was going to cause Broccoli major headaches - although it was EON that held the rights to the Bond character, the films' finances were coming from United Artists. For a half share in the character to be held by a rival company would have been an embarrassment for Broccoli, who had hoped that he was going to be able to buy out Saltzman's half-share for himself.
It soon became clear that Saltzman was in some financial difficulties, perhaps influencing his decision to bail out of the series at this point. Apart from the Bond films, Saltzman had been producing other films, including The Battle of Britain [1969] and Val Guest's entirely dreadful Tomorrow [1972], both of which had been loss-makers at the box office.

In April 1978, The Times reported that Saltzman had been taken to court by a firm of American lawyers for non-payment of debts. He revealed that Broccoli had agreed to wind up Danjaq in 1972 but had reneged on the agreement and subsequent legal action by Saltzman had come to nothing.

The dispute between Broccoli and Saltzman rumbled on for a year until, on 23 December 1975, United Artists chairman Arthur Krim announced that UA had bought out Saltzman's shares in the series. Saltzman went on to a number of entertainment industry business deals, including a failed attempt to buy Shepperton Studios and a more successful attempt to buy a controlling share in the theatrical company HM Tennant.
While Broccoli continued alone on the Bond series, gradually bringing in members of his family to assist him, Saltzman only produced two more films, Nijinsky [1980] and Dom Za Vesanje [1989] before his death in Paris in September 1994.