Kamal Khan (Louis Jourdan)
Datastream
Actor: Louis Jourdan
Character: Kamal Khan
Movie: Octopussy
Date of Birth: 19th June 1919
Height: 6' 1" "(1.85m)
Distinguishing Feature: The only blue-blooded villain
Appearance: Tall, wiry physique, harsh inset eyes, dark well-treated hair
Status: Terminated
Organisations & Alliances: Octopussy, Magda, Gobinda & General Orlov

"Mr. Bond is indeed a very rare breed, soon to be extinct..."

Profile
A wealthy and smug man of royal blood - but exiled from his kingdom - Kamal Khan takes refuge in the busy heart of India. Khan lives like a prince; with a highbrow arrogant attitude to the world, all the while maintaining a placid yet deliberate façade.
Khan thinks nothing of the family and wealth he leaves behind, instead, he affiliates with criminals and terrorists, advising the highest bidder of how to rob, steal and cheat and not get caught. He has a background in International Law that gave Octopussy an insight into how to smuggle jewellery across international borders without getting caught. Khan has business dealings with a variety of criminal maniacs including corrupt Russian General Orlov who is secretly defying his government in order to wage a bloody war with the Western superpowers. With no allegiances and no thought for the loss of life, Khan furthers his wealth with a raft of illegal dealings.
Scheme
Ready to double cross his jewel smuggling partner, the lavish Octopussy, for richer Soviet gems and wealth, Khan is in league with the Russian General Orlov and plans to plant a nuclear bomb a German based US Airforce outpost. Bond is following Khan after his foul-up with the eye-raising Faberge eggs but smuggling is just the front for Orlov and Khan's scheme. The unwitting Octopussy and her circus troupe are set to carry the deadly device right into the heart of the US Airforce base.
I've Been Expecting You
Bond faces Kamal Khan at his preferred game, Backgammon. While at first glance the exiled Prince appears a master, Bond spots his lucky dice are far more than lucky - they are rigged to win. Bond quickly enrages Khan as he taunts him with the real Faberge egg the villain is trying to reclaim, and wins big with Kamal's lucky dice.

"Englishman. Likes eggs, preferably Faberge, and dice, preferably loaded..."
Headquarters
Known to the locals as the Monsoon palace, Khan's grand estate is tucked away high on the hills of Udaipur, India. His lavish palace decked in marble incorporates wide and spacious dining and outdoor living areas. Kamal's weakness is surely his lust and greed and this villain's headquarters reflect his vice perfectly.
Gadgets & Vehicles
Khan often travels by private helicopter, or onboard Octopussy's expansive Junk. When required, he will turn to a regular collection of goons with novel yet deadly weapons. Bond encounters the spin saw armed assassins of Khan's when staying in the Octopussy palace.

Dress Code
Kamal Khan indulges in expensive tailor-made suits, silk ties and smart dark tone eveningwear. When the occasion calls, Khan will dress in tan Safari-suit in the colonial tradition.
Goodbye, Mr Bond
Escaping with haste in his private plane, after Bond and the Octopussy circus performers raid the Monsoon palace, Khan almost gets away. With Bond on his tail - quite literally - Khan takes to the sky with a payload of counterfeiting plates, ready cash, gems and Octopussy herself. Bond fends off Gobinda and escapes with the lovely Octopussy before Kamal's plane dive-bombs into the desert.
Biography
Louis Jourdan was born on June 19th 1919, in Marseille, France to Yvonne Jourdan and Henry Gendre. He was educated in France, Britain and Turkey before training in classical acting at École Dramatique in Paris where he trained under René Simon. Jourdan worked off-screen as a director's assistant before making his on-screen debut in 1939. During the war, Louis and his brothers joined the French underground after the Gestapo killed his father.
The young Jourdan continued to act in local French-produced productions up until the late 1940's when he began to perform in international and Hollywood films. His big break came when Hollywood product David O. Selznick invited the him to appear in a 1947's "The Paradine Case" an Alfred Hitchcock drama where Louis Jourdan played opposite Gregory Peck and Charles Laughton.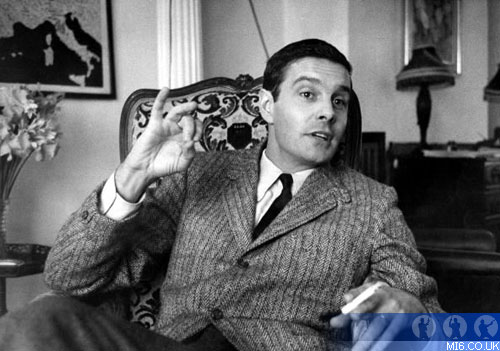 "There are actors in this town who made important careers
for a long, long period just by taking the parts
that Cary Grant turned down."

In 1944, after France was liberated from the Nazi occupation, Louis Jourdan married Berthe Frederique with whom he had one son, Louis. Jourdan settled in the Americas in order to pursue his international career and appeared in a range of impressive and diverse films including Charles Vidor's "The Swan" - where Jourdan joined Grace Kelly and Alec Guinness in an impressive picture.
The accomplished actor's most globally recognised role came in 1958 when Jourdan played the role of Gaston Lachaille in "Gigi", the Lerner and Lowe Musical which clinched Best Picture at the following year's Academy Awards. Jourdan continued to make a varied and worthwhile range of films but regularly returned to the UK to work on BBC productions including 1977's "Dracula" and "Columbo" before landing the villainous Bond role, Kamal Khan in 1983.
Jourdan performed in his last film in 1992, "Year of the Comet", the romantic thriller directed by Peter Yates. Jourdan and wife live happily in California.