General Georgi Koskov (Jeroen Krabbé)
Datastream
Actor: Jeroen Krabbé
Character: General Georgi Koskov
Movie: The Living Daylights
Date of Birth: 5 December 1944
Height: 6' (1.83m)
Appearance: Tall, medium build with rich, slightly wavy black hair slicked back, brown eyes, often seen with a five o'clock shadow.
Status: Incarcerated in mother Russia
Organisations & Alliances: KGB, Mujahedeen, Brad Whitaker, Necros

Profile
A two-faced, smooth talking, double-crossing swindler who carefully plays both sides of the Cold War. Koskov gives the impression of a somewhat anxious pawn in the battle between the USSR and Britain, when he is, in reality, a mastermind using all means to his own advantage. He is prepared to dote on his mistress and give her all manner of expensive gifts (the prize among which is a Stradivarius cello), but when necessary will easily sign her death warrant.

"Pig! Cake! Borsch! There must be another way..."
Scheme
Teaming up with the crooked and delusional military man, Brad Whitaker, Koskov has arranged to defect from the Russian intelligence services to the British. Inevitably he betrays both the Russians and British, using money he has paid to Whitaker for hi-tech smuggled arms to buy opium and turn a profit.
I've Been Expecting You
Bond is posted as a sniper to oversea the defection. However, when 007 realises the "assassin" is a decoy he refuses to kill her and plans a new escape route for Koskov himself. The slimy Russian General embraces James and quizzes him about the sniper, really Kara Milovy, the cellist and his (ex) girlfriend.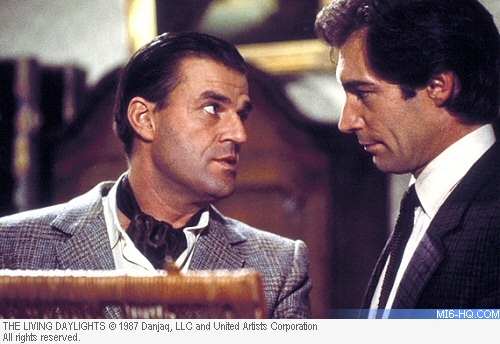 "I'm sorry, James. For you I have great affection, but we have an old saying: duty has no sweethearts."
Headquarters
For much of "The Living Daylights" mission, Koskov is on the run, but doing so in style. The climax of his plan comes to fruition at a Russian airbase in Afghanistan where he rests overnight before conducting his deal with the Mujahedeen.
Gadgets & Vehicles
Koskov has the might of the Russian air force and army at his disposal. He acquires a Russian cargo plane to transport his opium (cleverly disguised with the Red Cross logo). He is the first known user of the PIG, the secret pipeline transportation that the British use to smuggle him out of the Soviet bloc.
Dress Code
Often seen in his full Soviet dress uniform, Koskov is proud of his status in the country he has betrayed. When not in uniform he opts for light coloured slacks, tweed jackets and often a cravat.
Goodbye, Mr Bond
"Put him on the next plane to Moscow... in the diplomatic bag!"
Koskov survives the mayhem at the Afghani base only to be arrested by General Pushkin in Tangier at the same time as 007 kills Whitaker.
Biography
Jeroen Krabbé was born in Amsterdam, Netherlands to Margreet and Maarten Krabbé. His father was a known painter like his father (Jeroen's grandfather).
He found his passion at an early age and became the youngest ever student to enter the prestigious Amsterdam Academy of Performing Arts. Krabbé began work in the Dutch performing arts industry in the mid-'60s, before landing a regular role in the miniseries "Uilenspiegel" and then "De vloek van Woestewolf" ("The Curse of Wolf Castle", a semi-sci-fi medical drama).
In 1964 he married his wife Herma and 1968 his first son, Martijn was born. His son followed in his footsteps as an actor but more recently Martijn has had a regular slot hosting a Dutch talkshow.
Krabbé made his name in Hollywood alongside Whoopi Goldberg in "Jumpin' Jack Flash" (1986) but was quickly picked up for a series of villainous roles in American adventure films including "The Living Daylights" and "The Fugitive" (1993). More recently he has appeared in "Oceans 12" and "Transporter 3".
Related Articles
Villains