Zao (Rick Yune)
Datastream
Actor: Rick Yune
Character: Zao
Movie: Die Another Day
Date of Birth: 22nd August 1971
Height: 6' 0" (1.83 m)
Appearance: Tall and fit. Bald head and bright blue eyes, translucent skin with thick veins.
Distinguishing Feature: Diamonds embedded in his face
Status: Terminated
Organisations & Alliances: Gustav Graves, Colonel Moon, Dr. Alvarez

"It appears we are equal... in the eyes of spies..."

Profile
A terrorist in the pay of the North Korean Colonel Moon, Zao is a hardened killer with a vengeance against the West. He was once a freelancer but now works exclusively for Moon, who has undergone gene replacement to change his appearance and voice. Distinguished in looks after a failed gene replacement operation, Zao also bears the scars of a diamond explosion.
Personality
Zao is the strong and silent type, with immense loyalty to Moon and his cause. At first it seems that he is out of control, but 007 soon finds the bonds between the terrorist and the shady "British" industrialist, Gustav Graves, run deeper than first appear.
Involvement
Zao liaises with the Colonel's mole inside MI6 to unmask 007 during the pre-titles sequence. In the DPRK military base, Bond triggers a C4 explosion and catches Zao in mid-blast. Thereafter the terrorist has priceless diamonds embedded in his cheekbones that doctors were unable to remove. Bond is retrieved from a North Korean cell after Zao commits further acts of terror and it is believed 007, under duress, had been leaking sensitive information to his captors in the North.
Bond evades the MI6 guards in Hong Kong harbour and goes after Zao to prove his innocence, tracing him to Cuba and the gene replacement clinic of Dr. Alvarez. Zao is mid-transformation into the identity of a humble German civil servant when Bond pays him a visit. When it is revealed his boss has already undergone the same treatment successfully, Bond duals Zao and his gadget laden Jaguar coupe. In the quick-melting ice-palace, Zao meets a bloody end.
Biography
Born in Washington D.C., USA, as Richard Yun, Yune is a television producer, screenwriter and actor. His heritage stems from Mongolia, Korea and China. The actor did not start life with any intention of becoming a thespian. Yune has always been an athletic type and is a Tae Kwon Do expert - earning himself a try-out for the US team aged just 19. He graduated from the University of Pennsylvania in 1994 and attended the Wharton School of Business before finding work as a stock trader on Wall Street.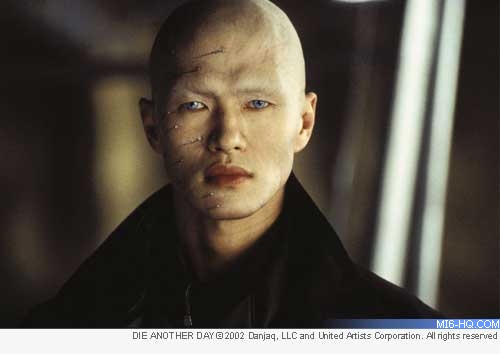 "It's a brilliant role and I love playing a Bond villain. The only problem is I'm topless in a lot of scenes in Spain and it's been raining. I've had to have a hot-water bottle on standby." - Rick Yune
Yune was "discovered" by a talent agent one morning in an elevator and quickly went on to hold the distinction to be the first American-Asian model for Versace and Polo. The would-be actor was able to move from modeling to screen acting quite easily - but future roles would not always come so effortlessly. His debut was in "Snow Falling on Cedars", the 1999 mystery about the murder trial of a Japanese-American in the 1950s. This picture also starred Ethan Hawke and Max von Sydow (of "Never Say Never Again" fame). He changed his name from Yun to Yune when he joined the Actors Guild.
Yune had a slow start to his acting career but made his big Hollywood break as Johnny Tran in 2001's "The Fast And The Furious". After his brush with Bond, he wrote and produced the film "The Fifth Commandment" (2008) - a Hong Kong set martial arts flick that met with mild success. He has had cameo roles on some of the America's biggest shows including "Alias", "Boston Legal" and "CSI". His most recent role was as Takeshi in "Ninja Assassin" (2009). "In the media, Asians were either nerds or gangsters," Rick says. "I want to change that. I've never been afraid before, but now I'm afraid of failing."
Related Articles
Villains