Rose Byrne cast as Vesper Lynd in Casino Royale reports UK press
MI6 exclusively revealed on Saturday that
Australian actress Rose Byrne was screentesting for the character of Vesper Lynd and was the hot favourite to land the role
, and today the
Mail On Sunday
has reported the 26 year-old has secured the part.
The report said, "she is set to be unveiled as the next Bond girl after auditions last week for the new film version of Casino Royale. Australian-born Rose, now based in London, was one of four starlets vying to play opposite Daniel Craig as Vesper Lynd, who breaks 007's heart. Her rivals are believed to include Tipping The Velvet star Rachael Stirling - daughter of Diana Rigg, a former Bond girl. The part was turned down by Angelina Jolie and Oscar-winner Charlize Theron. It was Rose's performance as Trojan priestess Briseis in the 2004 epic Troy, where she had a series of steamy love scenes with Pitt, that brought her to the attention of the 007 production team."
According to the newspaper's insiders, director Martin Campbell and long time Bond producers Barbara Broccoli and Michael G Wilson are expected to confirm her in the role on Friday.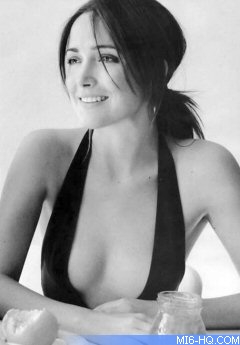 The 26-year old, who starred in the BBC TV drama Casanova, was given a cloak-and-dagger introduction to Bond when she auditioned at Pinewood Studios in Buckinghamshire. One insider said: 'She had to give a special password, Alcazar, to get into the audition. People were joking that they didn't wan't Daniel Craig's mum to find out and spill the beans like she did when her son was cast.
'All the actresses had to perform a bedroom scene with Daniel where Bond says he is leaving the service to be with Vesper Lynd. Barbara Broccoli was particularly impressed by Rose.'
Produced by Michael G. Wilson and Barbara Broccoli (Eon Productions) and directed by Martin Campbell, CASINO ROYALE is scheduled for release November 17, 2006. Principal photography will start on January 30th 2006, with locations in the UK, Czech Republic (Prague), Italy, and the Bahamas. It will be British actor Daniel Craig's first outing as James Bond. He is the sixth actor to play the 007 role in the franchise.
Thanks to `bond_fan` for the alert.
Discuss this news here...