Meet The Cast - Dave Bautista
7th March 2015
MI6 profiles Dave Bautista who will play the menacing henchman Mr. Hinx in the forthcoming 007 adventure, SPECTRE
By MI6 Staff
---
David Michael Bautista was born to Donna and David Bautista on January 18, 1969. With Greek and Filipino heritage, Bautista lived a troubled childhood and grew up in a rough part of Washington, D.C. He credited his Filipino grandparents with instilling young David with the values of hard work, dedication and hospitality.
"I've always been very aggressive in life just like my grandparents. It is the same drive that motivates me to try and do my best, and when things slow down, all I have to do is to look at my three daughters to feel that hunger again. I would do everything for them," says the wrestler turned actor.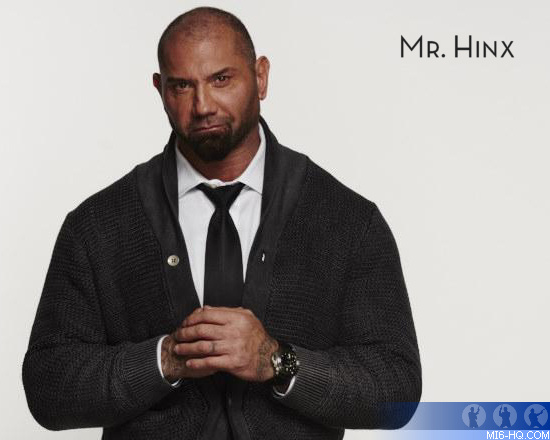 Before trying out and winning fame in the World Wrestling Federation, Bautista served as a bouncer, bodybuilder and lifeguard. He first tried out for World Championship Wrestling where it was predicted Bautista would never make it in the profession. He succeeded where some thought he could not and entered the ring professionally in 2000 under the pseudonym Leviathan, fighting in Ohio Valley Wrestling. By 2002 he had fought in his first broadcast wrestling showdown for the WWE, this time as Deacon Batista.
He joined with Triple H, Ric Flair, Randy Orton to found the wrestling team or "stable", Evolution. Evolution gained popularity, and with it, Batista, winning the 2005 Royal Rumble Match. Injuries put him out of the sport for months but he returned to claim the World Heavyweight Championship in 2006. Over the course of his wrestling career he won the World Title six times.
On the subject of his profession and its reputation amongst casual viewers, Bautista has said: "It is entertainment, we're not trying to fool anybody, but it is also something that is very tough. Not everyone can do what were doing."
He announced his retirement from the sport in 2010 with the hopes of focusing on his acting career. He earned a role in the 2010 episode of "Chuck", "Chuck Versus the Couch Lock", which sees Zachary Levi as a computer genius turned CIA recruit. He took a lead role in the 2011 crime drama, "House of the Rising Sun," playing reformed con Ray, hunting for the killer of his boss's son before moving on to co-star with Lucy Liu, Russell Crowe, and Bond alumnus Rick Yune in "The Man with the Iron Fists" (2012).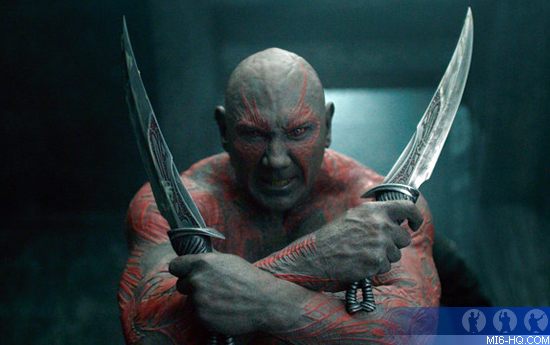 Bautista found fame amongst movie-going populations when he appeared in the filmic adaptation of Marvel's "Guardians of the Galaxy". He joined Vin Diesel (playing opposite him for the second time, having appeared in 2013's "Riddick"), Bradley Cooper and Chris Pratt. The film also co-starred Benicio del Toro, who made his name as Sanchez's right-hand man in "Licence To Kill". Bautista plays Drax the Destroyer, a vengeful super-human. Makeup for Drax took up to four hours to apply. "Guardians" was nominated for two Oscars and the Detroit Film Critic Society gave the cast its Best Ensemble award.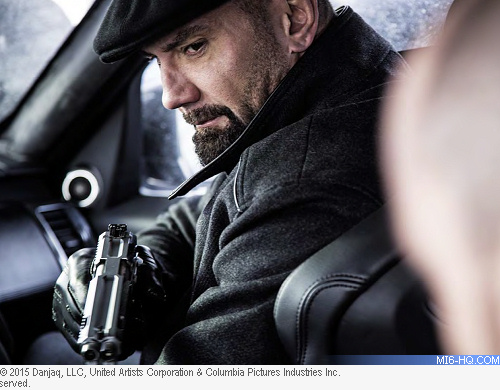 It was first revealed back in August 2014 that the casting call had gone out for an imposing henchman to play an important role in Bond 24. In October of the same year rumours of Bautista's casting emerged. The casting call, a description that matched Dave's physique perfectly, required an actor "Ideally over 6' 2"... We are looking for an imposing extremely physically fit actor. He has several fights with Bond and will have to have stunt training. He has to drive. We are looking for someone very unusual, possibly from a sports background."
Bautista was revealed to the world as SPECTRE's henchman Mr. Hinx at a December 2014 press conference. Of the casting, Bautista commented: "It's just sinking in. It's overwhelming and surreal and nerve wracking. It's just crazy, man."
You Might Also Like
Opinion
Guest writer David Leigh explains how revisiting Ian Fleming will help Blofeld escape the spectre of Dr Evil
Spectre (2015)
Take a closer look at the principal cast of SPECTRE from the launch event photocall
---
Share The Story