Geoffrey Holder (1930-2014)
5th October 2014
Geoffrey Holder who played the un-killable Baron Samedi in 'Live And Let Die' has passed away aged 84
By MI6 Staff
---
Born in Trinidad and Tobago in August 1930, Geoffrey Holder came from a talented family. As a young man he was taught painting and dancing and - aged seven - joined the Holder Dance Company, run by his brother Boscoe. Boscoe's later career would take him to London, where he eventually turned to painting, but Geoffrey's career blossomed when he moved to America. He first set foot in Manhattan in 1953 when he lead the Holder Dance Company on tour in the US. Holder arrived at a time when all-black dance and entertainment troupes held popular sway in American's cultural and entertainment life; modern and folk music had African and Carribbean influences and the music of Harry Belafonte had gained great popularity. He appeared on Broadway the following year when he was cast in "House of Flowers", Truman Capote's only musical based on his famous "Breakfast At Tiffany's".
In the course of his work on Broadway Holder met dancer Carmen de Lavallade, and the couple married in 1955. Their son, Leo, was born in 1957. In this period Holder had a regular role as a dancer for the prestigious Metropolitan Opera (the "Met"). His dance work soon saw Holder landing roles in cinema, with his first big screen role coming with the little-remembered "Carib Gold" (1957). As an uncredited dancer he continued to work in the background of the Hollywood establishment, notably in Sidney Poitier's "Porgy and Bess" (1959).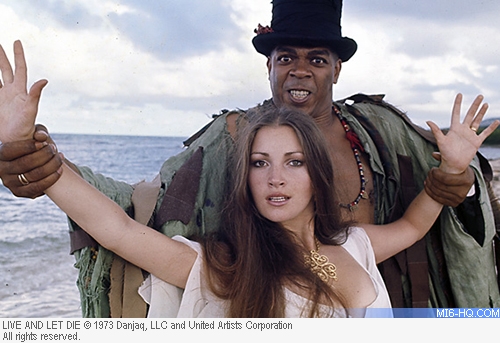 Screen credits for Holder were sporadic throughout the sixties, and somewhat typecast thanks to his looks - his tall wiry figure - and distinctive Caribbean accent. He landed roles in "The Man Without a Country", the 1973 TV adaptation of based on the Edward Everett Hale novel and the Woody Allen vehicle "Everything You Always Wanted to Know About Sex". Holder played an unnamed sorcerer alongside a star-studded cast including John Carradine, Burt Reynolds, and Gene Wilder.
Next, the actor won his role in the 1973 James Bond adventure, "Live And Let Die", opposite Roger Moore in his debut as the famous agent 007. Holder was an obvious choice for the role of Baron Samedi, Loa of the dead, due to his towering 6'6" height, cackling laugh, and dance skills. He choreographed his own movement for the film and professed to be petrified of snakes, despite his role calling for the actor to fall headfirst into a coffin full of them in his final duel with 007.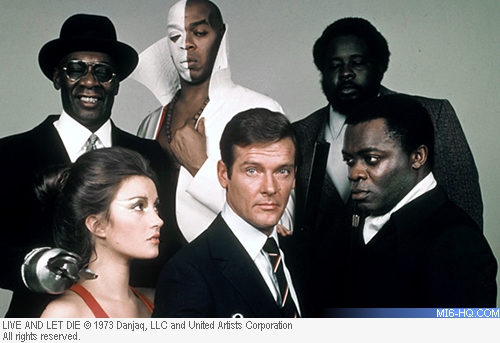 He became a household name in the USA when he appeared as the face of 7-Up's "un-cola" campaign. This was something of a springboard for the multi-talented Holder, and after appearing in the 7-Up campaign he found a great amount of work in commercial advertising. He was always philosophical about his corporate work and regarded the advertisement as a worthwhile pursuit, saying, "[t]he commercial is an art form unto itself. After all, you are seducing people."
After 007, Holder began to turn his hand to directing, perhaps most famously the 1975 Broadway production of Ken Harper's "The Wiz," the African-American telling of the story of "The Wizard of Oz". The production cleaned up at that year's Tony Awards, with Holder winning two - Best Direction and Best Costume - whilst the show itself won a total of seven, including Best Musical.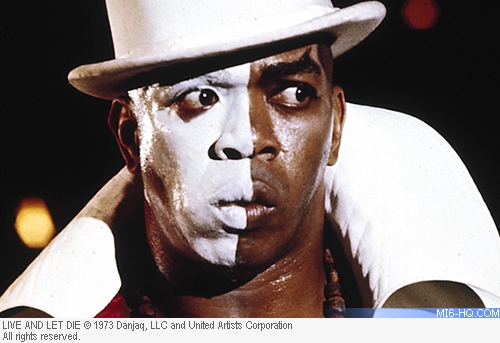 In the 1980s he most memorably appeared as Punjab, manservant to Daddy Warbucks (Albert Finney) in "Annie" (1982). Later in his career, Holder's film work was monopolised by narration, including "Where Confucius Meets the New Wave" (1987), "Charlie and the Chocolate Factory" (2005) and "The Little Wizard: Guardian of the Magic Crystals" (2008). Although he never was as renowned for his artwork as he was for his dance and acting work, painting continued to be an important medium of expression for this all-round artist and his work is displayed in both Corcoran Gallery in Washington and the New York's Guggenheim.
Geoffrey Holder passed away age 84 on Sunday 4th October in Manhattan, NY after complications relating to pneumonia. He is survived by his wife of 59 years, Carmen de Lavallade.
You Might Also Like
Music
Watch Paul McCartney and Wings rehearse a recording of 'Live And Let Die' in this rare video
Collecting
MI6 previews the upcoming autobiography "All My Flashbacks" by three-time James Bond director Lewis Gilbert
---
Get Bond in Your Inbox
Sign up for occasional email updates from MI6. Get notified of breaking Bond news, and digests of recently releases features:
Share The Story