| | |
| --- | --- |
| | Known to the world as Miss Moneypenny who starred in 14 James Bond films, actress Lois Maxwell has died aged 80... |
Lois Maxwell (1927-2007)
30th September 2007
Born Lois Hooker in Kitchener, Ontario on 14 February 1927, she would become best known around the world as Miss Moneypenny in the James Bond series, and a Golden Globe winning Canadian actress.
By the late 1940s, Lois Maxwell attempted to make a name for herself as an actress, but she started out against her parents will - and without their knowledge in a Canadian children's radio program - credited as "Robin Wells".

Before the age of 15 she left for England with The Canadian Army's Entertainment Corps and managed (after her age had been discovered) to get herself enrolled in The Royal Academy of Dramatic Art, where she met and became friends with Roger Moore in 1944.

She landed her fist her big screen role in "A Matter of Life and Death" (1946) in which she made her debut uncredited, and won the Golden Globe Award as "Best Newcomer" for her role in the Shirley Temple comedy "That Hagen Girl" the following year. She appeared in six Hollywood pictures before trying her luck in Italy.

Maxwell moved back to England in mid-1950s and married Peter Churchill Marriott in 1957.

She appeared in many other television series and movies both in Britain and Canada, and was the star of "Adventures in Rainbow Country" in the late 1960s. She lived in Espanola, Ontario for 18 years, near where the series was filmed.



As well as her film career, she participated in a Life Magazine photo layout in which she posed with another up-and-coming actress named Marilyn Monroe. She also appeared in "Bedtime for Bonzo" with Ronald Reagan, whom she declared (in an interview with Hello! magazine) she had found very handsome and attractive.
On television, she guest starred in episodes of "The Saint" and "The Persuaders!" which both starred Roger Moore, who would go on to play 007 opposite Maxwell a decade later. She also provided the voice of Atlanta for the science fiction children's series Stingray in 1963. Her early feature films included "Kill Me Tomorrow" (1957), and the controversial "Lolita" (1962) before her breakthrough in popular culture came when she landed the role of Miss Moneypenny in the first James Bond film "Dr No" (1962).



In a 2005 interview, Maxwell explained how it happened. "I had a husband who was desperately ill, with two small children and no money", she said, "so I called producers I had worked with before and said 'help me'". Bond director Terrence Young was one of those people, and offered her two possible roles.

"If you you don't put my hair in a bun and horn rimmed glasses on me allow me to give her a background - I would like to play Miss Moneypenny". She got her way and a Bond career was born.

Starring in fourteen consecutive James Bond movies from "Dr No" (1962) through to "A View To A Kill" (1985), many fans credit her as the definitive Miss Moneypenny.
She also portrayed Moneypenny in a 1967 made-for-television special (produced by EON Productions) entitled "Welcome to Japan, Mr. Bond" in which she attempts to discover the identity of a woman who aims to marry James Bond (the final reveal is that the woman is an actress hoping to land the role of Mrs Bond in the next film "On Her Majesty's Secret Service"). This rarely seen appearance is now available on the "You Only Live Twice" Ultimate Edition DVD.
Of all the fourteen Bond outings she appeared in, Maxwell claimed her favourite was George Lazenby's sole outing. "Strangely enough, 'On Her Majesty's Secret Service'"

"I think it's the best film, I mean I think it's an excellent film. Had it not been a Bond film, had it just been a film, it would've been a fabulous film".

She was succeeded in the role by Caroline Bliss ("The Living Daylights" 1987 to "Licence To Kill" 1989) and later Samantha Bond ("GoldenEye" 1995 to "Die Another Day" 2002). "Casino Royale" (2002) is to date the only Bond film not to have featured Miss Moneypenny.



After bowing out of the series along with Roger Moore in 1985, she later suggested to producers that she could take over as M, but was reportedly told that the series "would never feature a female M". A few years later, Dame Judi Dench was cast as M. Only Desmond Llewelyn, who played Q seventeen times before his death in 1999, starred in more Bond films than Maxwell.



"She was always fun and she was wonderful to be with. She was wonderful, absolutely perfect casting. It was a great pity that, after I moved out of Bond, they didn't take her on to continue in the Timothy Dalton films. I think it was a great disappointment to her that she had not been promoted to play M. She would have been a wonderful M." - Sir Roger Moore

After her husband passed away in 1973, she also became a regular columnist for the Toronto Sun newspaper whilst acting in the Bond series during the 1980s.

She purchased a cottage in northern Ontario and would often share stories about her experiences on the movie set, her co-stars, life in Italy, her experiences growing up in Canada and about her present life in general - as well as commenting on topics of the day.
Maxwell retired from acting in 1989 and moved from England to Perth, Western Australia, and then later moved closer to her son in Fremantle, Western Australia after she suffered health scare in 2001. She came out of retirement twice: for the TV production "Hard To Forget" (1998), and the 2001 feature film "The Fourth Angel".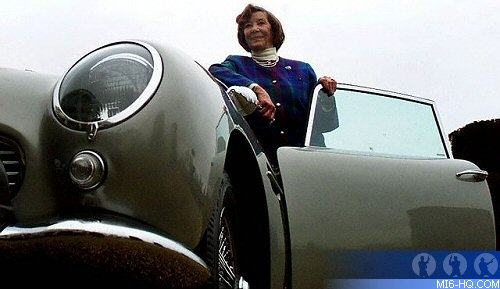 Above: Lois Maxwell poses with the infamous Aston Martin DB5 in 2001.
Lois Maxwell passed away at Fremantle Hospital, Western Australia in the evening of Saturday 29th September 2007 after suffering from cancer. She is survived by her two children.
Related Articles

Miss Moneypenny