| | |
| --- | --- |
| | Music producer Mark Ronson confirms Amy Winehouse has completed a demo track for the "Quantum of Solace" theme song, plus spy shots from the filming in Italy... |
Production Diary (27)
28th April 2008
Back To Bond
The rumour mill has been blowing hot and cold for over a year, but today the first direct confirmation was made: Amy Winehouse and Mark Ronson are preparing a theme song for the upcoming James Bond film "Quantum of Solace".
Ronson, a music producer and composer, told the BBC that the duo are busy at work on a theme for the film, although there are no guarantees the track will be used for "Quantum of Solace" as they have not been officially signed up to release the song.

"Hopefully it will get used. We're working on it and we'll see happens," Ronson said. He also confirmed that it was singer/song-writer Amy Winehouse who was first approached. "They asked Amy, and I think Amy said that if she did it, she'd want to do it with me. So hopefully something will come of it."

A demo has already been completed and the pair are also working on Winehouse's new album. "The demo sounds like a James Bond theme, hopefully. But I don't know if it'll get used."

"I'm sure there are loads more really famous people that probably we're competing with and we don't know about. I'm not sure. But hopefully I'll still be alive for at least 12 more Bond themes. If we don't get this one maybe we'll get another one."


Above: Mark Ronson and Amy Winehouse perform at the Brit Awards, February 2008
Rumour Rewind
Winehouse first hinted at the upcoming Bond work way back in November 2006 when "Casino Royale" has opened in theatres. She told reporters, "We've been in contact with the James Bond people and hopefully that'll come off in the future."
Producer Michael G. Wilson gave his public approval in February 2008 when he told Total Film magazine, "[Amy] could do a wonderful job. We'll have to wait and see if she can do it." But asked by reporters back in February, Daniel Craig insisted the rumours were "way off". Craig said, "Why is everybody ramming [the name] Amy Winehouse out? It's just way, way off that. Everyone's speculating about it but we've got other things to deal with - there's no point in writing the song for a movie when we haven't got a movie."
UK tabloid The Sun was the first to make the definitive claim that the duo were working on a theme song at the beginning of April, but Winehouse's agent was quick to distance the star from the production saying that is was only "speculation" and they were only working on a new album (now in contradiction with Ronson's statement). Previous theme song performers Dame Shirley Bassey and Sir Paul McCartney have both backed Winehouse for the job, as well as 007 composer David Arnold.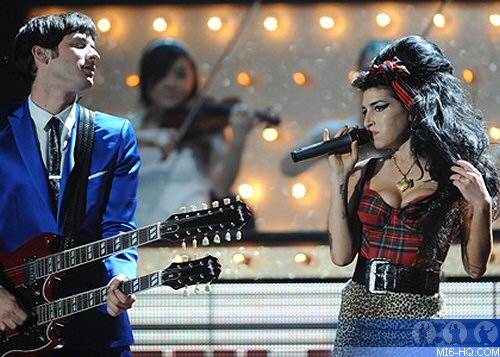 Spy Shots From Italy
Earlier this week, Italian press confirmed MI6 reports that a scene for "Quantum of Solace" was due to be filmed at Tower of Talamonaccio (Torre di Talamonaccio) in Tuscany. The shoot was scheduled to start on Friday 25th April through until Sunday 27th April. Papers say that the scene was "short, but intense". As well as action on the waves, filming took place inside the tower, with the décor reportedly changed to a black and white theme. Reports in Italy suggest that the location was chosen by producer Barbara Broccoli. The high-end villa can be rented out by tourists for around $9,000 per week. Principal cast members Daniel Craig, Olga Kurylenko and Giancarlo Giannini took part. 007 was seen arriving by speedboat.
Filming at the location wrapped on Sunday and the first spy shots of the scene have emerged. Craig and Kurylenko were busy in action on the waves. Craig's stunt double can also be seen in the third photo. The costumes and run-down boat match the ones used for filming off the coast of Panama.