Bottoms Up: Vesper Vodka Martini
19th June 2015
Treat yourself to Fleming's own creation, the Vesper Vodka Martini, on world martini day
By MI6 Staff
---
The Vesper vodka martini was a creation of Ian Fleming's secret agent James Bond on his debut in print. Penning "Casino Royale" the 007 creator was inspired to add his own twist to the classic martini recipe, using both gin and vodka and a curious form of vermouth known as Kina Lillet. Bond also shakes up the age old recipe by requesting lemon peel instead of an olive.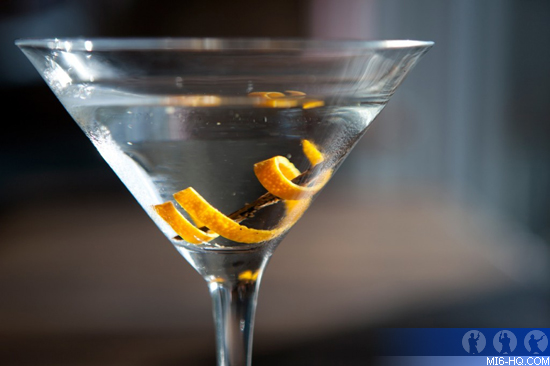 "Three measures of Gordon's, one of vodka, half a measure of Kina Lillet. Shake it very well until it's ice-cold, then add a large thin slice of lemon peel. Got it?" "Certainly, monsieur." The barman seemed pleased with the idea. "Gosh, that's certainly a drink," said Leiter. Bond laughed. "When I'm...er...concentrating," he explained, "I never have more than one drink before dinner. But I do like that one to be large and very strong and very cold and very well-made. I hate small portions of anything, particularly when they taste bad. This drink's my own invention. I'm going to patent it when I can think of a good name."
The martini recipe was credited by Ian Fleming to his companion Ivar Bryce, whose middle name, Felix, was given in tribute to James Bond's opposite number in the CIA. Like Bond and his creator, Bryce himself spent many years in Jamaica and it was he who helped Fleming settle on the island and find the now legendary home: Goldeneye.
The name, Vesper, was the Christian name of 007's doomed lover and unwilling double agent Vepser Lynd. Bond, so enamoured with the girl from the treasury, names his creation after her. Over sixty years later the Vesper title is less frequently invoked but, in the popular mind, the call for a vodka martini is inseparable from James Bond.
Ingredients: 3 measures of Gordon's Gin, 1 measure of Vodka, 1/2 a measure of Kina Lillet.
Method: Add all ingredients standard cocktail shaker over plenty of ice, shake until the drink is ice cold. Serve in a pre-iced champagne goblet.
Share The Story