MI6 Competition
Thanks to our friends at Puffin, MI6 can bring you a great competition to copies of "Double Or Die" - the third novel in the Young Bond series by Charlie Higson.
Official Blurb
With kidnap, violence, explosions, and murder, it was no ordinary weekend. But then, James Bond is no ordinary boy...In a North London cemetery, a professor is kidnapped at gunpoint. A suspicious letter crammed with cryptic clues arrives at Eton. To decipher the deadly mystery, James Bond must take a series of dangerous gambles. Once the code is cracked, he has just 48 hours to save the professor from the dark forces that threaten to destroy them both. And if the professor can't escape, it's not only his future under threat. It's the rest of the world's...
The third instalment in a planned series of five titles, written by Charlie Higson, sees the young James Bond pitted against the dangerous criminal underworld of interwar London, a world of illegal gambling dens, Cambridge spies and East End gangs. Here you'll read about the experiences which turned the boy into the steely and ruthless secret agent that Bond becomes as an adult.
Double Or Die Interviews

Charlie Higson - Titles & Elements

Charlie Higson - Research & Homages

Charlie Higson - What's Ahead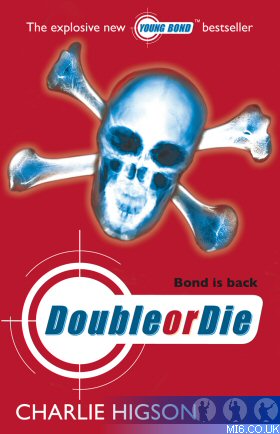 Above: First edition UK cover art
Order "Double Or Die" Paperback - Amazon UK