| | |
| --- | --- |
| | Daniel Craig has reportedly extended his contract to four new James Bond films following the 2006 blockbuster Casino Royale... |
Daniel Craig Extends 007 Contract
26th October 2007
According to trade paper The Hollywood Reporter, James Bond star Daniel Craig has extended his contract to play 007 for four new films following his record-breaking debut in "Casino Royale" (2006).

MGM chairman and CEO Harry Sloan broke the news at the Forbes MEET II conference at the Beverly Hills Hotel on Thursday, amongst a swath of other plans relating to the studio.

Daniel Craig had previously stated that he had initially signed up to three Bond outings: Casino Royale (2006), Bond 22 (2008) and Bond 23 (TBA). Official details on the original deal were not revealed until Bond 22's delay, but Craig confirmed the plans during the US publicity tour for Casino Royale back in November 2006. It was later revealed that, due to the success of Casino Royale, Craig's pay deal had been upped to £5 million for Bond 22 and £8 million for Bond 23 - double the original sums.

If the new contract is completed, Craig will now play Bond in a total of five films, up to and including Bond 25. His second outing, the as-yet untitled "Bond 22", is scheduled for release on 7th November 2008. Filming is expected to commence in early January.
A Brief History Of Bondage
Sean Connery originally signed up to play 007 in six films starting with "Dr No' (1962), but was released from his contract one film early following "You Only Live Twice" (1967). George Lazenby was then cast as the first replacement, completing "On Her Majesty's Secret Service" (1969) before walking away from a contract for more. Connery was lured back to the role for "Diamonds Are Forever" (1971) and a record fee of £1.25 million which he donated to charity. Roger Moore then took the helm with "Live And Let Die" (1973), the third successive film in the series that had a change in the lead role. Moore steadied the ship and went on to complete a record total of seven outings, culminating in "A View To A Kill" (1985). His contract was originally for four films, but Moore and Broccoli negotiated on a per-film basis thereafter. Timothy Dalton, who had been previously considered for the role, was cast for three films, starting with "The Living Daylights" (1987). After "Licence To Kill" (1989), a six year hiatus followed due to studio legal disputes, leaving Dalton walked away from a possible third film. Pierce Brosnan - who had narrowly missed out on the role in 1987 due to an NBC contract renewal - debuted as 007 in "GoldenEye" (1995). His tenure was set for three films with an option for a fourth, which he completed with "Die Another Day" in 2002. Brosnan was not recalled, and after a four year break, Daniel Craig made his debut in "Casino Royale" (2006).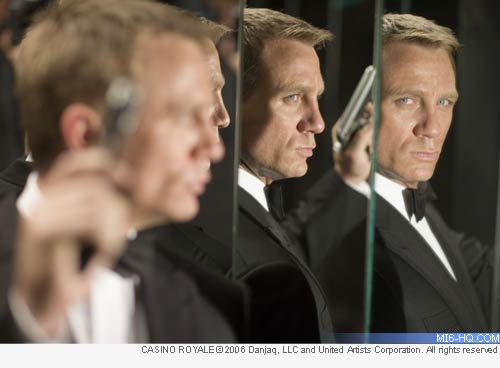 Writers Strike
MGM chairman and CEO Harry Sloan also predicted that there will be no writers strike beginning November 1st. If it does go ahead, it could affect Paul Haggis who is currently completing the shooting script for Bond 22. Sloan told attendees that, with the latest proposal from studios, he sees "the beginning of a constructive discussion." But while Sloan is predicting that WGA members won't strike the moment their current contract runs out Halloween night, that's not to say they wouldn't walk out later. The point he was making, he said, is that for maybe the first time there "are signs of progress." "I really don't think that our side is as dark and anti-union as the studios are being portrayed," he said.
Related Articles

Casino Royale (2006)

Bond 22 (2008)