Christie's SPECTRE Auction Report
18th February 2016
Ben Williams reports from Christie's where he got a closer look at the lots auctioned tonight
---
Back in 2012, Christie's helped EON Productions celebrate 50 years of James Bond by holding an auction of memorabilia from the franchise, for which they raised £750,000 for charity.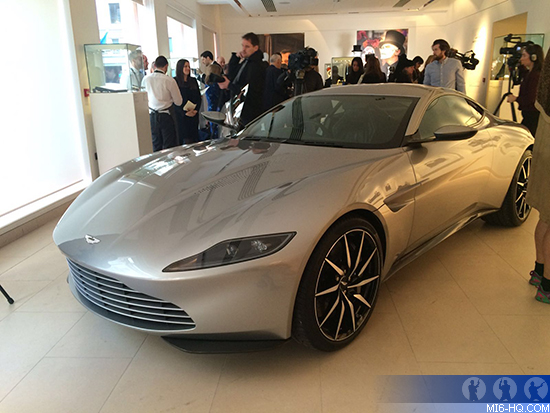 After the success of "SPECTRE", EON have once again partnered with the famous auction house to raise money for Médecins Sans Frontières, the One to One Children's Fund, Make it to Me, The Danish Refugee Council, and United Nations Mine Action Service.
The 24 carefully selected lots from the film were unveiled by David Linley, the Honorary Chairman of Christie's Europe, Middle-East, Russia & India with Bond Producer Michael G. Wilson, Associate Producer Greg Wilson, and EON Archivist Meg Simmonds also in attendance.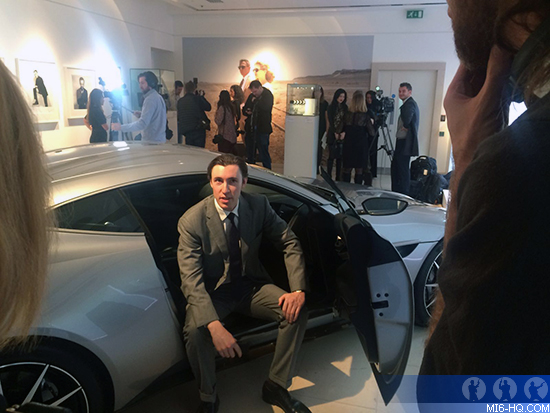 For buyers with a genuine interest, the auction lots were on display until Thursday 18 February at Christie's at King Street in London.
14 of the 24 lots are open for bidding from Tuesday 16 to Tuesday 23 February via the online-only sale, whilst the invitation-only live auction at Christie's was held tonight, Thursday 18 February 2016. Although the live auction was invitation-only, internet and telephone bids were open to anyone who wished to take part in the sale.
The full list of lots is listed below.
1. Blu-ray disc signed in gold marker pen by Daniel Craig and James Bond's blue initialled 'JB' Tom Ford cufflinks worn by Daniel Craig
Each set with oval lapis lazuli panels engraved with the monogram 'JB' for James Bond, to single-link connections, signed Tom Ford, 15mm wide, in maker's case and card box.
Bond's cufflinks were personalized for Spectre, designed by Jany Temime and made by Tom Ford. Daniel Craig as James Bond wore these cufflinks throughout the film with each of his suits apart from the 'mother-of-pearl' version which he wore with his dinner suit (see Lot 15). They are one of two pairs held in the EON archive.
Estimate: £3,000-5,000 / $4,300-7,100 / €3,900-6,500
2. James Bond's Day of the Dead Costume worn by Daniel Craig
Designed by Costume designer Jany Temime and mask designer Robert Allsopp. The set includes:
Black frock coat with white hand painted bones, size IT38
Skull mask with elastic fastening
Black leather gloves, size M
Black top hat, 100% wool with grosgrain ribbon hat band 'Jaxton Victorian', size 7 ⅝" (61 cm.)
Skull cane
This is one of three Day of the Dead Costumes worn by Daniel Craig (the other two are retained by EON) in the pre-title sequence of the film. Bond is in pursuit of assassin Sciarra.
Estimate: £12,000-18,000 / $17,000-25,000 / €16,000-23,000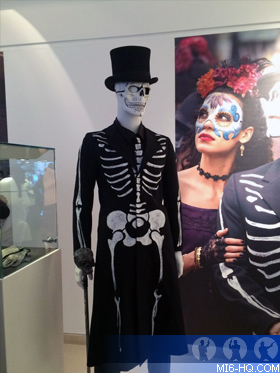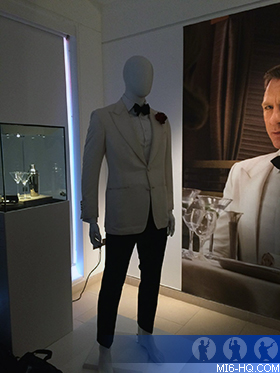 Longines Conquest Heritage, M's watch in SPECTRE
3. Longines 'Conquest Heritage'
This is the 18-carat rose gold automatic wristwatch worn by Ralph Fiennes as M in SPECTRE. With a diameter of 35 mm, this model in 18-carat rose gold displays a sunray silver dial with pink applied indices, "dolphine" hands with superluminova and date aperture at 12 o'clock. Fitted with a self-winding mechanical calibre L633, it indicates the hours, the minutes and the seconds. The caseback is decorated with a gold and enamel medallion representing a constellation.
One of only two worn by Ralph Fiennes in SPECTRE, the other retained by Omega.
Estimate: £5,000-7,000 / $7,100-9,900 / €6,500-9,000
4. Final Legal SPECTRE script signed by Sam Mendes, Michael G. Wilson and Barbara Broccoli
Estimate: £3,000-5,000 / $4,300-7,100 / €3,900-6,500
5 Oberhauser's SPECTRE gold ring worn by Christoph Waltz
The ring is made of 9 carat yellow gold, with 7 tentacle octopus logo rendered in distressed black, and has some marks on back of ring. This is one of only two gold rings made for the film, the other is retained by EON.
Estimate: £4,000-6,000 / $5,700-8,500 / €5,200-7,800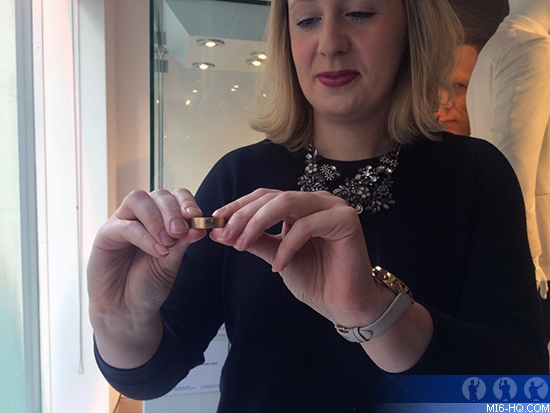 6. Rankin framed set of character art
A set of nine prints on resin paper, each measuring 20 x 24 in. (50.8 x 61 cm), signed by both the actor and photographer.
Daniel Craig as James Bond, 2015 (signed by Daniel Craig and Rankin in ink)
Léa Seydoux as Dr. Madeleine Swann, 2015 (signed by Lea Seydoux and Rankin)
Monica Bellucci as Lucia Sciarra, 2015 (signed by Monica Bellucci and Rankin)
Ralph Fiennes as M, 2015 (signed by Ralph Fiennes and Rankin)
Andrew Scott as C, 2015 (signed by Andrew Scott and Rankin)
Ben Whishaw as Q, 2015 (signed by Ben Whishaw and Rankin)
Christoph Waltz as Oberhauser, 2015 (signed by Christoph Waltz and Rankin)
Naomie Harris as Moneypenny, 2015 (signed by Naomie Harris and Rankin)
Rory Kinnear as Tanner, 2015 (signed by Rory Kinnear and Rankin)
Estimate: £6,000-8,000 / $8,500-11,000 / €7,800-10,000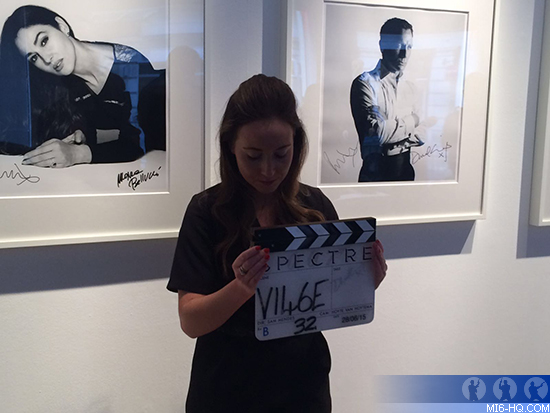 EON annnounced tonight that the auction accrued £2,785,500/$3,977,694/€3,568,226, all to go to Médecins Sans Frontières (MSF), other charitable organisations and the United Nations Mine Action Service (UNMAS). Christie's will be donating all profitable proceeds to the charities. Auctioneer Hugh Edmeades led the sale, with assistance from David Walliams. 100% of lots sold and the auction welcomed registered bidders from 25 countries across four continents, demonstrating the demand from James Bond fans around the world.
Share The Story