Trigger Mortis Launch
9th September 2015
Trigger Mortis enjoyed its publication launch event at Waterstones in Piccadilly, London, on Monday night. Ben Williams reports for MI6
---
Last night saw the official launch of "Trigger Mortis", the latest James Bond continuation novel by Anthony Horowitz.
All the stops were pulled out at Waterstone's Piccadilly, with Bond themes playing, an impressive window display of rockets made up of the dust jackets of the novel, as well as a 50's inspired countdown timer which, like the time on the nuclear bomb in "Goldfinger", had stopped at the magic number, 007.
Up on the fourth floor, another transformation had taken place, turning part of the booksellers into a period office from the 1950s, complete with an Empire desk, and with a bust of Ian Fleming overlooking the proceedings.
Horowitz arrived in true Bondian style in a convertible 1950s Bentley Continental Mark V, and was greeted with enthusiastic applause by the crowd.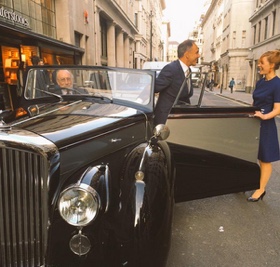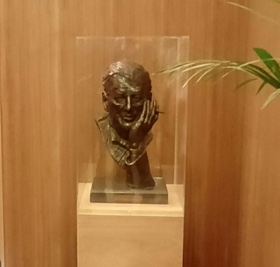 The BBC's Mishal Husain began her conversation with Horowitz by thanking the author for his contribution to her children's literary education, saying that his books had given them a vigorous appetite for reading.
It is clear that Horowitz has a genuine passion for James Bond and Ian Fleming, speaking about his experiences of queuing in the rain to see "Dr. No", aged just eight, and the formative effect of seeing Ursula Andress emerging from the water in her bikini had on his young mind.
Horowitz revealed that he came to Fleming later, but that he found that his books were a means of escaping from the harsh realities of his unhappy school life.
When asked why he set Trigger Mortis just after "Goldfinger", Horowitz reasoned that it was his favourite film and his favourite book, and that he wanted to set his novel in Fleming's world, in Fleming's time.
"For me it had to be pure, inside Ian Fleming's canon." - Anthony Horowitz
Horowitz explained that his job was not to ape Fleming or to try to impose his own style onto the novel, but rather to immerse himself in Fleming's world and to remove himself from the equation, to write selflessly as a channel for Fleming's creation.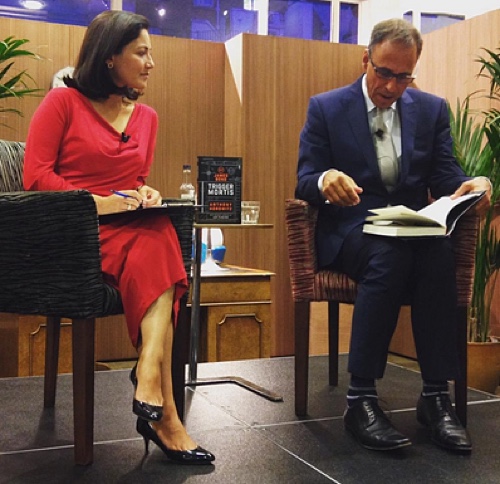 "The trick is to write a book which is on the one hand original and on the other hand slavishly loyal" - Anthony Horowitz
The author talked about the difficulties in balancing period characters and settings with a modern audience's sensibilities. It was important, Horowitz said, to be sure that the character of Bond didn't change simply to reflect modern times and modern thinking. Bond still smokes, he explained, because Fleming made him a smoker, and whilst Bond does see a newspaper article linking smoking to cancer, this doesn't change Bond's habits.
Likewise, Bond's attitude to women doesn't change much, although his relationship with Pussy Galore does have a slightly more up-to-date twist, which should make the novel more palatable to a modern readership.
Horowitz remarked that he was given advice by his wife on many aspects of the book, and particularly in regard to the female characters, which he said he first and foremost wanted to be strong characters rather than merely disposable love interests for Bond.
For "Trigger Mortis", Horowitz was given access to several original television treatments by Ian Fleming, and was asked by the Fleming estate to include a part of these in his novel. Horowitz chose Fleming's treatment for "Murder on Wheels", involving SMERSH's attempt to kill Stirling Moss in a race at the Nurburgring in Germany.
The racing setting appealed to Horowitz because of the danger and the excitement and the particularly Bondian qualities of the sport, also saying that it appealed because "it had never been done before."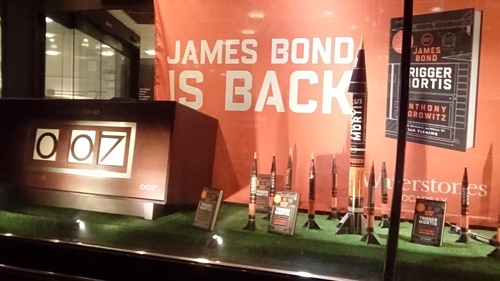 Horowitz talked about his research for the novel and particularly the Grand Prix setting of the first part of the book, saying that he had no previous experience with motor racing and it was a world in which he knew nothing about, other than they had four wheels.
He also revealed why he decided to change Sir Stirling Moss to a fictional character, as he believed that Fleming was not in the habit of making real people characters in his novels and so he wanted to remain true to that notion.
Horowitz also qualified his comments about the other continuation novels and the films, reiterating that he liked the other continuation novels, but they were not a direction he would have taken the character in. He also said that he liked Daniel Craig as Bond and that he thought "Casino Royale" was an almost perfect Bond film, and that he didn't dislike "Quantum of Solace" or "Skyfall," he just didn't believe they were as good as "Casino Royale".
Despite the almost unanimous praise that Trigger Mortis has received from reviewers, when asked about his future writing plans, Horowitz did not mention another James Bond continuation novel, although he did suggest he would be writing another Sherlock Holmes mystery, in the vein of his novel "House of Silk".
Waterstone's Piccadilly will continue to host the Trigger Mortis installation for another week, which will include the 1950s office, a hidden door into a secret room, as well as items that formerly belonged to Fleming himself.
Trigger Mortis is available now.
Share The Story